Giannis Antetokounmpo Once Cut off a Reporter Mid-Question, Even While Receiving a Flattering Comparison: 'I'm Not Michael Jordan'
It's been essentially a right of passage for the last 25 years — the Michael Jordan comparison. For any great player, it pops up inevitably. During the 2021 NBA Finals, Giannis Antetokounmpo became the latest to hear it, except he immediately cut the conversation off at the pass.
It was Kobe Bryant in the 2000s. Now it's LeBron James. The Mamba Mentality was born out of Jordan's legendary competitiveness, while the King is most often mentioned alongside Jordan in the greatest-of-all-time debate.
The Greek Freak is an entirely different archetype than the six-time NBA champion, but even still, as he racks up more accolades and possibly wins more titles, the Jordan comparisons will continue.
Giannis Antetokounmpo already has a long list of NBA accomplishments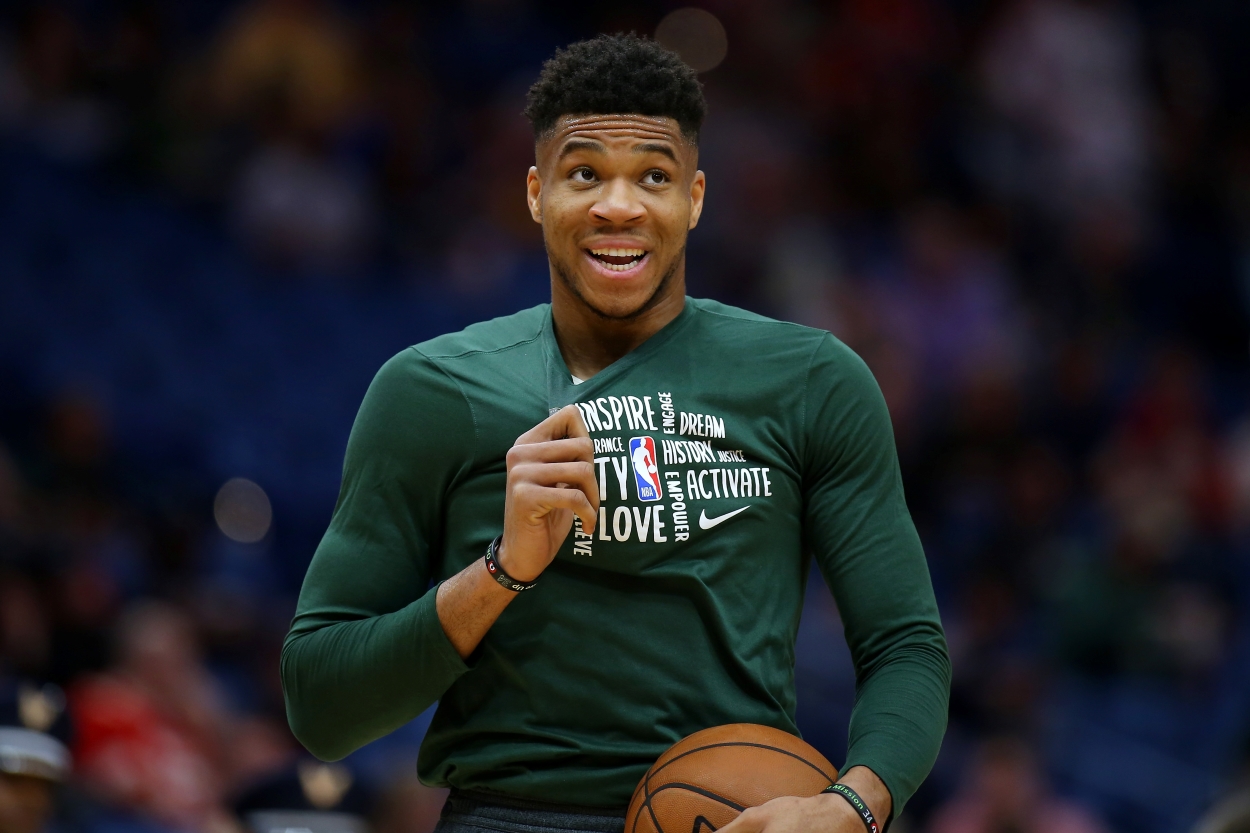 The 6-foot-11 forward was drafted with the 15th overall pick in 2013. He was scouted out of a second-division league in Greece and was selected as a virtual unknown. But he was 6-9, long, and athletic.
Antetokounmpo averaged 6.8 points during his rookie season. He increased his scoring average the next six years in a row, developed into a double-digit rebounder, put on 50 pounds and two inches, and became a five-time all-star and five-time All-NBA performer.
He was named the league's Most Improved Player in 2016-17 and won MVP in back-to-back seasons, coupling it with a Defensive Player of the Year Award in 2019-20. He led the Milwaukee Bucks to the best record in the league two consecutive years.
All his resume was missing was a championship. Last year he locked that down too with a 50-point, 14-rebound, five-block closeout Game 6 against the Phoenix Suns, bringing Milwaukee its first NBA championship in five decades.
But that still doesn't put him in Jordan territory, and Giannis knows it.
Antetokounmpo once stopped a reporter mid-question to tell everyone he's not MJ
The 26-year-old had an all-time Finals performance. He averaged 35.2 points, 13.2 rebounds, 5.0 assists, 1.2 steals, and 1.8 blocks. The Alphabet shot 61.5% from the floor and exercised his free throw demons in Game 6, going 17-of-19 from the line.
Antetokounmpo scored 42 points in a Game 2 loss and backed it up with a 41-point performance in a Game 3 win. And then came the Jordan comparisons.
In the 1993 NBA Finals (also facing the Phoenix Suns), Jordan led the Bulls to a 2-0 series lead. His Airness then scored 44 points in a Game 3 loss, similar to how Antetokounmpo's 42 points in Game 2 of the 2021 Finals were wasted. Jordan then put up a fourth-straight 40-point game in a Game 4 victory to put Chicago ahead 3-1.
Giannis was (about to be) asked whether he could repeat The G.O.A.T's streak of four-straight 40-point performances in an NBA Finals. He shut that down before the reporter even finished the question on NBA TV (h/t House of Highlights):
Reporter: "Michael Jordan had four straight 40-point games against the Phoenix Suns in the NBA Finals –
Antetokounmpo: "I'm not Michael Jordan. I'm not Michael Jordan. Four 40 points in a … straight too?"
Reporter: "Four in a row."
Antetokounmpo: "I'm not Michael Jordan. All I care about right now is getting one more. That's all. Taking care of business, doing our job."
The Greek Freak can undoubtedly become one of the greatest of all time, but he still won't reach Jordan territory
Mike won his first NBA championship at age 27. Antetokounmpo won his first at 26. So he's one step ahead.
Now all the 2021 Finals MVP has to do is win two more titles in a row. And then win three more consecutive championships. And win three more regular-season MVPs, along with five more Finals MVPs. And make nine more all-star appearances.
Is it impossible? No. But just about.
All statistics courtesy of Basketball Reference.
RELATED: Giannis Antetokounmpo Publicly Blasted the New York Knicks in 2015 and Then Backed It up the Next Night: 'They Lose 15 (Straight) Now, Tomorrow Is Going to Be 16'