Giannis Antetokounmpo Once Went On a 2-Minute Rant About the Pure Joy of Discovering He Could Dunk Oreos in Milk: 'No Frickin' Way'
Giannis Antetokounmpo led the Milwaukee Bucks to their first NBA Championship in 50 years last season. He was named the Finals MVP. He's won two regular-season MVP awards and was named the Defensive Player of the Year in 2019-20.
The Greek Freak is one of the greatest basketball players on the planet and is already a shoo-in Hall of Famer. He can euro step from beyond the free-throw line. He can pick up his dribble behind the three-point line and dunk without traveling.
Sometimes, though, it seems Giannis is more fun to watch off the court than on it.
Giannis Antetokounmpo is no longer just a Milwaukee Bucks superstar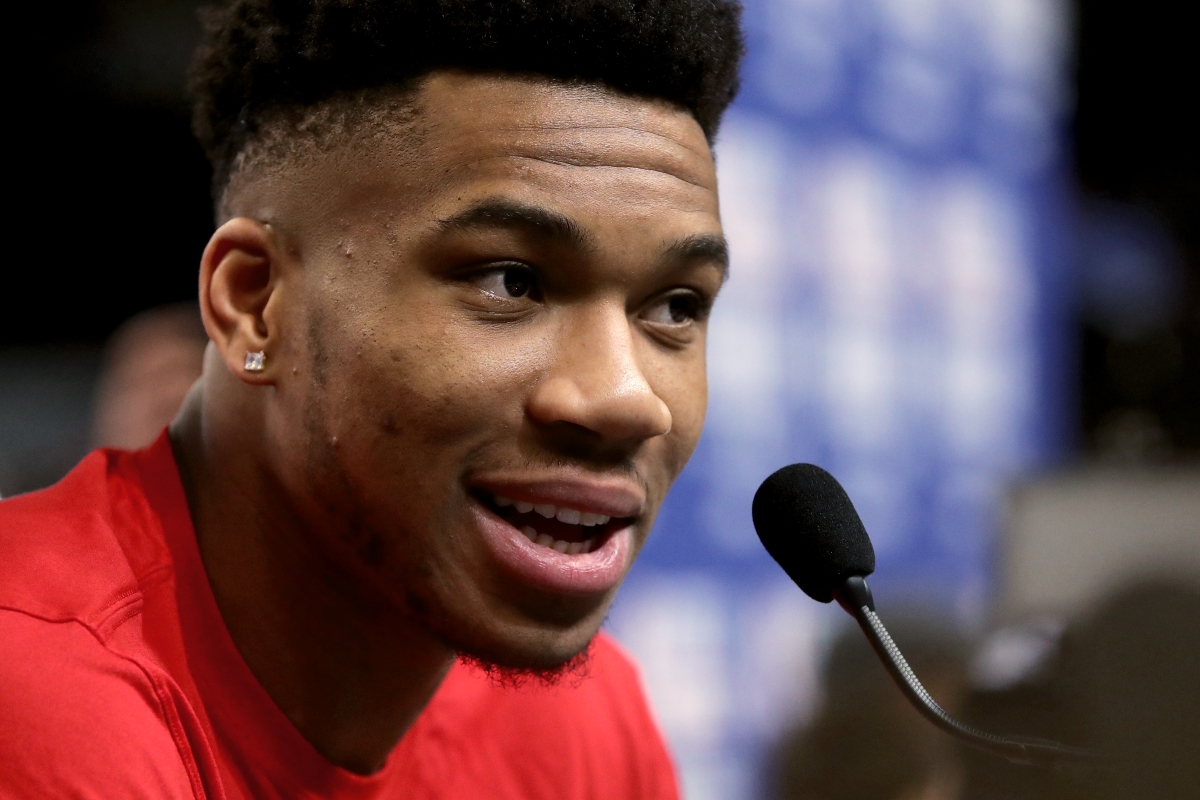 Giannis isn't just a superstar for his hometown fans to adore. For fans of the Brooklyn Nets, Atlanta Hawks, or Phoenix Suns, there were surely periods of time last summer where Antetokounmpo wasn't a cherished opponent.
But it's nearly impossible to find a reason to hate The Greek Freak. The 27-year-old is simply likable as a human being.
That's evidenced in part by the time in 2014 when he tweeted about getting a smoothie: "I just taste for the first time a smothie..MAN GOD BLESS AMERICA"
Or when he tweeted about eating Funyuns while getting a pedicure: "While having my first pedicure in two years, I tried my first bag of Funyuns. They where good but I'll stick to American Cool Ranch Doritos #AmericaStayBlessed #WhatsNextForTheFreak"
Or when he drops random dad jokes, like the time he asked the media if they had seen the new movie Constipation. When someone responded no, he answered, "That's because it hasn't come out yet," and he literally dropped the mic and ran away.
(I don't believe linking to BuzzFeed stories is common practice on a sports website, but this one entitled "14 Giannis Antetokounmpo's Funniest Moments That Prove He's A Total Dad" is too good to ignore).
These are just a few examples of Giannis being Giannis. But there's another special instance of his personality leaping to the forefront. Antetokounmpo once went on a two-minute rant about dunking Oreos in milk, and it was gold.
The Greek Freak was ecstatic to learn dunking Oreos in milk was a thing
Antetokounmpo is one of the most humble superstars in any sport (as evidenced above). The fact that he came from extreme poverty in Greece and has worked his way into multiple $100 million-plus contracts is something that's never been lost on him.
In addition to his many other down-to-Earth moments, Giannis shared the story of the time a kid informed him he could dunk Oreos in milk. It's now an "every night snack" for Antetokounmpo.
Via Stephen Watson of WISN:
"So it's definitely, how do you guys say, bed night? Bedtime snack? Bedtime snack. So I had this like commercial, this video shoot I did, and there was three kids there, and we were doing a shoot about some cookies. And they had some Oreos over there, and this kid asked me, he was like, 'Have you ever ate Oreos before?'
"(I said) yeah, when I came to the league, that was the first thing I ate because back when I was younger I was always craving them but couldn't afford them, so like when I get a little money – people go spend money on cars and chains – I'm going to buy Oreos, right? So I ate them for like a month straight, no dinner, no lunch, no nothing, so I got sick of them right. But I've had them.
"So he was like, 'Have you ever dunked them in milk?' I was like, 'No,' and he was like, 'You should try that.' So I said, ok, cool, we did the commercial, I took the milk, took the Oreos, and I threw it in the milk, and he was like, 'No! Just dunk it, like put it in.' I was like, don't worry about it, give me a spoon. I grab a spoon, I took the first one, I was like, 'What the hell? No frickin' way.' He asked do you like them, I was like, 'Bro, this is amazing.'
"So obviously I didn't have one, I had like 12 of them. … And later on, I realized that's an every night snack for me."
Apparently, all the money in the world doesn't compare to learning there are more cool ways to eat junk food.
Giannis is a two-time MVP and NBA champion, but he's also a national treasure
At this point, Giannis has become a superstar all NBA fans can claim as their own. He's too entertaining and too fun of a person not to be universally liked.
What other NBA MVP is going to go off for two minutes about how exciting it is to dunk Oreos in milk?
The Greek Freak is a treasure, and we're all lucky to have him.
Like Sportscasting on Facebook. Follow us on Twitter @sportscasting19.
RELATED: Giannis Antetokounmpo's Immortal Alley-Oop From Jrue Holiday In Game 5 of the 2021 NBA Finals Officially Destroyed the Phoenix Suns