Giannis Antetokounmpo Publicly Blasted the New York Knicks in 2015 and Then Backed It up the Next Night: 'They Lose 15 (Straight) Now, Tomorrow Is Going to Be 16'
Save for a spat with Drake at a Toronto Raptors game, Giannis Antetokounmpo doesn't do a lot of public trash-talking. He'll throw some mean mugs around, but for the most part, the Greek Freak chooses to let his play speak for itself.
Things were a bit different early in his career, though, like the time in 2015 when Antetokounmpo called out the New York Knicks and then showed up the following evening and backed it up by leading the Milwaukee Bucks to a double-digit victory.
Giannis Antetokounmpo had some history with the New York Knicks before their matchup in January 2015
Antetokounmpo's first career start came against New York. He drew the challenge of defending Carmelo Anthony, and Milwaukee lost in double overtime. But the 6-foot-11 forward's length and athleticism bothered the former scoring champ, who chatted with Antetokounmpo after the game as Giannis told NBA.com:
"I respect him. He's one of the best players, but he can't come out and start bullying my teammates and me, like talking to me all the time. I tried to not react and you have to respect him. If he does it all night you can't focus on your game so you have to respond and tell him something to stop. When I go out there I don't care who you are. For me, it's just a jersey."

Giannis Antetokounmpo on facing Carmelo Anthony and the New York Knicks in his first career NBA start
The recent NBA champion averaged just 6.8 points as a 19-year-old rookie. But when it came time to face Melo and the Knicks again the following season, Antetokounmpo headed into the game averaging 11.7 points and 6.2 rebounds on almost 50% shooting.
Antetokounmpo publicly blasted New York and then immediately backed it up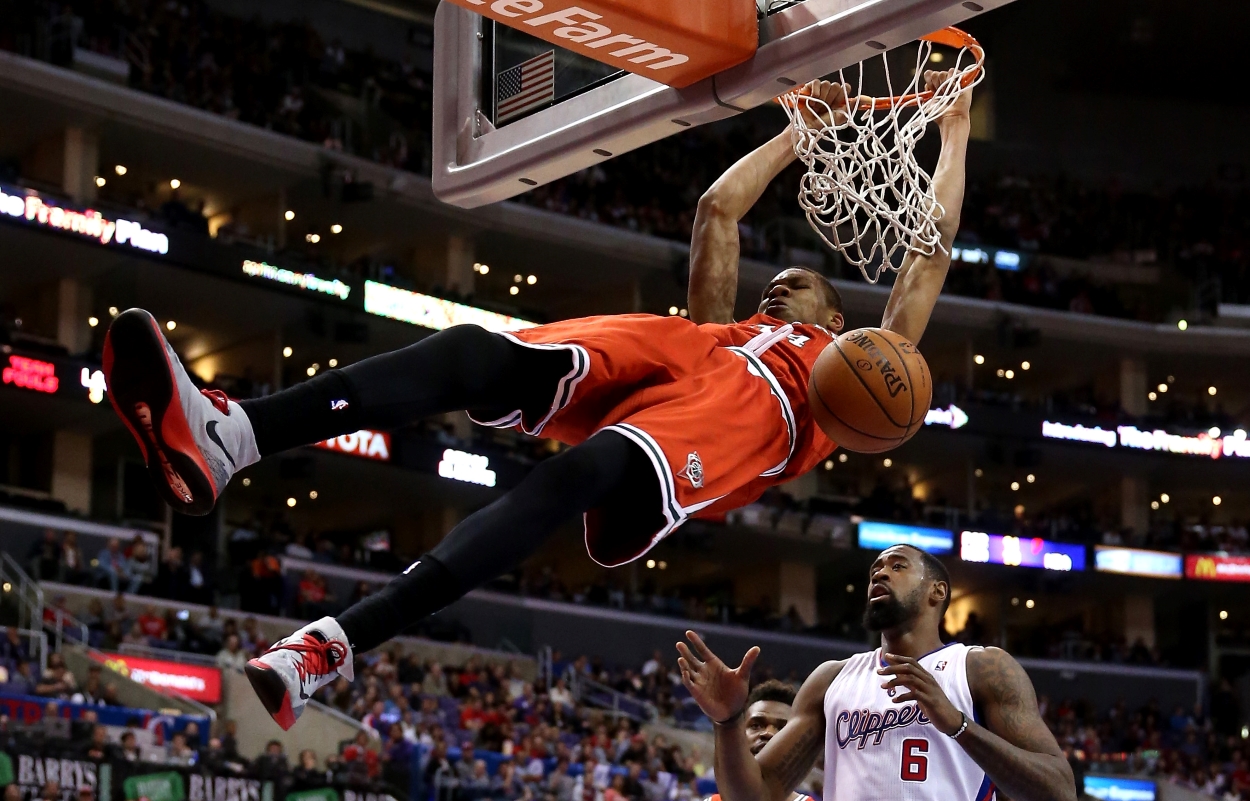 The Knicks had lost 15 straight games heading into the Jan. 15 contest against the Bucks. Anthony was still one of the league's best scorers, but it wasn't translating to wins, and New York was struggling.
Antetokounmpo threw two jabs at the Knicks the night before the game (although one may have been unintentional). First, he said New York should bring up his brother, Thanasis, from the D-League (now G League) to help the team.
Then he continued, according to SI.com:
"I don't think the Knicks have to lose anything. They lose 15 [straight] now. Tomorrow is going to be 16. They don't have anything to lose."

Antetokounmpo on facing the Knicks in 2015
The two teams traveled to London for the game, but the trip didn't bother Milwaukee. The Bucks won 95-79 behind a stellar all-around game for Antetokounmpo. He scored 16 points, added five rebounds and two steals, and was a plus-13 on the night. Anthony was the game's leading scorer with 25 points, but Milwaukee's two-time Defensive Player of the Year forced him into eigh turnovers and a minus-19 for the game.
Antetokounmpo's career lifted off against the Knicks, and it hasn't stopped rising since
The five-time All-Star earned his first career start against the Knicks. By the time he faced them during his sophomore season, his entire stat line had nearly doubled. That night, he helped hold down one of the best scorers in the NBA and kept New York to fewer than 80 points as a team.
Antetokounmpo has come a long way since then. He's won back-to-back MVPs, has been named to an All-Defensive team four times, has been named to an All-NBA team five times, and became a champion and Finals MVP. He's solidified himself as one of, if not the, best players in the game.
A public dismantling of one of the league's most storied franchises — both in the media and on the court — was just one step on the way there.
All statistics courtesy of ESPN.
RELATED: Giannis Antetokounmpo Has Always Had Significant Praise for Khris Middleton as a 'Big-Time Player': 'He Makes This Team Great'