Giannis Antetokounmpo Pulled off a Historical Feat at 22 Years Old That Proved He Was Destined for Greatness
Simply put, Giannis Antetokounmpo is on a fast track to the Hall of Fame. The Milwaukee Bucks star has already won a pair of MVP Awards and just took home his first NBA title and Finals MVP this summer. In addition, the Greek Freak also has five All-Star appearances and All-NBA selections on his resume.
No one could have predicted Giannis' meteoric rise when he debuted in 2013. But just a few years later, he made NBA history that all but guaranteed his path to superstardom.
Giannis Antetokounmpo improved at a rapid rate
When the Bucks drafted Antetokounmpo 15th overall in 2013, they were getting a lanky prospect without a lot of experience. But the 19-year-old from Greece still managed to average 24.6 minutes per game for a 15-win Bucks team, earning a spot on the All-Rookie team.
In year two, Milwaukee realized they stumbled onto something good. Antetokounmpo nearly doubled his scoring average from 6.8 to 12.7, starting 71 games for a much-improved Bucks squad. He also raised his field-goal percentage from 41.4 to 49.1 while also pulling down 6.7 boards. Giannis further improved in his third season, averaging 16.9 points and 7.7 rebounds, plus 1.2 steals and 1.4 blocks.
Heading into the 2016-17 season, Antetokounmpo was a promising player on a young team far away from contending. By the end of the season, he was the star for a team nearly ready to compete for the title.
The Greek Freak's historic 2016-17 season
In his fourth season, Giannis Antetokounmpo elevated his game across the board. The 6-foot-11 forward scored 22.9 points per game while also averaging 8.8 rebounds. Additionally, he finished with 5.4 assists, 1.6 steals, and 1.9 blocks, career-highs across the board. So why were his numbers historic?
At 22 years old, Giannis became the first player in NBA history to finish a season in the top-20 in all five major categories. The Freak ranked 14th in points, 15th in rebounds, 18th in assists, ninth in steals, and fifth in blocks. Additionally, he became the fifth player in league history to lead his own team in all five categories, joining Hall of Famers Dave Cowens, Scottie Pippen, Kevin Garnett, and (future Hall of Famer) LeBron James.
"He wants to be great," former head coach Jason Kidd said in 2017. "He thrives in the challenge of us putting more responsibilities on him, but I would say his ability to listen and digest what we're saying (and then) to translate it onto the floor. To be given the ball at 21 years old at 7-feet tall, to run the offense and understand what we're trying to do. There's going to be some good and there's going to be moments to learn from. He digests not just the good, but the bad too."
Giannis Antetokounmpo is sure to make more history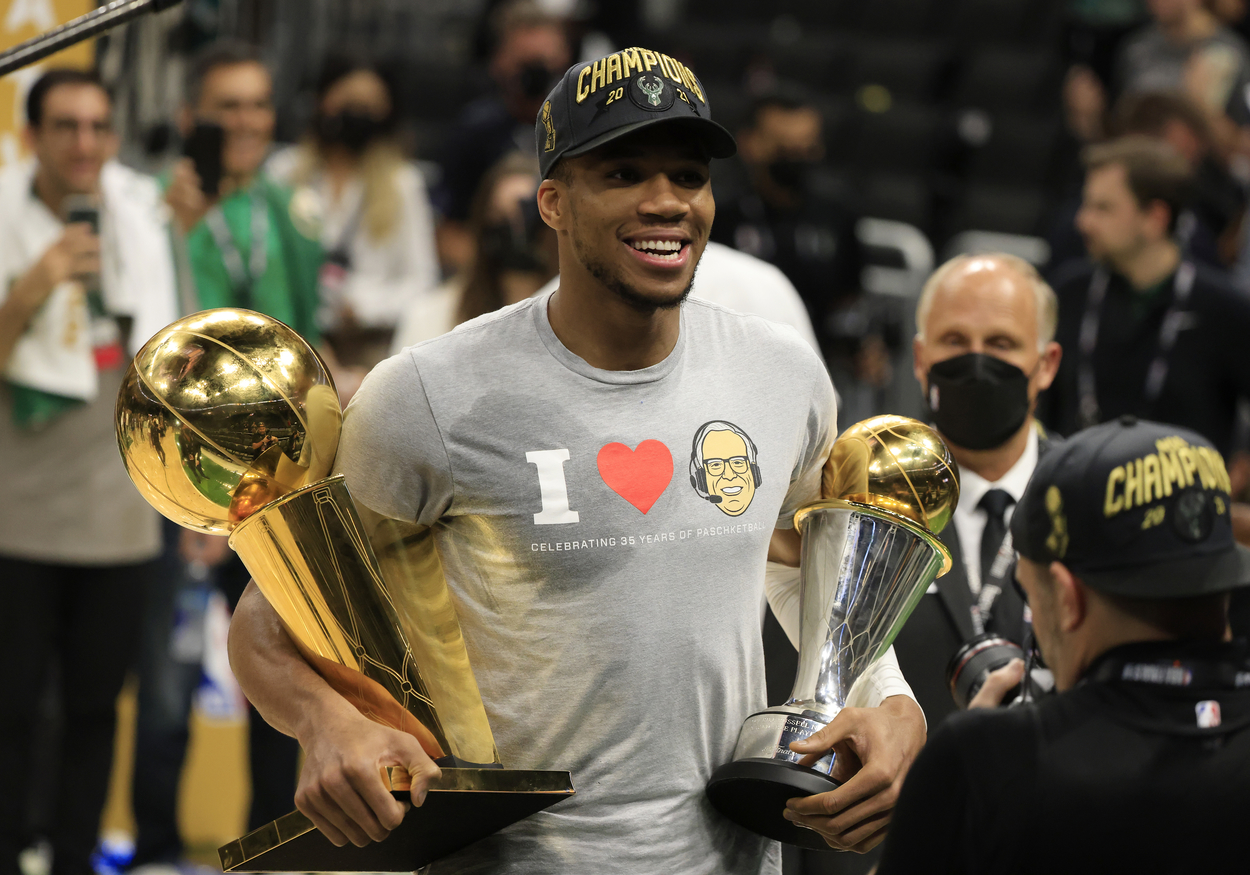 The history-making 2016-17 season was only the beginning for Giannis. He has made the All-Star team every year since, an All-NBA team every year since, and an All-Defensive team in all but one year since.
During that span, Antetokounmpo became the fifth foreign-born player to win league MVP. But after winning in both 2019 and 2020, he joined Tim Duncan and Steve Nash as the only two-time winners.
Then, there's his Finals run with the Bucks in 2021. Despite suffering a knee injury in the Eastern Conference Finals, Giannis had a legendary series against the Phoenix Suns. The 26-year-old had five double-doubles in six games, back-to-back 40-point games, and an all-time great 50-point showing in Game 6. The Freak, who was unanimously named Finals MVP, tied Bob Pettit for the most points in an NBA Finals closeout game.
Based on his numbers from over four years ago, it was obvious Giannis was destined for great things. And fortunately for basketball fans, there is so much yet to come.
All statistics courtesy of Basketball Reference.
RELATED: Giannis Antetokounmpo Is Putting the Milwaukee Bucks in a Tough Position After Admitting He's Still Dealing With Pain: 'I Shouldn't Have Played in Game 1'