Giannis Antetokounmpo Is Putting the Milwaukee Bucks in a Tough Position After Admitting He's Still Dealing With Pain: 'I Shouldn't Have Played in Game 1'
Giannis Antetokounmpo cemented his place in NBA history over the summer. The Greek Freak averaged 35.2 points and 13.2 rebounds in the NBA Finals, capped off with a 50-point masterpiece in Game 6. He was the easy choice for Finals MVP as the Milwaukee Bucks won their first championship in 50 years.
What puts Giannis' performance over the top, however, is the fact he played through an injury. And as it turns out, the injury is something Antetokounmpo is still dealing with today.
Giannis Antetokounmpo played hurt in the NBA Finals
For a time, it looked like Milwaukee's title hopes had come to an end. During Game 4 of the Eastern Conference Finals, Antetokounmpo hyperextended his left knee after colliding with Atlanta Hawks center Clint Capela. The two-time MVP was forced to miss the next two games of the series, leaving his availability against the Phoenix Suns in doubt.
Somewhat miraculously, Giannis was deemed ready to play within an hour of Game 1 of the NBA Finals. His return to the court came exactly one week after the injury despite a hyperextended knee needing two to four weeks of recovery on average. He played just over 35 minutes in his first Finals game, scoring 20 points and pulling down 17 rebounds.
The Greek Freak really started to take off in Game 2. Despite the loss, he scored 42 points on 15-of-22 shooting. He then dropped 41, 26, and 32 points in three straight wins before scoring 50 to clinch the title. His 50 tied him with Hall of Famer Bob Pettit for the most points in a closeout Finals game.
"[Giannis] is just the ultimate competitor," Bucks coach Mike Budenholzer said after Milwaukee's title victory. "He's incredibly special. And just the competitive nature always stands out to me about Giannis."
Giannis reveals he's still dealing with pain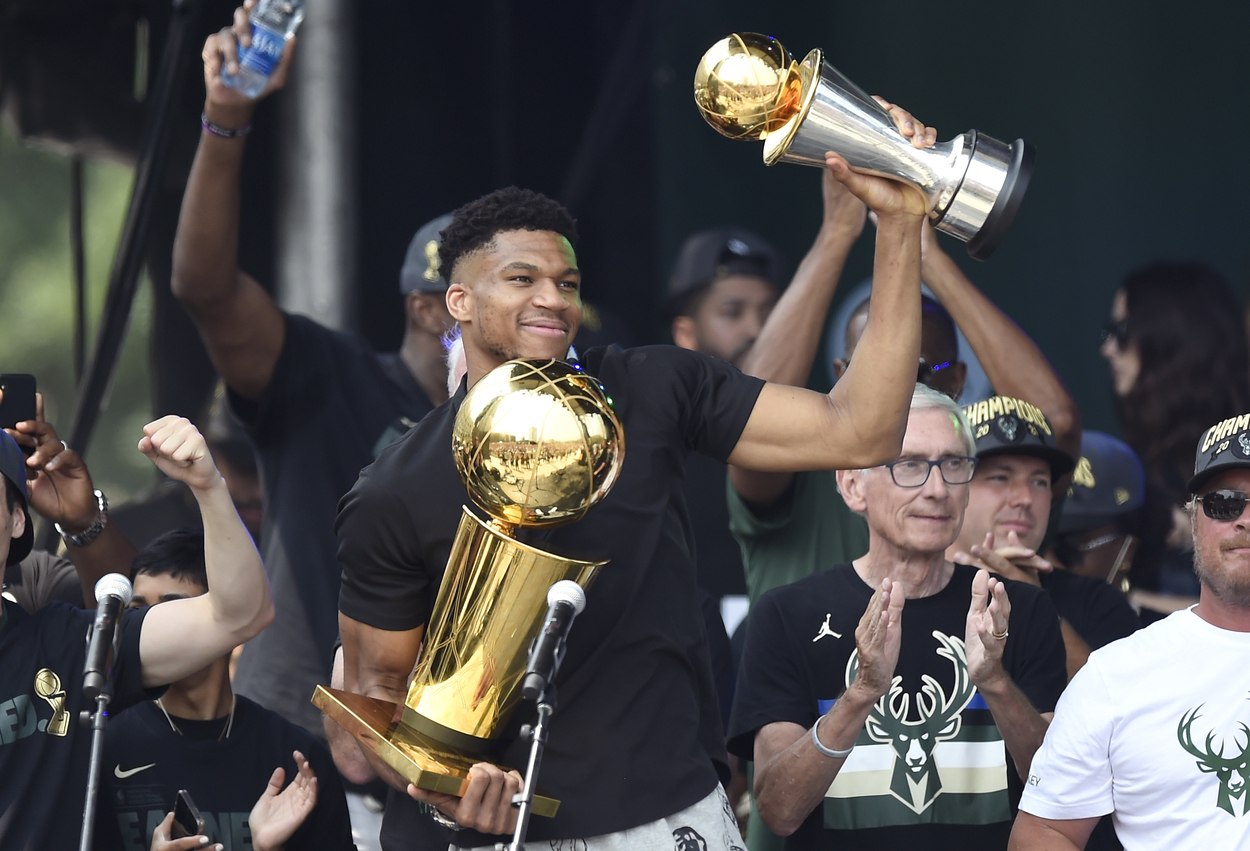 Antetokounmpo is enjoying his first offseason as a champion. But his body is still feeling the effects of his injury and the overall wear and tear of last season (h/t: COSMOTE TV).
"I shouldn't have played in Game 1 of the NBA Finals. I was in a lot of pain. I'm still hurting. … Yesterday was the first tough practice I had since Game 6. I'm hurting a lot, but I'll be okay."

Giannis Antetokounmpo
Speaking with a Greek television outlet, Antetokounmpo confirmed how much pain he played with back in early July, as well as the pain he's in now. He also admitted that some of his issues during the postseason were on the mental side, prompting him to seek help.
"I was hurt in Game 1. I was praying. We lost," Giannis said. "In Game 2, I scored 40 and we lost. I was s******* my pants. I was scared after scoring 40 and losing. After that, we just wanted to defend our home. But then my teammates reacted, the team reacted, Jrue [Holiday] was all over the place. The key was how to manage my fear, my anxiety. I was talking with a sports psychiatrist every day; he helped me be myself. The free throws were a mental issue, and I want to continue like this in the next season. And I want to see if we can repeat this as a team. I want to see if we can do it again, myself, my teammates, the owners, everyone."
The Greek Freak's pain might force the Milwaukee Bucks to rest their star
No one will ever doubt Antetokounmpo's toughness again. And his assurance that he'll be OK further proves how tough of a player he is. But the Bucks should have a little bit of concern with their star moving forward.
Over the past two seasons, Giannis has missed 21 regular-season contests. In those games, Milwaukee was a pedestrian 11-10. Even with former All-Stars Khris Middleton and Jrue Holiday in the fold, the team can't afford to lose Antetokounmpo for a lengthy period of time.
Could the Bucks choose to use load management for Giannis this season? We've seen the Los Angeles Lakers do it at times with their stars LeBron James and Anthony Davis. The Brooklyn Nets, arguably Milwaukee's biggest competition in the East, will almost certainly manage the loads of stars Kevin Durant, James Harden, and Kyrie Irving, all of whom dealt with injuries last season. It might cost Milwaukee a chance at the No. 1 seed, but a healthy Giannis in the postseason is all that matters.
In the meantime, hopefully the Greek Freak can continue to recover and feel healthy by the time the Bucks' 2021-22 season begins.
All statistics courtesy of Basketball Reference.
RELATED: Giannis Antetokounmpo and the Milwaukee Bucks Just Need to Visit Their Local Sportsbook for Some Extra Motivation to Repeat as NBA Champions