Giannis Antetokounmpo Was Ready to Quit the NBA and Return to Greece If His Entire Family Couldn't Move to the U.S.: 'He Was More Than Homesick'
The rise of Giannis Antetokounmpo from a gangly project to an all-conquering god is an unmatched story in the modern NBA. But it could've been so different. Antetokounmpo found it hard to adjust to living in America without his family, which supported him during rougher times.
The Bucks star's homesickness was so severe that he threatened to leave the NBA if he had to go it alone. Thankfully, good sense intervened, and "The Greek Freak" stuck around, eventually becoming a generational superstar.
Giannis Antetokounmpo felt guilty entering the NBA while his family was stuck in Greece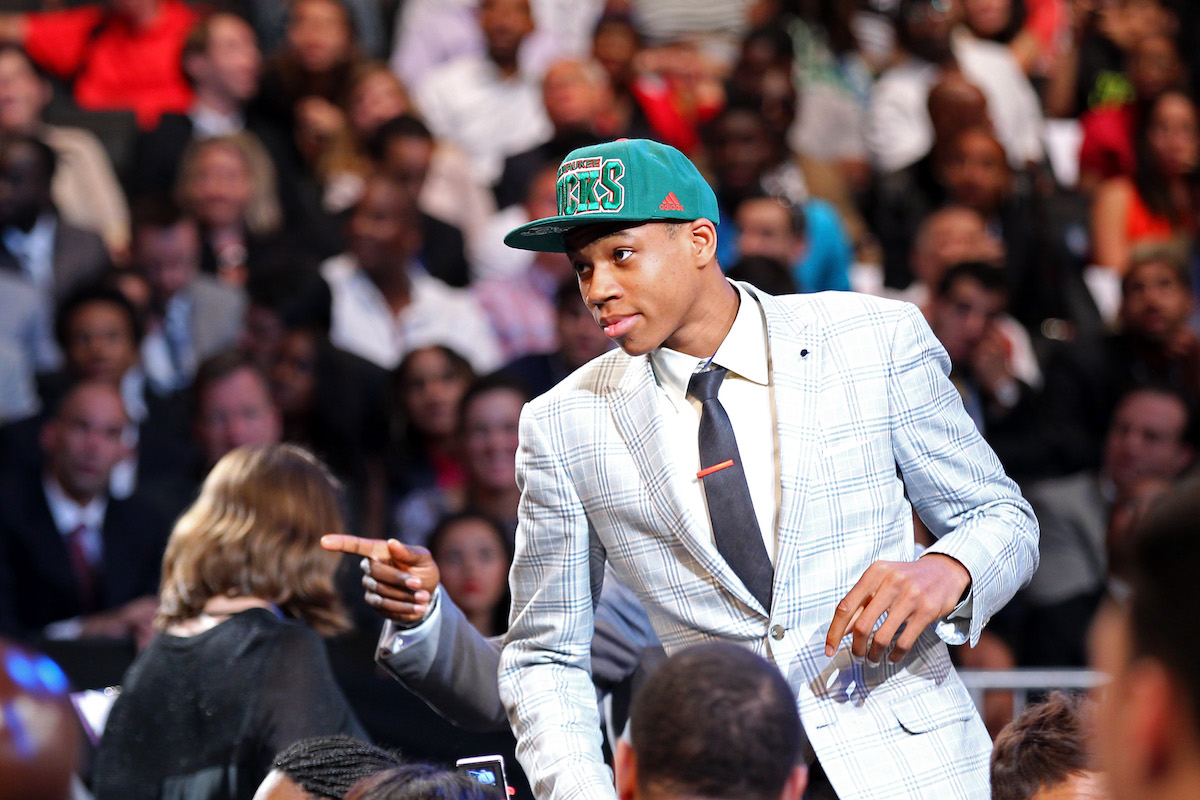 Many NBA players come from tough childhoods, but the hardships of the Antetokounmpos are particularly jarring. Money was hard to come by for his parents, Charles and Veronica. So Giannis and his brothers did their part to help the family put food in their stomachs and a roof over their heads.
Giannis and his brothers sold watches, handbags, and sunglasses on the streets to help their family survive. They never escaped poverty while in Greece. But the experience taught Giannis lessons about perseverance that have come to define his life.
"So, just growing up and going through life and how tough life was for me and my family, I'm always going to stay humble", he told ESPN in 2018. "Even now, it doesn't really matter if I've got a $100 million contract or a $100 million Nike contract, it's the way I grew up, it's the way I go through life. I'm not changing."
But Giannis struggled mightily while separated from his family for the first time in his life. His family struggled to obtain visas. The New York Times published an excerpt from Mirin Fader's perfectly timed book titled Giannis: The Improbable Rise of an NBA MVP from a chapter called "Lonely."
As Fader writers, Giannis's guilt was so severe that he resisted every urge to use his money to buy anything not considered a necessity. The young NBA player was obsessed with the fact that his money would've been life-changing for his family just a few years earlier.
Giannis refused to pay his cable bill even though it was only $20 a month. He returned a new PlayStation a day after purchasing it. And he went through his entire rookie season with two pairs of shoes even though he received 82 pairs from Nike.
His past was so rough that he couldn't enjoy the present. Or as Fader wrote: "But how could Antetokounmpo be sure? More was wishful thinking. He had always aimed for enough. One bad selling day, one mishap, could lead to not enough. He couldn't turn off that fear of not enough."
Visa problems nearly sent Antetokounmpo back to Europe
It was a tough enough year for Antetokounmpo on the court. The Bucks won 15 games, the lowest total in the NBA. The most notable thing was that Larry Sanders broke his thumb in a nightclub fight the summer after signing a four-year, $44 million deal. Plus, a Arctic polar vortex created the coldest temperatures in Milwaukee for two decades.
After immigration officials denied his family's visa application for the second time, Antetokounmpo was on the brink. He asked Bucks General Manager John Hammond for daily updates about when his parents and siblings could come to America. But progress was nonexistent.
Personal success without anyone to share it with feels emptier over time. Unless his family could make it stateside, Giannis made it clear that he was willing to leave it all behind to reunite with his family. Fader describes the scene in her book, per the New York Times:
"Antetokounmpo would Skype with his family early in the morning or late at night because of the eight-hour time difference. One night, around November 2013, frustrated with his family's inability to obtain visas, Antetokounmpo told them, 'I'm going to do this for as long as I have to, but if y'all can't come, I'm coming back.'"
His brothers appreciated the show of loyalty but didn't want him to give up on his dream for them. Luckily for the family and Bucks fans, the everyone got their visas on the third try. Antetokounmpo could fully apply himself on the court.
Reunited with his family, Antetokounmpo was free to fulfill his potential
It wasn't that long ago that people questioned Antetokounmpo's abilities in the postseason. Would his jump-shooting woes be an unavoidable Achilles heel? Was his playing style too predictable to get over the playoff hump? Was he not enough of a "hooper"? It all sounds so silly in hindsight.
Antetokounmpo led the Bucks to the promised land in a way only he could. He took out his whomping stick on anyone the Phoenix Suns threw at him. They couldn't stop him from destroying the rim with ease. Defensively, his versatility was a main reason why the Suns offense ground to a halt in the final few games of the Finals. And he did it all weeks removed from bending his knee like a flamingo's neck in the Eastern Conference Finals.
Antetokounmpo's performance was one of the ages. Bringing a championship to a small market without orchestrating a super team made him one of the beloved champions in a while.
Everyone would understand if Antetokounmpo wanted to soak in the acclaim for himself, but that's not who he is. When the clock struck zero and the Bucks were confirmed as winners, Giannis euro-stepped around the celebrating players and coaches and ran straight to his mom and brother, Kostas, in the stands.
All of the money and adoration are nice, but the Antetokounmpos understand what's really important in life.
RELATED: Giannis Antetokounmpo's 'Favorite Moment' of His NBA Career Didn't Even Involve Him Touching a Basketball