Giannis Antetokounmpo Drops Some Shade on Super Teams With a Subtle Instagram Post
The last laugh has been enjoyable for Giannis Antetokounmpo of the Milwaukee Bucks. Many questioned the decision he made in December 2020 to sign the richest contract in NBA history. But that five-year, $228 million supermax deal looks like the best decision Antetokounmpo and the Bucks ever made.
Critics wondered why Antetokounmpo would stay in Milwaukee and speculated whether the decision would cost the two-time NBA MVP a chance to win a title. In less than a year, that debate is over. Antetokounmpo is an NBA champion (and a Finals MVP), and he did it with the team that took a chance on him with the 15th overall pick in 2013.
With his championship in hand and a massive ring on the way, Giannis Antetokounmpo has been living the high life, which is appropriate for Milwaukee.
Giannis Antetokounmpo claimed all sorts of bragging rights over James Harden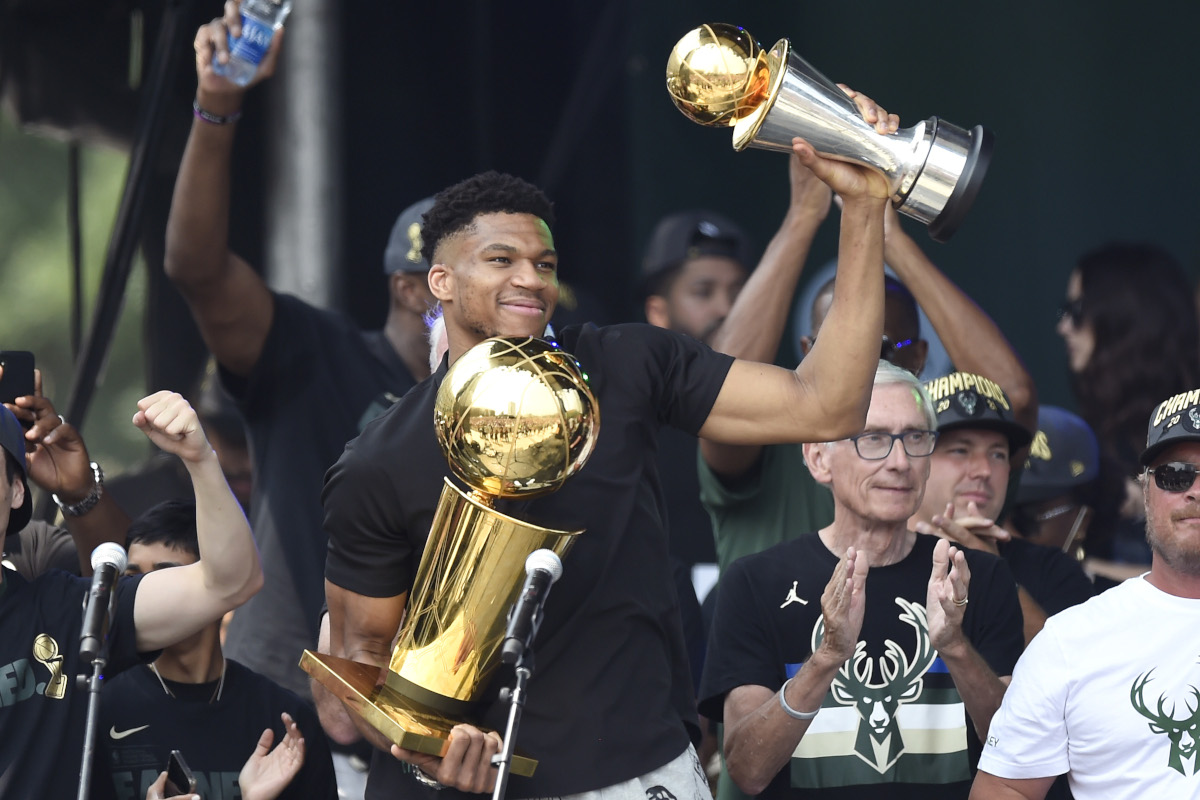 A joke by Giannis Antetokounmpo during the draft for the 2020 NBA All-Star Game ignited a feud between the Milwaukee Bucks star and James Harden, who was with the Houston Rockets at the time.
Antetokounmpo turned some heads in the draft when he picked then-Boston Celtics guard Kemba Walker over Harden. The Milwaukee star joked he wanted "somebody that's gonna pass the ball."
That didn't sit well with Harden; a former NBA assist champion who finished seventh in the league in 2019–20 with an average of 7.5 dimes a night. Walker was not in the top 20 with his 4.8 assists per game.
"I don't see what the joke is. But I didn't even see it. I don't pay attention to stuff like that. I just know that none of them can mess with me.

"When it's all said and done, they'll appreciate it more. But I wish I could just run and was 7-feet and run and just dunk. That takes no skill at all. I've got to actually learn how to play basketball. How to have skill. I'll take that any day."

James Harden
Antetokounmpo not only got a championship ring before Harden, who was traded to the Brooklyn Nets in January to team with stars Kevin Durant and Kyrie Irving. Milwaukee also eliminated Brooklyn from the playoffs in the Eastern Conference semifinals to win that ring for Antetokounmpo. Harden may need extra aloe for that burn.
Antetokounmpo has sounded off about super teams
After the Milwaukee Bucks finished off the Phoenix Suns in Game 6 of the NBA Finals, Giannis Antetokounmpo was emphatic about the more difficult route to a title being a colossal reward.
"I could go to a super team … but this is the hard way to do it, and we did it. We f*cking did it."

Giannis Antetokounmpo
Even in the mass transit system that is NBA free agency, it's not unheard of for a franchise-level player to win a title with the team that drafted him. We're only three years removed from Stephen Curry winning three championships in four years with the Golden State Warriors. Dwyane Wade won three rings with the Miami Heat.
But Antetokounmpo kept the fires burning on his jabs at the super teams. In a recent Instagram story, the Finals MVP took a more subtle approach. Using the caption, "Mood," Antetokounmpo showed photos of Wade, Dirk Nowitzki, Hakeem Olajuwon, and Kobe Bryant. Wade and Olajuwon won championships with the teams that drafted them. Nowitzki and Bryant were each acquired by the only teams they ever played for in draft-night trades.
Antetokounmpo then closed the story with this.
"Let's have a great offseason … WORK."
It's fair to say Antetokounmpo is having a great time with his new hardware.
Flaws and all, Giannis Antetokounmpo was indeed good enough to win a ring
For much of Giannis Antetokounmpo's eight-year NBA career, he has been criticized for not having a consistent 3-point shot, being a poor free-throw shooter, and generally not being a prototypical space-and-pace big man.
In the end, it didn't matter. Antetokounmpo not only blasted his way through the lane to a 50-point performance in Game 6, but he also found the magic touch at the foul line. He hit 17-of-19, answering criticism from Suns point guard Chris Paul. After the Bucks won Game 5 in Phoenix, Paul lamented a lost rebound after a particularly brick-like free-throw miss from Antetokounmpo.
"Everybody is anticipating him to miss, even him."

Chris Paul
As Paul would learn in Game 6, poking the bear (or deer) comes with consequences. That Antetokounmpo went out the day after Game 6 to order a 50-piece of mac-minis from Chick-Fil-A while broadcasting on Instagram Live.
Giannis Antetokounmpo repaid the team that gave an almost unknown prospect from Greece's second division a chance. The Milwaukee Bucks repaid him by assembling enough pieces around him to win a title.
Statistics courtesy of Basketball Reference.