Giannis Antetokounmpo Shows a Totally Different Side in His 'Scuffle in the Bubble'
Giannis Antetokounmpo has the Milwaukee Bucks in position to win an NBA title. But in order to succeed, they'll need Antetokounmpo on the floor giving dominant performances. This means he must stay healthy. It also means he must avoid fights that equal a costly suspension from the league. 
Recently, Antetokounmpo got into what we're calling the "scuffle in the bubble." Is this indicative of a larger pattern of behavior for the Bucks star? 
Giannis Antetokounmpo's past scuffles
RELATED: Dwight Howard Has Gotten Into Trouble With the NBA Bubble's 'Snitch Hotline'
Antetokounmpo is far from a hothead, but in the past, he's shown he won't back down when he believes an opponent gets too physical. Take, for example, his altercation with Pistons forward Blake Griffin. Yahoo Sports reported that during a December 2019 matchup, Griffin delivered a hard elbow to Antetokounmpo, which he did not appreciate.
He got into Griffin's face, and teammates broke them up. Later, Antetokounmpo swatted one of Griffin's shots. After the rejection, he also appeared to give Griffin an almost imperceptible shove to the floor. Griffin responded later by stepping over Antetokounmpo after he was fouled, which didn't sit well with Bucks players who then got into Griffin's face. 
It was no Malice at the Palace, but it shows that Antetokounmpo can sometimes let his temper boil over. That temper was again on display, this time in the NBA's Orlando bubble. 
Antetokounmpo's 'scuffle in the bubble'
RELATED: Giannis Antetokounmpo Is on the Verge of Two Massive Milestones
Antetokounmpo and the Bucks have struggled a bit in the bubble. While they've had no trouble scoring, they ran into two high-powered offensive teams that took them down: the Rockets and Mavericks. They suffered their third loss at the hands of a much less formidable opponent, the Brooklyn Nets. This is where Antetokounmpo's temper got the best of him. 
Antetokounmpo's "scuffle in the bubble" came against Nets player Donta Hall. According to FanSided, Hall attempted to box out Antetokounmpo on a jump shot. He overextended himself a bit, shoving the star to the ground. Antetokounmpo did not take kindly to this. He stood up and pushed back, confronting the rookie who had only six prior NBA games to his name. 
Was he overreacting? It's hard to say. It absolutely was a hard foul. But The Sports Rush points out that Antetokounmpo was angry after the incident. He informed the referee what he wanted to do to Hall using some foul words. It's true that superstars get targeted more during games; it's also true that they need to be able to withstand more attention and pressure. It comes with the territory.
Was Antetokounmpo's fight a bad sign for the star?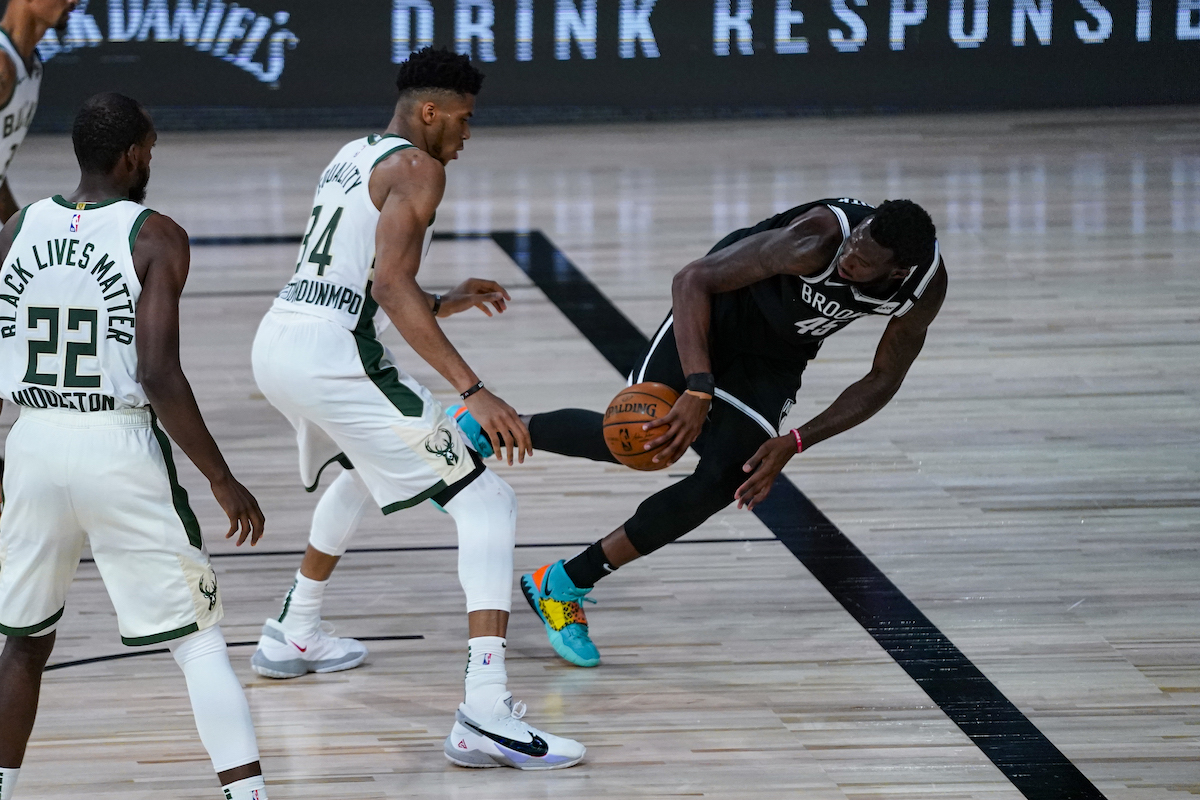 While it's hard to call Antetokounmpo's actions a trend, they're another reminder that when provoked he can react. Whether he was justified, this isn't a good look for the superstar.
Opponents could take advantage of him by sending in one of their second-tier players simply to antagonize him. Along with being a world-class rebounder, Dennis Rodman made a career of being able to get under a player's skin. 
Antetokounmpo should take after some other stars like LeBron James and Kevin Durant, who rarely get into fights like this one. They more often than not walk away from this kind of confrontation, and for good reason. There has to be another enforcer-like player on the Bucks who can handle his battles for him.