Giannis Antetokounmpo is Still Celebrating and Living His Best Life After the Bucks' NBA Championship
Giannis Antetokounmpo is still celebrating the Milwaukee Bucks' NBA championship.
Milwaukee responded from a 2-0 deficit in the finals with four consecutive victories over the Phoenix Suns to bring home its first NBA title in 50 years. The Greek Freak and his teammates celebrated at Fiserv Forum. Then they celebrated with a parade. Now Antetokounmpo has taken the Larry O'Brien Trophy and the Bill Russell Finals MVP Trophy back home to Greece.
Giannis Antetokounmpo put on one of the greatest performances in NBA finals history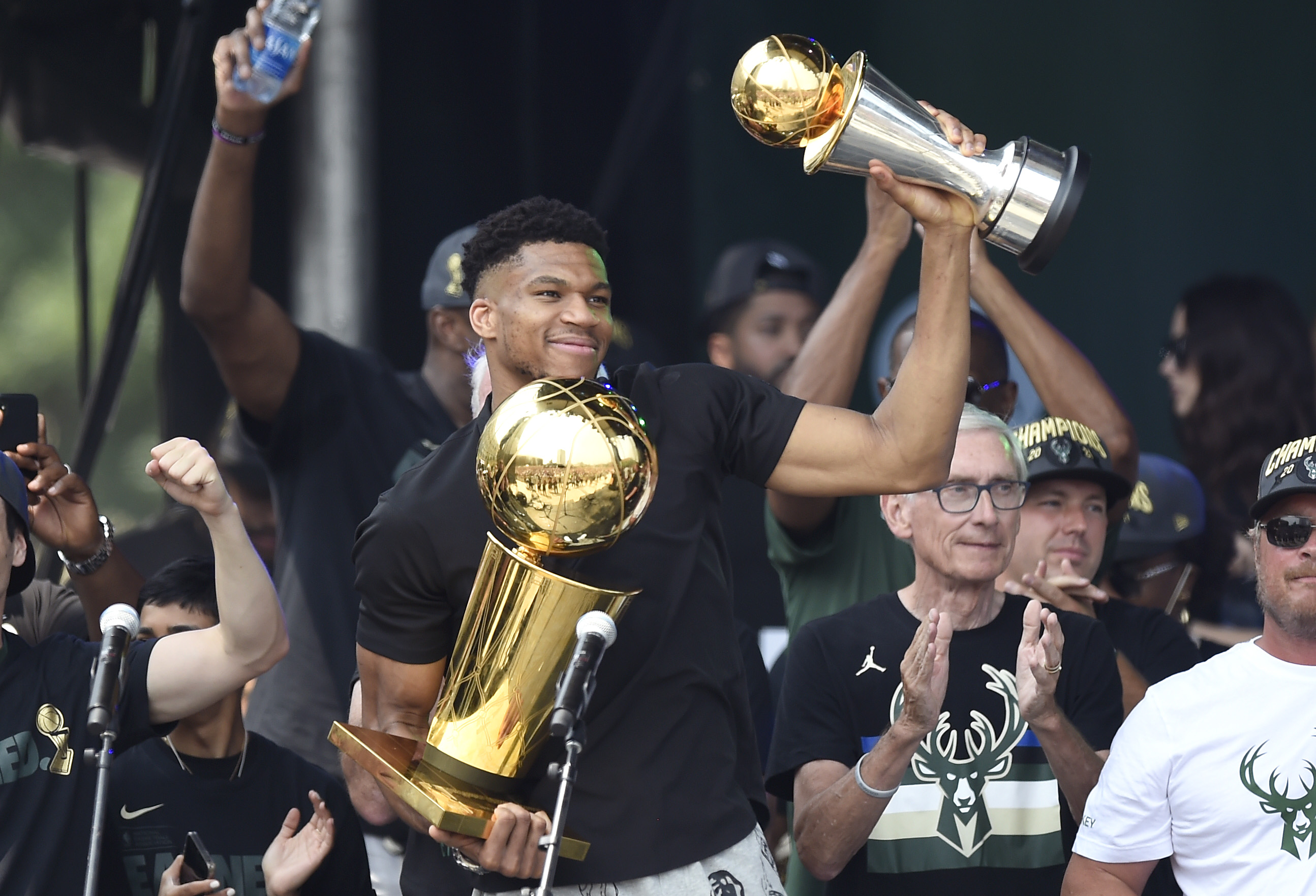 Khris Middleton and Jrue Holiday certainly contributed to the Bucks' championship. Even Bobby Portis became a fan favorite. But Milwaukee won the title on the back of its superstar. Antetokounmpo added a finals MVP to his two regular-season MVP awards after averaging 35.2 points, 13.2 rebounds, 5.0 assists, 1.8 blocks, and 1.2 steals in the series, according to NBA.com.
Not only did Antetokounmpo statistically dominate the series, he made two of the most memorable plays in NBA finals history. He sealed a Game 4 victory with one of the greatest defensive plays of all time when he moved up toward the free-throw line to hedge a Devin Booker drive and then somehow made his way to Deandre Ayton at the rim to block his dunk attempt on Booker's lob. A lob Antetokounmpo forced in the first place.
In Game 5, Holiday stole the ball from Booker and dribbled into the front court. Rather than slow down, pull the ball back out, and take time off the clock, Holiday saw a sprinting Antetokounmpo heading toward the rim. The MVP pointed a finger upward, signaling for a lob, Holiday obliged, and the two combined for one of the ballsiest plays in finals history.
Oh, and he dropped 50 points with 5 blocks in the closeout game too.
Antetokounmpo is now back home in Greece, still celebrating, and still with his championship trophies
The skinny kid who grew up as a hawker in Greece never forgets his roots. Now he's returned to his home country with both the championship trophy and finals MVP trophy in tow.
Never to be separated from family, Antetokounmpo brought his brothers Kostas and Thanasis (also a member of the Bucks' championship squad) with him to Greece to celebrate.
Antetokounmpo deserves to celebrate however much and for however long he wants
The Greek Freak wasn't a freak when he entered the NBA. Selected at No. 15 as an unknown, Antetokounmpo entered the league as a 6-foot-9, 190-pound naive teenager. He didn't even know where Milwaukee was.
Remember when he discovered smoothies for the first time?
He grew two inches, and through sheer hard work and will, put on more than 50 pounds of muscle, improved his game (the Bucks' coaching staff once had to put a lock on the gym door because he wouldn't stay out), and turned himself into a two-time MVP and now a champion.
It seems like Antetokounmpo will continue his offseason revelry. And he deserves every bit of it.