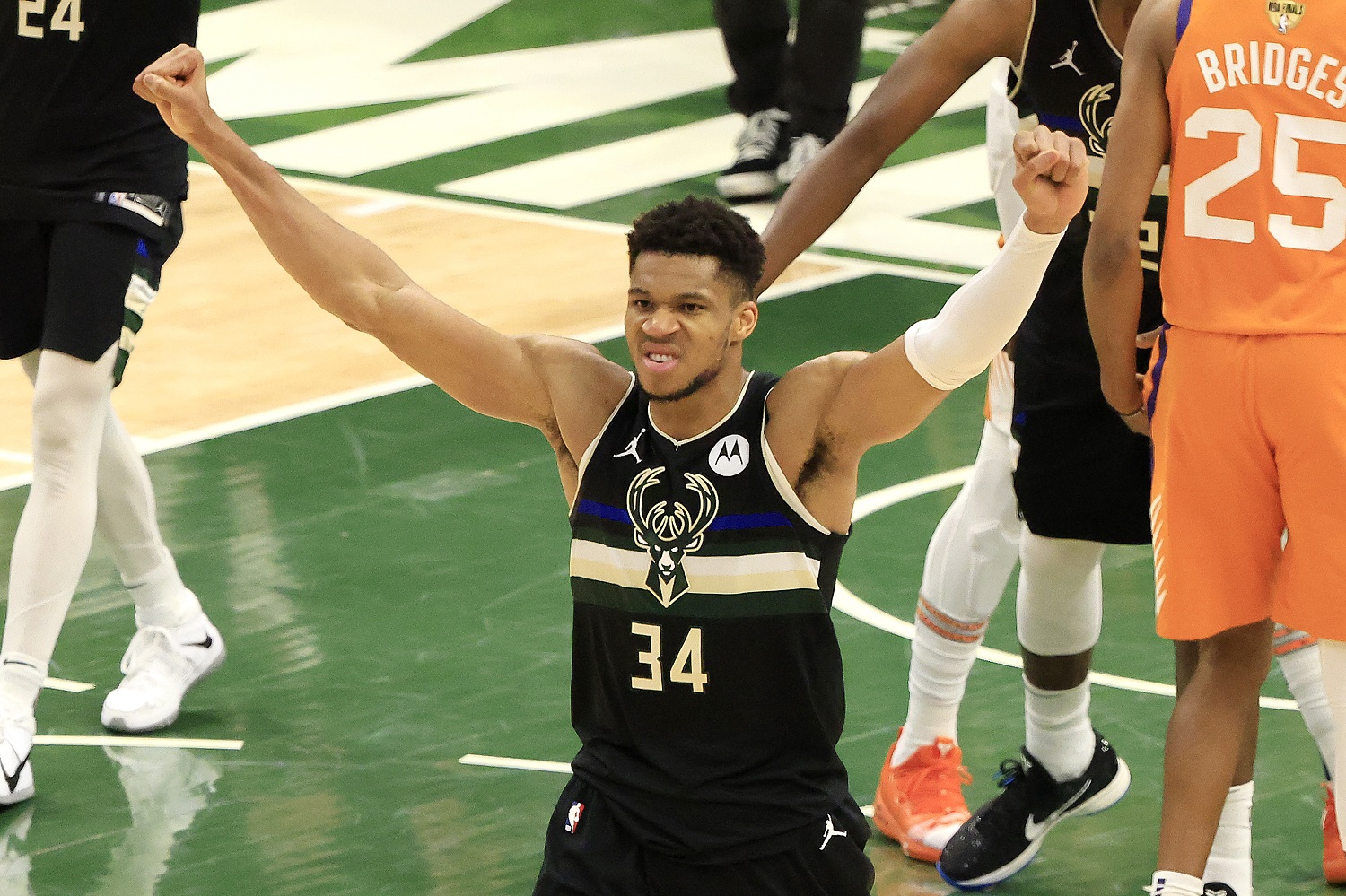 Giannis Antetokounmpo Still Has More Opponents to Squish Like Bugs on a Windshield
Milwaukee Bucks star Giannis Antetokounmpo is a force on the basketball court, and his lawyers are winners when it comes to protecting his business interests in federal court.
The 50 points that Giannis Antetokounmpo dropped on the Phoenix Suns in Game 6 to wrap up the NBA championship for the Milwaukee Bucks came after he warmed up by dropping a lawsuit on renegade entrepreneurs a few days earlier.
It seems Antetokounmpo is protective of his "Greek Freak" trademark. And given the respect and accolades he earned in leading the Bucks to their first league title in half a century, who can blame him for wanting to annihilate the people taking money out of his pocket?
Giannis Antetokounmpo is in a very good place on and off the court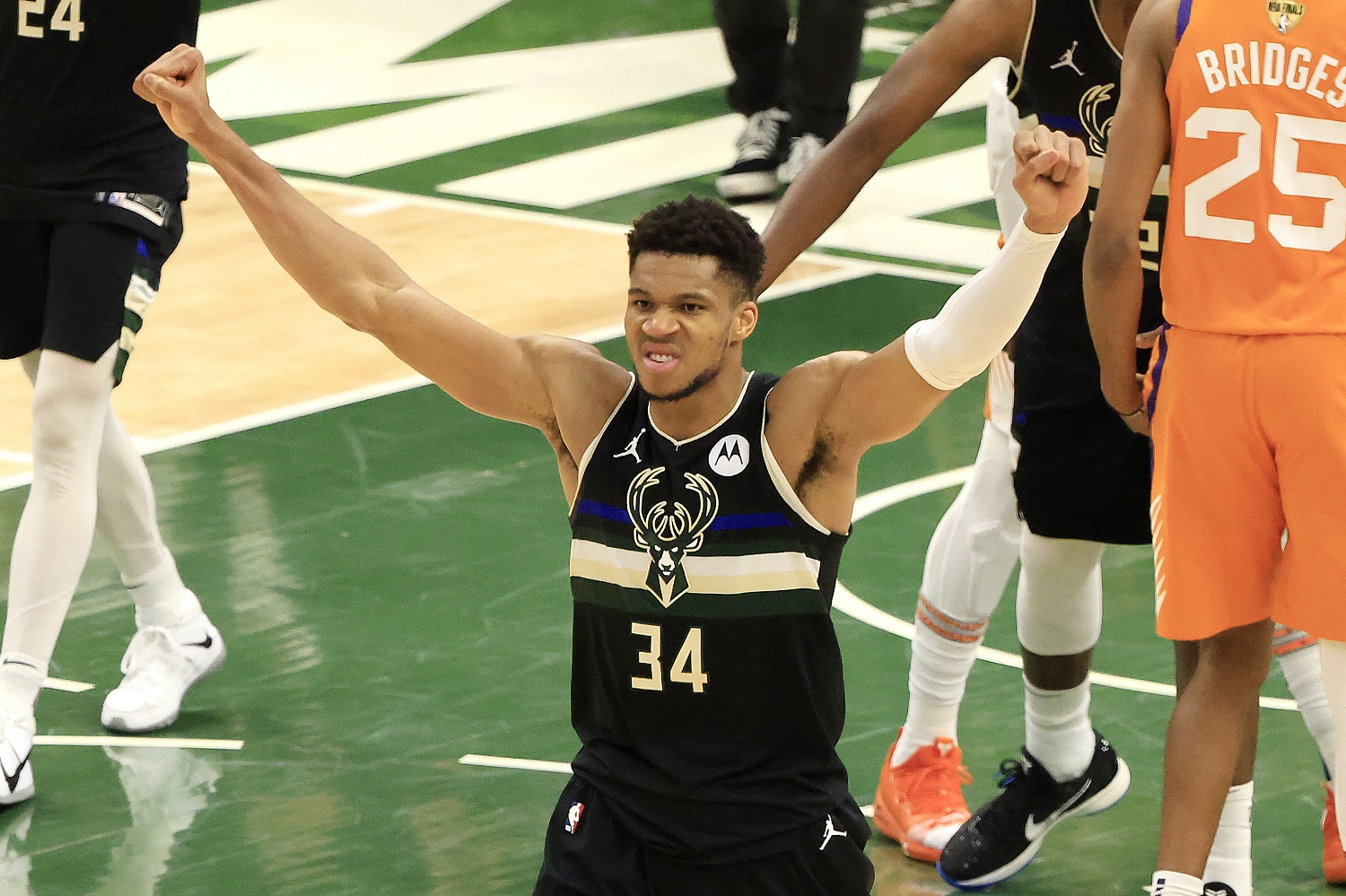 Just imagine if Antetokounmpo could actually shoot free throws with any consistency. The man would be rolling in dough right now.
Oh, wait. He already is.
Antetokounmpo signed a $228,200,420 extension on the eve of the just-concluded NBA season to remain with the Bucks for five more seasons. That averages out to an ungodly $45,640,084 a season. Assuming he exercises his player option, his career earnings will swell to more than $374 million by the spring of 2026.
It's phenomenal money, and it is now officially hard to argue against paying the 26-year-old native of Athens, Greece, every penny of it.
On top of his salary, Antetokounmpo has been making an estimated $25 million a year from endorsements, according to Forbes. He has ties to Anheuser Busch, Electronic Arts, and Nike to name just a few of the major names.
In total, Antetokounmpo is now the star of an NBA championship basketball team and a financial empire all by himself. Even if the Bucks cannot sustain their success, his checkbook most assuredly will.
Giannis Antetokounmpo is going after people trying to make a buck off him
While Antetokounmpo was raking the Suns over coals at a rate of 35.2 points and 13.2 rebounds a game in the finals, adding 5.0 assists for good measure, the Bucks star's lawyers were going after lesser-known opponents.
According to RadarOnline.com, Antetokounmpo's representatives filed a lawsuit against five individuals during the finals. The court documents allege the defendants have been using his 'Greek Freak' trademark on apparel and other products without permission.
Such actions by athletes and entertainers are common, and a simple cease-and-desist letter that also spells out damages typically resolves the issue. This time, however, Antetokounmpo's lawyers allege that the defendants disregarded the warning and continued profiting off the player's name and reputation.
That resulted in the federal lawsuit filed in the U.S. District Court for the Southern District of New York.
The 'Greek Freak' goes through this surprisingly often
Earning back-to-back MVP honors in 2019 and '20 raised Antetokounmpo's profile in basketball and in business. He has licensed his name and his "Greek Freak" trademark numerous times, but others have tried getting around cutting the Bucks star in on the money.
According to Law360.com, his lawyers have filed 51 intellectual property infringement lawsuits since Antetokounmpo successfully trademarked "Greek Freak" in 2018. He has an application pending for "Greek Fr34k," too.
The website reports that defendants in 39 cases settled or had charges dropped, and three others ended in default judgments awarding the player a total of $140,000. Three other cases appear to be heading for default judgments in Antetokounmpo's favor.
It's inevitable that people will continue trying to make a buck off the Buck. However, they should keep in mind that Antetokounmpo can afford to pay his lawyers a lot more than they can pay theirs.
All stats courtesy of Basketball Reference.