Giannis Antetokounmpo Stunned Suns Head Coach Monty Williams With a Surprise Move Immediately Following Milwaukee's NBA Finals Victory
Phoenix Suns head coach Monty Williams just finished press when he sauntered over to congratulate Milwaukee Bucks star Giannis Antetokounmpo following Game 6 of the 2021 NBA Finals. However, the Greek Freak had a more elaborate gesture in mind.
It's common for opposing coaches or star players to congratulate their counterparts following an NBA playoff series. But it's quite rare for an opponent to make a speech in the opposing team's locker room. Williams did just that after Game 6, resulting in a viral moment.
Interestingly, Williams had no idea what he was getting into before making his speech.
Monty Williams made a speech in the Bucks locker room after Milwaukee won the NBA championship
Monty Williams praised Giannis Antetokounmpo and the Milwaukee Bucks in the aftermath of Milwaukee's championship victory.
Williams thanked Bucks players for the experience and suggested they had made him a better coach. It was a respectful gesture and one that epitomized what Williams has been about in his coaching career.
The Suns head coach has persevered through tragedy. He lost his wife in a car accident in February 2016 but responded by demonstrating steadfastness and a determination to take on new challenges.
Williams found that next challenge in Phoenix. He took over as Suns head coach ahead of the 2019-20 season, leading the team to a 15-win improvement and going a perfect 8-0 in the Orlando bubble. The arrival of Williams' old point guard, Chris Paul, brought greater fortunes this past season, as the Suns would make it all the way to the NBA Finals.
Phoenix was thwarted by Antetokounmpo and the Bucks in the Finals. However, Williams embraced the opportunity to thank his opponents for the challenge. He just didn't know he'd be thanking the entire team.
Giannis Antetokounmpo invited Williams to speak to the team
Monty Williams had no idea what he was getting himself into when he sought out Giannis Antetokounmpo after Game 6.
Antetokounmpo was holding a cigar and bottle of champagne when Williams approached him to offer congratulations. But Giannis wanted to give the Suns head coach the chance to speak to a larger audience in the Bucks locker room.
"Yeah, he was like 'Come on, Coach,' and I was like, 'OK,'" Williams told Sam Amick of The Athletic. "I didn't know their locker room, and it was all done authentically. I wasn't trying to be a great sportsman. I wasn't trying to be classy, any of that. I was just doing what I was taught, you know? When you lose, you look the guy in the eye, you shake his hand — as hard as it is — and maybe someday you get a chance to be on the other side of that."
It speaks volumes about Giannis Antetokounmpo that, in the midst of celebrating his first championship, he was adamant about showing Williams respect and giving Monty the chance to reciprocate that reverence.
Antetokounmpo just as easily could have claimed the spotlight. He put up historic numbers in Game 6 and throughout the Finals. Yet, his selflessness made for a viral moment of respect and sportsmanship.
Will the Bucks and Suns run it back next season?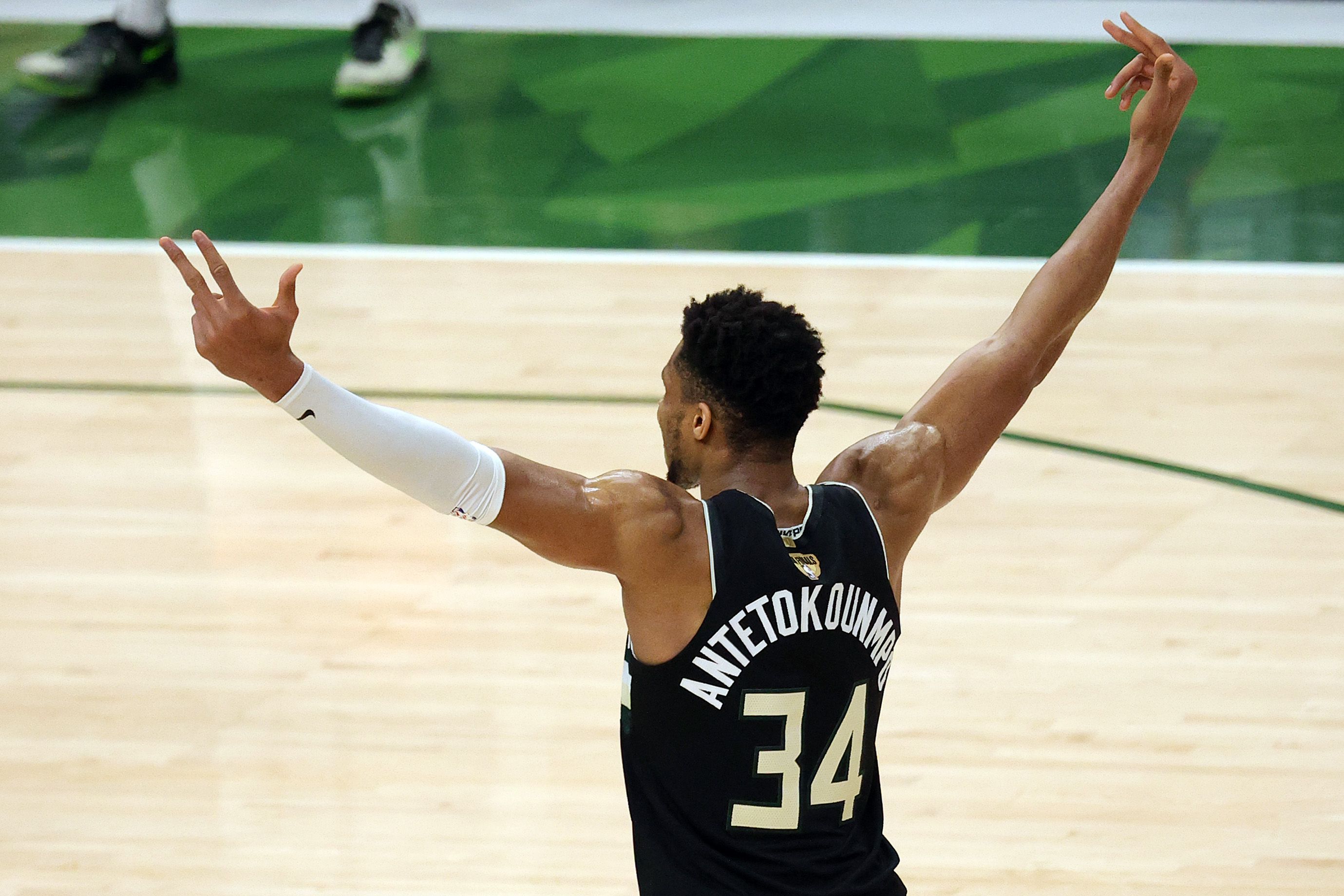 The NBA offseason provided fans with a flurry of activity. Multiple teams, like the Los Angeles Lakers, Miami Heat, and Chicago Bulls, made splashy additions with the hopes of making a deep playoff run this upcoming season.
However, the Bucks and Suns could very well be due for a rematch next summer.
Giannis Antetokoumpo will again lead a Milwaukee squad that is mostly the same as last year's NBA champions, albeit with some different bench pieces. Meanwhile, Chris Paul's decision to re-sign with Phoenix means Williams and the Suns will also run it back with mostly the same roster.
In 2021, it was Williams offering his congratulations to Antetokounmpo and the Bucks. Perhaps next summer it will be the Greek Freak applauding Williams and the Suns on their first NBA championship.