Giannis Antetokounmpo Took a Hilariously Sarcastic Shot at the Media After the Milwaukee Bucks Ended Their 3-Game Losing Streak: 'My Goodness, I Thought We Were Tanking'
When Giannis Antetokounmpo first arrived in the NBA as a gangly 19-year-old from Greece, he struggled with his English. He got by, but his vocabulary was limited. But as the Milwaukee Bucks superstar blossomed on the court and turned into a two-time MVP and NBA champion, his American verbiage grew as well. The Greek Freak can now be counted on for anything from deep introspective analysis to a good dad joke now and then.
Giannis's latest gem came at the beginning of a postgame presser after a Bucks win over the Detroit Pistons, which ended a three-game skid.
The Milwaukee Bucks are limping to a slow start
Injuries have beset the Bucks in the first few weeks of 2021-22. Antetokounmpo and Grayson Allen are the only two regular starters (or assumed starters, in Allen's case) to play in every game thus far.
Point guard Jrue Holiday and center Brook Lopez have missed significant time. Giannis's Robin, Khris Middleton, is now in the league's health and safety protocols.
Sixth man Bobby Portis recently returned, but on a minutes restriction. Ditto for free-agent acquisition Semi Ojeleye.
Last year's starting two-guard, Donte DiVincenzo, got hurt during the team's 2021 postseason run and isn't expected to return anytime soon.
That — along with poor shooting, which can at least in part be attributed to a large group of walking wounded — has Milwaukee off to a 4-4 start. The Bucks lost three games to Minnesota, San Antonio, and Utah, the final two of which came at home in a back-to-back.
But a matchup with NBA bottom feeder Detroit was just what the doctor ordered as Milwaukee got back in the win column with a 28-point rout of the Pistons and No. 1 overall pick Cade Cunningham.
Giannis Antetokounmpo doesn't seem to be fretting about his team's early-season struggles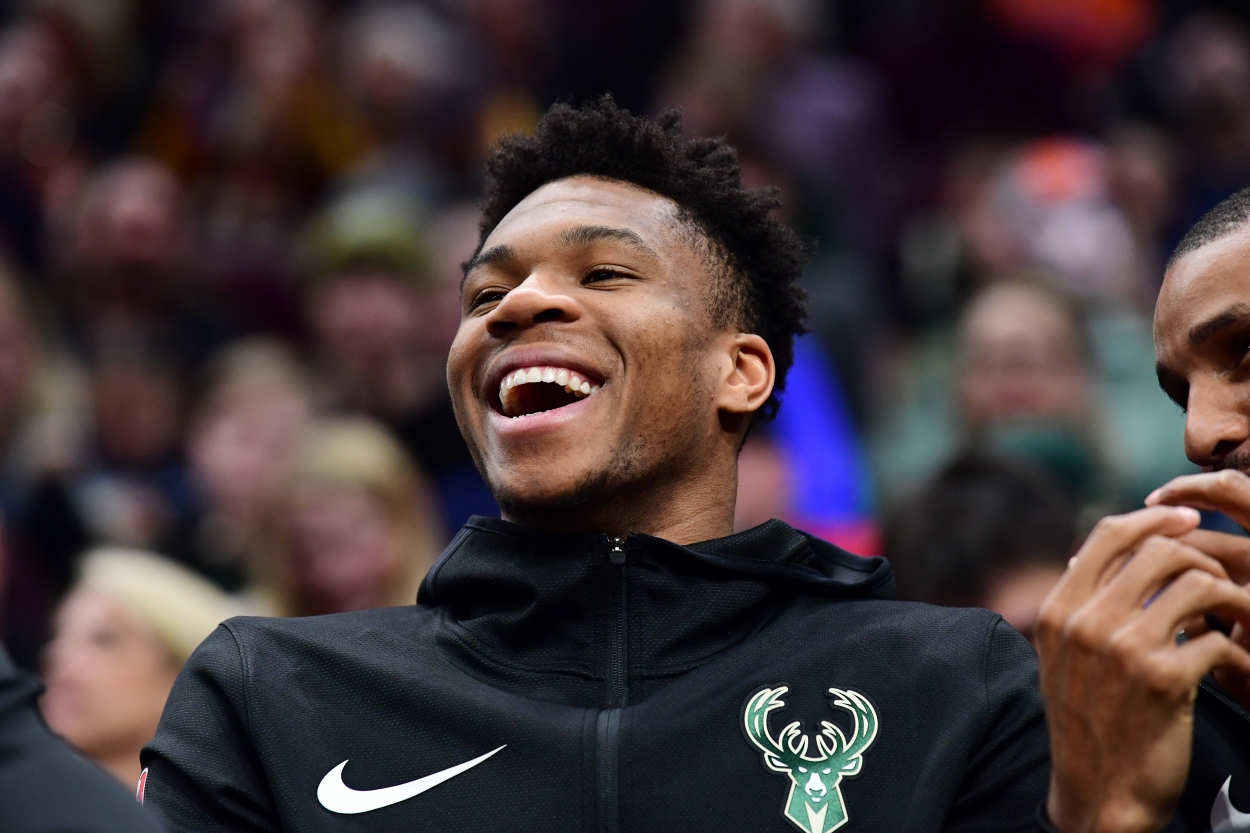 Giannis doesn't usually fret about much, actually. The 2019-20 Defensive Player of the Year came from incredibly humble beginnings, so for him, everything is about perspective.
But when Antetokounmpo gets his wide smile going, something entertaining is usually on the way. That was certainly the case in his postgame Q&A session with the local media after the team's win over the Pistons (h/t Bucks.com):
"Oh man, I feel so good," Antetokounmpo said, addressing the local reporters by name, one by one. "Ahhh … we won. Oh, God. Oh my goodness, I thought we were tanking, I thought we were tanking for the No. 1 pick! Whew, thank you!"
His comments were a solid tongue-in-cheek shot at those pushing the panic button on the Bucks' early-season issues. With 76 games still to go, there's plenty of time for Milwaukee's shooting to come around and its best players to get healthy.
In the meantime, at least Giannis is having a little fun.
There's no reason to panic about the defending champions quite yet
Milwaukee has been forced to work in a number of end-of-the-bench guys through the season's first two weeks. Giannis's brother Thanasis, who played 9.7 minutes a game last year, is averaging 19.1 this year and has started a handful of times.
Justin Robinson, who has 18 career games under his belt, has played in nine contests this year and is averaging 17.1 minutes.
That kind of odd rotation can mess with even the defending NBA champions. A regular-season juggernaut known for its 3-point shooting, ball movement, and defense is hitting only 33.5% of its shots from deep, is 23rd in assists, and middle of the pack in defensive efficiency.
Once its key players get healthy and in rhythm, chances are Milwaukee fires up the engine and looks more like its usual self. It's not time for mass hysteria yet.
Antetokounmpo is fully aware of that, and while he waits for his teammates to return, why not make some fun of the media?
All statistics courtesy of NBA.com.
RELATED: The Milwaukee Bucks Hype Train Has Been Derailed by Injuries, but There's One Player in Particular Giannis Antetokounmpo Is Begging to Rebound: 'Please Come Back'