Giannis Antetokounmpo's 1 Tweet Further Proves Why He Needs to Take LeBron James' Crown, Become the New Face of the NBA
We have lived in LeBron James' world for nearly two decades, but as James enters the twilight of his career, he must find someone who can take his crown. A different player must soon become the new face of the NBA.
That's where Milwaukee Bucks superstar Giannis Antetokounmpo comes in.
Antetokounmpo has already become one of the greatest players in the league. He has won two MVPs and one championship. But his recent tweet further proved why he needs to be the one to inherit LeBron's throne.
LeBron James has been the face of the NBA for nearly two decades
LeBron James' entrance into the NBA almost worked out too perfectly. In high school, he was deemed "The Chosen One" by Sports Illustrated, and his coaches even had to inform colleges recruiting him for football that he was going to "be the next Michael Jordan."
It also just so happened that Jordan's final NBA season was in 2002-03, while James' rookie year was the season after in 2003-04.
He has since lived up to all the hype and then some, which has made him the first player fans think of when discussing the league.
The King has earned both All-Star and All-NBA honors 17 times, four MVP awards, and six All-Defensive team selections. He has also won four championships and four Finals MVPs, and he's currently third in league history in total points scored with over 35,600.
LeBron is still proving he has a lot left in the tank, too, as he's averaging 25.8 points, 5.2 rebounds, and 6.8 assists this year. But given that he's turning 37 years old in December, it may be time for him to find his successor as the face of the NBA.
And it should be Antetokounmpo's crown to lose.
Giannis Antetokounmpo's recent tweet further proves why he needs to be the next face of the NBA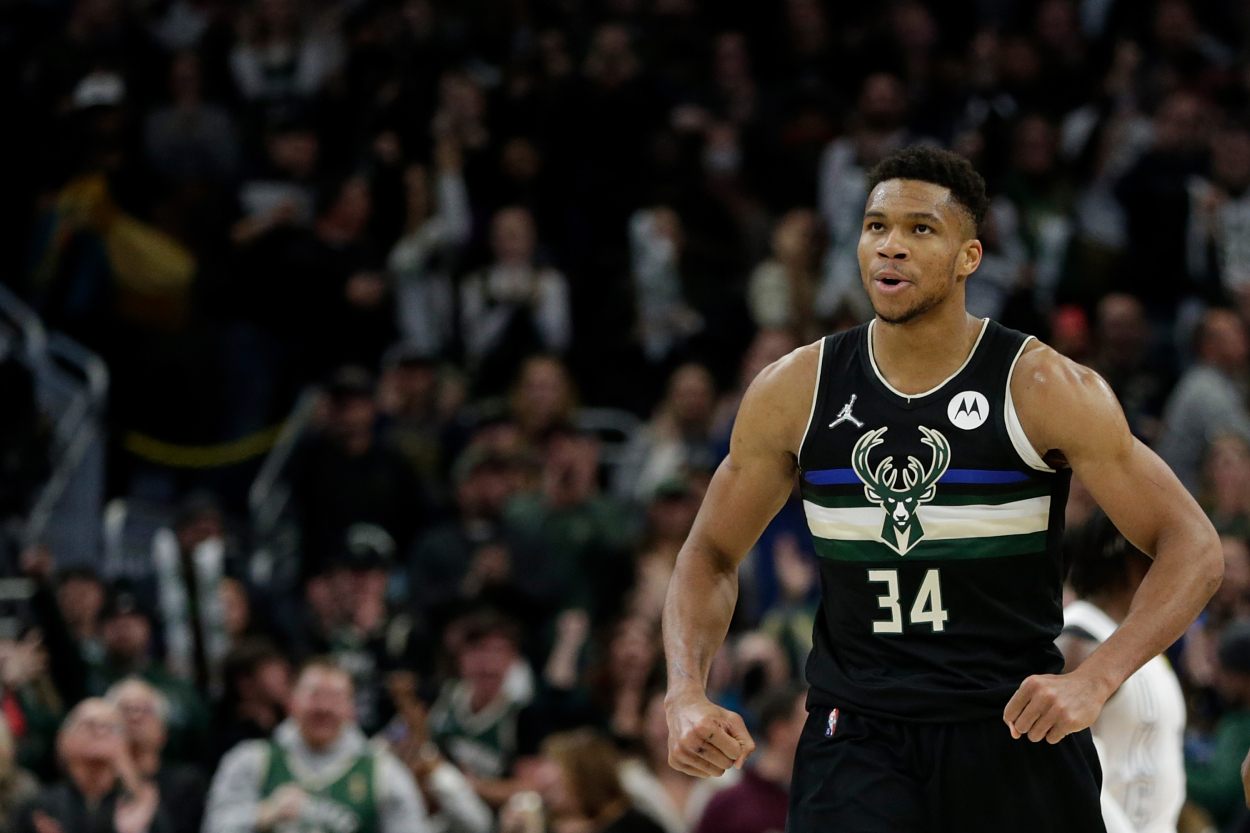 Before we get into why the NBA should look to Giannis Antetokounmpo to be its next face of the league, let's take a look at his recent tweet.
If you haven't seen it, it will likely make you fall in love with him even more than you already have.
In reaction to the Bucks reportedly signing four-time All-Star big man DeMarcus "Boogie" Cousins, Antetokounmpo took to Twitter and gave his reaction: "How do you make a tissue dance?! You put a little 'Boogie' in it!! My Dad jokes are back!!"
The obvious reaction to this tweet is appreciating that Giannis wants to get off on the right foot with his new teammate. But the cringey — yet hilarious — dad joke just makes the reigning Finals MVP something most superstars aren't: relatable.
Giannis is the most relatable star in the NBA
When it comes to star NBA players, they typically get so wealthy and popular that fans end up having a difficult time relating to them. How can people who work in an office or restaurant 10 hours a day see themselves in athletes like MJ or LeBron, who literally act in movies and commercials during their free time?
But Antetokounmpo's personality makes it easy to imagine yourself just kicking back and hanging out with him.
In addition to his awful dad jokes, the Greek Freak has revealed how much he enjoys watching reality television. He also celebrated winning an NBA championship by going to Chick-fil-A, and he recently opened up about his new love for dipping Oreos in milk.
"I was like, 'Bro, this is amazing,'" he said earlier this month, per Bleacher Report. "So, obviously, I didn't have one; I had like 12 of them."
It might be because Antetokounmpo hasn't forgotten his path to NBA stardom. He went from growing up in a poor household with his siblings in Greece to only averaging 6.8 points as a rookie, to now being a two-time MVP and an NBA champion.
Whatever it is that keeps Antetokounmpo humble, though, he make it easy to root for him.
That's no dig at any of the other younger players who could also become the face of the NBA, either. How can you not like Luka Doncic, Trae Young, or Jayson Tatum? But it's just hard to match the charismatic personality of Giannis, as he might actually be the most loved player in the league.
Yes, it's still currently LeBron James' NBA, and he's earned the right to be the face of the league. But when he's ready to pass the torch, he better hand it right over to Antetokounmpo because the Greek Freak is becoming the NBA's new king.
Stats courtesy of Basketball Reference