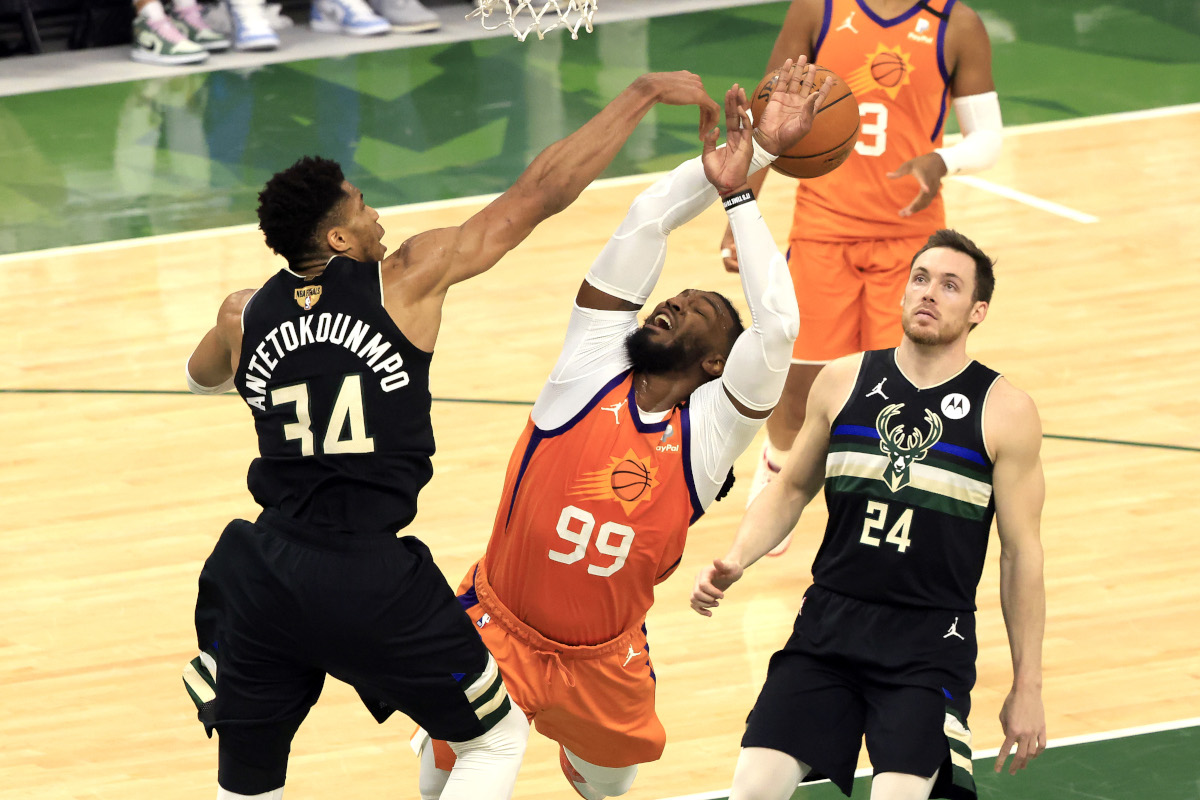 Giannis Antetokounmpo Had a Video-Game Performance in 1 of the Best NBA Finals Clinching Game Performances Ever
Giannis Antetokounmpo was simply amazing in Game 6 of the NBA Finals, putting up a performance for the ages while leading the Milwaukee Bucks to their first NBA championship since 1971.
The selection of Giannis Antetokounmpo as the 2021 NBA Finals MVP was as easy a decision as taking Charles Barkley over a 10-year-old kid for a pickup game. There may have been more dominant performances in the NBA Finals, but it's a concise list if it exists. What Antetokounmpo did in Game 6 while carrying the Milwaukee Bucks to their first championship since 1971 was off the charts.
Seriously, Antetokounmpo passed through legendary in Game 6 and went straight to video-game numbers. The sheer volume of ways in which Giannis Antetokounmpo rewrote the NBA history books in Game 6 and the Finals, in general, could literally make up a separate volume.
Giannis Antetokounmpo was not Robin to anyone else's Batman
ESPN's Kendrick Perkins may never live down his declaration earlier in the NBA Finals that Khris Middleton was the Batman of the Milwaukee Bucks. Giannis Antetokounmpo, so surmised Perkins, was merely Robin. Let's take a count just from Game 6, shall we?
Antetokounmpo scored 50 points, grabbed 14 rebounds, blocked five shots, was 16-of-25 from the floor, and a career playoff-best 17-of-19 at the line. Chris Paul may be reconsidering his decision to poke Giannis about his foul free-throw shooting after Game 5.
Basketball Reference has a quick and dirty catch-all metric called Game Score. Antetokounmpo's game score, which accounts for the volume at which a player stuffs the stat sheet, was 42.0. In the history of the NBA Finals, there is one player with a better score. That was LeBron James, who posted a 42.5 in his Game 6 masterpiece against the Golden State Warriors in the 2016 NBA Finals.
For the record, Middleton — an outstanding player, to be sure — had his best game score in the Finals in Game 4. His 27.7 mark ties for 128th-best in Finals history. But Batman!
Make no mistake. Giannis Antetokounmpo is Milwaukee's Batman. That is a question to retire permanently (as, perhaps, should Perkins' microphone privileges).
Antetokounmpo placed himself on some extremely short NBA Finals lists
Trying to account for everything Giannis Antetokounmpo did in Game 6 is a big job. The company he now keeps is legendary, in every sense of the word. Here is a sample of his achievements:
With 50 points, Antetokounmpo is the seventh player to have a 50-point Finals game. That joins Bob Pettit, Elgin Baylor, Rick Barry, Jerry West, Michael Jordan, and LeBron James. OK, then.
His 50 points in a closeout game are matched only by Pettit in Game 6 for the St. Louis Hawks in 1958. So not a common occurrence. Jordan's 45 in Game 6 of the 1998 Finals had been the most since the 1976 ABA-NBA merger.
With 50 points, 14 rebounds, and five blocked shots, Antetokounmpo created a new list of players with at least 40 points, 10 boards, and five rejections in a Finals game. Note that the blocked shot became an official stat in 1973.
Antetokounmpo scored 33 points in the second half of Game 6. Michael Jordan is the only other player in the last half-century to score that many in a Finals half.
Giannis is the first player in the last 40 years with multiple 30-point halves in a single Finals series.
He joined Shaquille O'Neal in 2000 as the only player with multiple 40-point, 10-rebound games in one Finals.
His 20-point third quarter made him the first player over the last 50 years with multiple 20-point quarters in one Finals.
At this point, someone could sound credible while claiming Giannis Antetokounmpo also served snacks to the 65,000 some odd people outside Fiserv Forum during the game. Consider what he did in the series overall.
Giannis Antetokounmpo stands alone with a statistical NBA Finals first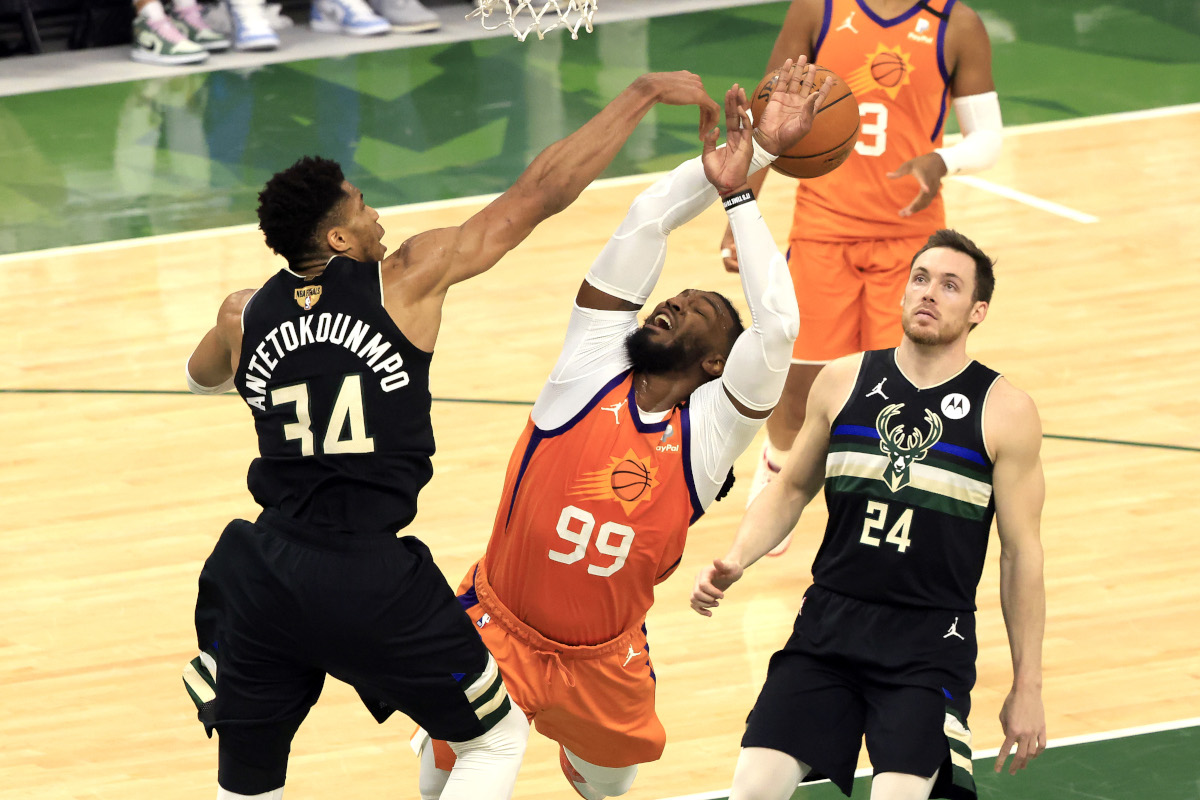 In the 2021 NBA Finals, Giannis Antetokounmpo averaged 35.2 points, 13.2 rebounds, and 5.0 assists per game. He also shot 61.8% from the field over the six games. That makes him the first player ever to average at least 30 points, 10 boards, and five dimes while shooting at least 60% in Finals history.
With his Finals MVP award, Antetokounmpo joins Jordan and Hakeem Olajuwon as the only players with regular-season and Finals MVPs along with a Defensive Player of the Year trophy. Giannis and Jordan, meanwhile, are the only players with regular-season, Finals, and All-Star Game MVPs to go with a DPOY.
Finally, Antetokounmpo is the only player with the three MVP honors noted above and a DPOY also to have been named the NBA's Most Improved Player.
Many folks would be thrilled to do all of that in a video game. Giannis Antetokounmpo doing it in the real world, though, is flat-out remarkable.
Statistics courtesy of Stathead and Basketball Reference.