Why Giannis Antetokounmpo vs. James Harden in the NBA MVP Race is Must-See TV
Without question, Giannis Antetokounmpo and James Harden are two of the best players in the NBA. Both had valid arguments for being the MVP last season, an award that Antetokounmpo won. Both are making strong cases yet again. But which one of them will take home the trophy? Are there any other candidates who may challenge for the award? And what makes their battle for the award so compelling?

Giannis Antetokounmpo's 2019 case for MVP
Unlike Harden, Giannis Antetokounmpo doesn't really have a second star at his side. That's not to say Milwaukee is devoid of talent. They have plenty of solid secondary options. But no one on the level of Russell Westbrook in Houston. That means him leading Milwaukee to such great heights is doubly impressive.

Also, he's getting better all around, particularly in areas of his game that were once considered a weakness. SB Nation compared the two players and remarked that Antetokounmpo's 3-point game is improving:

"Antetokounmpo (kinda) has a perimeter game now. His 3-point shooting, which perked up near the end of last season, is still adequate on more volume this year. Antetokounmpo is launching more than four threes a game this year while hitting 32 percent, which isn't great but is much better than the 26 percent he nailed on only 2.8 threes a game last year. He's releasing the ball more on the way up than at the top of his jump this year, which means his motion and follow-through are more fluid rather than disjointed."

Antetokounmpo may qualify for the award on his sheer ability alone, as no one in the league (Harden included) has the raw athleticism he possesses. If he can lead the Bucks to another league-best record, he'll have to draw serious back-to-back consideration.

James Harden's 2019 case for MVP
With the combination of his skill and the new rules making it easier for scorers, Harden may be the most effective one-on-one scorer of all time. This season he may have an easier time scoring also. The team upgraded from Chris Paul to Russell Westbrook at point guard.

Say what you want about Westbrook's ability to play nicely with others, but there's little doubt he's more effective offensively than Paul at this point in their careers. Having that number two option on the floor gives Harden less focus from opposing defenses.

Harden's main drawback? His offensive game still dwarfs his defense, which is still somewhat lacking. Still, Harden's offensive numbers are so impressive that they will be hard to ignore when voters cast their NBA MVP ballots.

Why Harden vs. Giannis for MVP is so compelling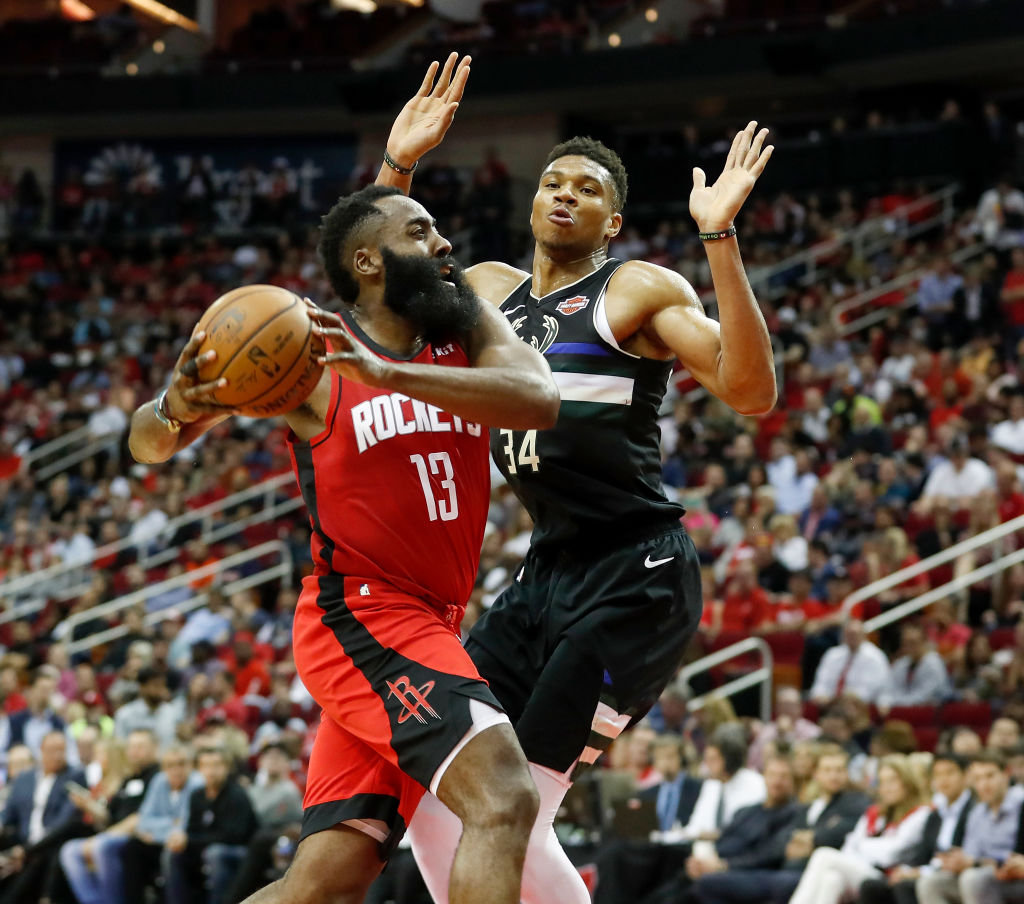 As we mentioned from the outset, Giannis Antetokounmpo and James Harden are two of the top-5 players in the NBA. What's compelling in their chase for the MVP award is how they're going about it.

Harden is playing a ton of minutes, taking a ton of shots, and scoring boatloads of points this season. The Rockets are playoff contenders in the stacked Western Conference thanks in part to Harden's efforts.

Antetokounmpo might not have the jaw-dropping stats Harden does, but he's scoring more, grabbing more rebounds, and has the highest player efficiency rating in the league. Plus, the Bucks are contending with the Lakers for the best record in the NBA.
Who else will challenge for the 2019 MVP?
Who else may challenge for the MVP award this season? While Harden and Antetokounmpo are clear favorites, there are other serious contenders. Some of them include:
Luka Doncic. After a spectacular rookie campaign, he now has a viable running mate now that Kristaps Porzingis is 100% healthy. He's only going to get better.
Kawhi Leonard. With a new team and a new teammate in Paul George, Kawhi Leonard is poised to make the Clippers Western Conference contenders. After he tore through the league like a hot knife through butter in last year's playoffs, anything is possible. The only thing standing in his way is if the team opts not to play him as much due to load management concerns.
LeBron James. Yes, he's 34 years old. Yes, he's probably not in his prime anymore. And yes, he'll probably sit out a decent amount of games to rest for the playoffs. But he's LeBron James, and as long as he's in the league, he has to be at least considered for MVP.
Anthony Davis. He probably won't win it, but with LeBron's advancing age, he could now be the best player on the Lakers. If they win between 55 and 60 games, he may get consideration.
It's impossible to tell right now who will be the 2019-20 MVP, but betting on any of those five would probably be a smart choice.