Giannis Antetokounmpo Won't Like Charles Oakley's Ridiculous 'Bench' Claim About Him
Giannis Antetokounmpo has earned clear recognition as one of the game's greatest talents. The Milwaukee Bucks star is an extremely gifted player who anchored his team's transformation into a powerhouse.
His rise to stardom features lingering doubts despite him continuing to prove those naysayers wrong through sustained success. Former longtime NBA big man Charles Oakley is among those who remain skeptical about Antetokounmpo's game.
Giannis Antetokoumpo's rise to NBA stardom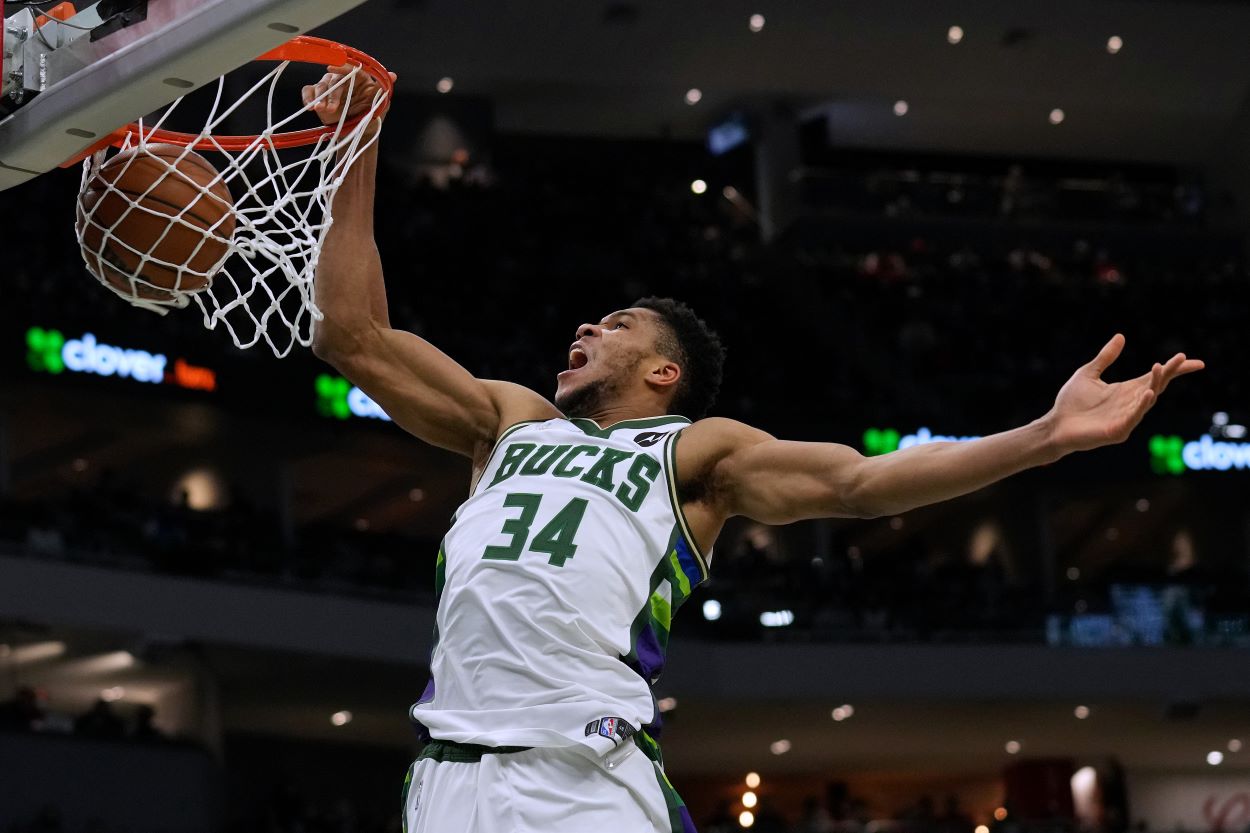 Antetokounmpo entered the NBA as an international talent with raw skill filled with promising potential.
He has become one of the league's best players through his first eight-plus seasons. Antetokounmpo has become an elite two-way dominant factor who is coming off leading the Bucks to their first NBA title in five decades. He's piled up a remarkable resume, such as earning a pair of league MVPs, winning Defensive Player of the Year, receiving six All-Star game selections, and capturing the 2021 Finals MVP.
Despite all that, a former longtime NBA big man still isn't convinced Antetokounmpo would have succeeded in his era.
Charles Oakley believes Giannis Antetokounmpo would have come off the bench in his era
Charles Oakley has never minced his words concerning any topic.
He has always spoken his mind for better or worse, while his no-BS reputation has remained strong even in retirement. During a recent on SLAM magazine's "No Pump Fakes," Oakley voiced that Giannis Antetokounmpo won him over after leading the Bucks to an NBA title.
However, the impressive feat didn't change his mind entirely as he voiced that Antetokounmpo would have not only struggled in his era but come off the bench.
"He wouldn't have been a force back in the day. He would have struggled, they would make him shoot jump shots," Oakley said. "He wouldn't be doing a euro step to the basket, somebody gonna knock his head off. I'm glad he's doing what he's doing now, but he'd come off the bench back in the day."
Oakley's comments are fueled by the physicality that the game was played with during his time. Players got away with more hard fouls in the 1980s and '90s. The game may have featured more physical play, but Antetokoumpo is a uniquely athletic player that stands at 6-foot-11 with a 7-foot-3 wingspan that can dribble like a guard.
The 27-year-old is more quick-footed than many big men and would have caused many defensive headaches due to his ability to get to the rim off the dribble. Yes, Antetokounmpo would endure more hard fouls due to the increased physical nature and opponent's frustration guarding him. However, to say he would come off the bench is a flat-out reach.
Bucks star is eyeing leading the franchise to another NBA title
Antetokounmpo won't be too fond of Oakley's comments, but it will serve as pure motivation.
The reigning Finals MVP is amid another stellar campaign. He's averaging a double-double behind ranking second with 29.4 points per contest and 11.3 rebounds while shooting 54.4% from the floor.
Milwaukee sits in the fourth spot in the Eastern Conference, only four games behind the Miami Heat for the top overall playoff seed. Antetokounmpo will need to play a significant role for the Bucks to guide their way toward a second straight NBA title, especially with a more stacked field of formidable opponents in the East.
The remainder of the regular season sets the table for Milwaukee to push toward competing toward another championship.
Like Sportscasting on Facebook. Follow us on Twitter @sportscasting19.
RELATED: Giannis Antetokounmpo's Unlimited Potential Was First Unleashed After Jason Kidd Made Him the Milwaukee Bucks' Starting Point Guard