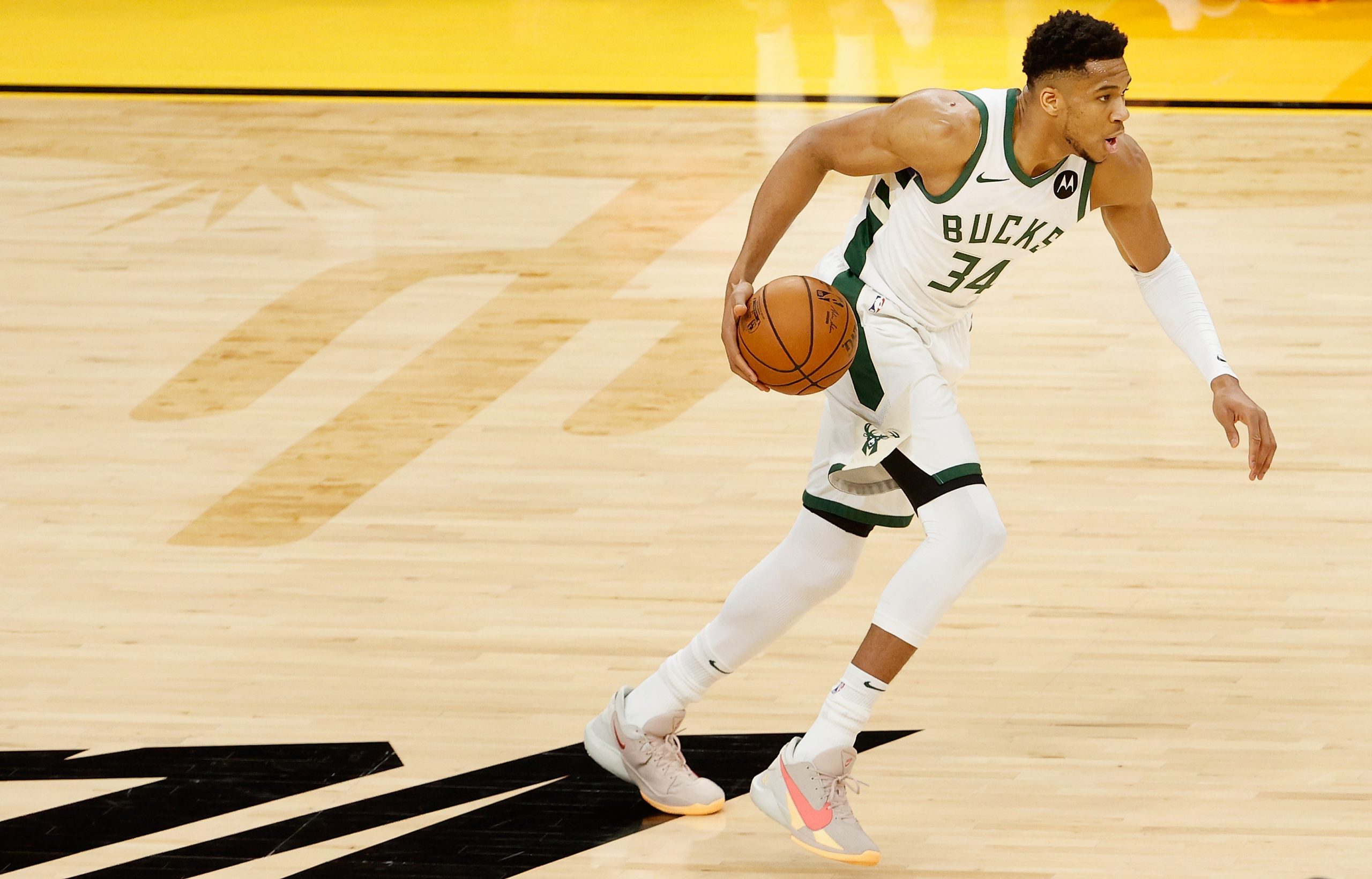 Giannis Antetokounmpo Would Give up His MVPs, NBA Championship, and Money If He Had His Way
Giannis Antetokounmpo would give up all his NBA success and wealth if he had his way.
Milwaukee Bucks star Giannis Antetokounmpo has done it all in his eight years in the NBA. He's captured back-to-back MVP honors, made five straight NBA All-Star appearances, and secured his first championship last year. Before winning the title, the Greek Freak secured himself financially with a five-year, $228 million supermax extension. Antetokounmpo recently admitted he would give it all up if he had the chance.
Giannis Antetokounmpo has become a household name through his hard work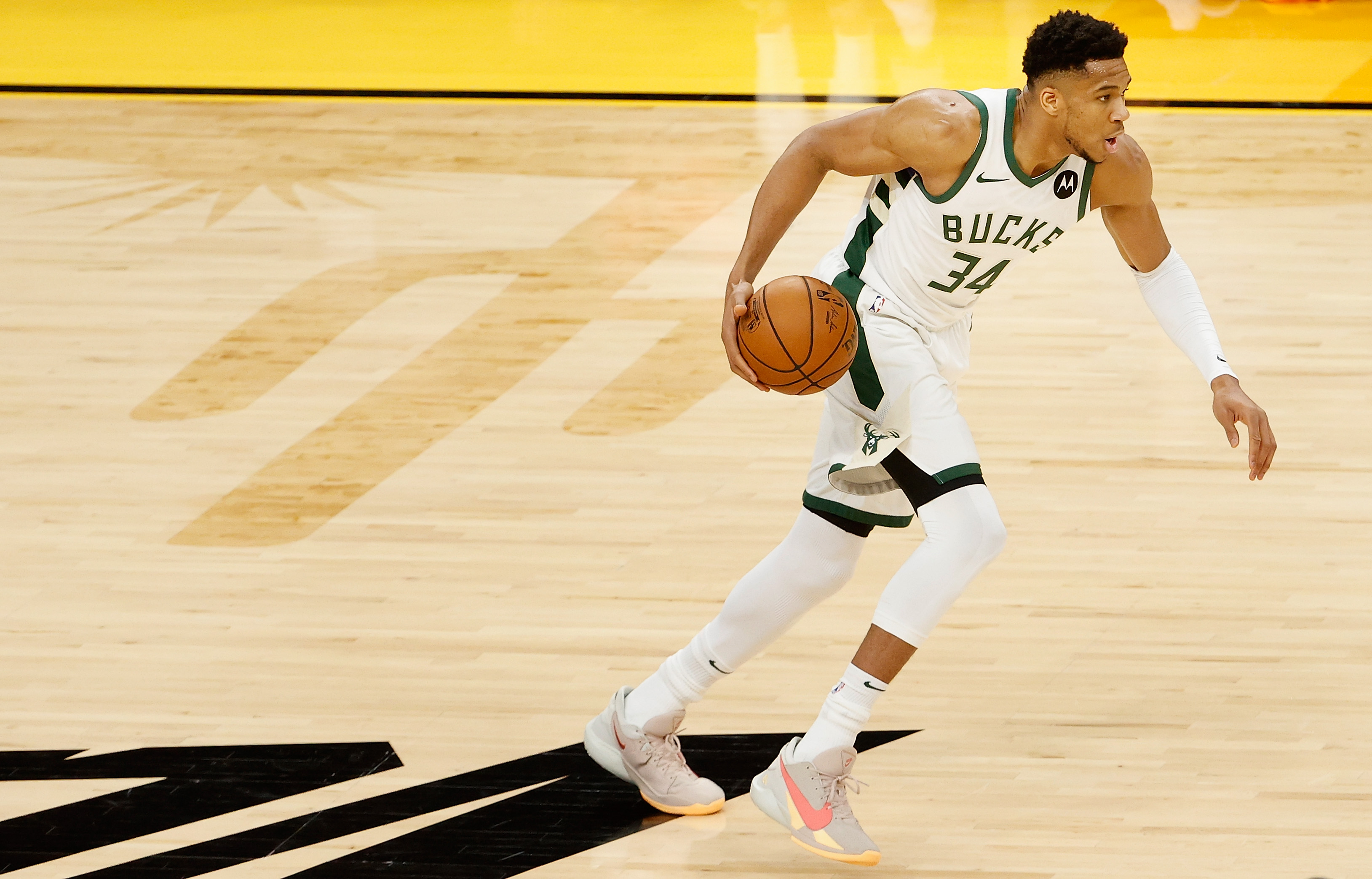 Nothing has ever been given to Antetokounmpo. He came into the NBA as a 6-foot-9, 190-pound unknown rookie from Greece. The Bucks took a shot by selecting him with the 15th pick in the 2013 NBA Draft. The move goes down as one of the biggest steals in NBA history.
The Greek Freak has blossomed into one of the NBA's biggest stars, and it's not by accident. There aren't too many in the game who work harder than Antetokounmpo. Former teammate Jason Terry witnessed it up close during the two years they were together in Milwaukee.
The Bucks engaged in "night school," where the players gathered after practice the night before a game and watched film, did some light workouts, and tried to fine-tune their game. Antetokounmpo took it to another level.
"Probably about the second week of night school, he was in there actually working on defensive coverages," Terry said, according to Business Insider. "Now, this is unheard of. I've worked with Kevin Garnett, Dirk Nowitzki in some of these same type of settings. But to see him out there actually going over defensive coverages like he was in a game, it was amazing to me. Because I've never seen a star-level player work on that aspect of his game."
Giannis Antetokounmpo would give everything he earned back if he had the opportunity
All his hard work had paid off. He went from playing 24.6 minutes per game and averaging 6.8 points and 4.4 rebounds in his rookie season to winning two straight MVPs. He earned his first NBA title last season, guiding the Bucks past the Phoenix Suns. For the last five seasons, he's secured himself a place in the NBA All-Star Game.
Success has led to wealth in the form of his supermax deal. It's brought fame. Not bad for a guy who grew up in Greece with nothing. He spent a lot of his youth hawking items on the street to make a few bucks.
"We didn't have a lot of money, but we had a lot of happiness, so it wasn't broken happiness-wise," Antetokounmpo said during a 2018 episode of 60 Minutes. "And when we were struggling back in the day, we were all together."
Basketball has him set financially. Antetokounmpo, however, is a family man and prefers that happiness over money. He recently said he would give up everything if he could have his father back. Charles Antetokounmpo, 54, died unexpectedly in September 2017.
"I want my father back, no second thought on that one," Giannis said, according to Euro Hoops. "You can take everything back, I could go back and sell CDs. I don't care. I want my father back. Next question."
Antetokounmpo got his drive and work ethic from his father
Charles Antetokounmpo played a significant role in getting his son to where he is today. In fact, he had a major role in getting three of his sons into the NBA. Thanasis and Kostas Antetokounmpo have also won championships in the league. Giannis credited Charles with helping instill that drive he has to always get better.
"He put in you that 'don't-give-a-f***' mentality," Giannis said, according to ESPN. "I feel like the toughness, I've always had it, but that 'don't-give-a-f***' mentality whether I win, lose, play good or play bad, I just go out there and chase it. Like, what's the worst that can happen?"
The drive remains in Giannis. He's not satisfied with one championship.
"Calling me MVP, calling me champ, calling me the best player in the world, is something that might hold me back," he said, according to Euro Hoops. "And I don't want anything holding me back. I want to look forward and be better."
That outlook is the biggest tribute Giannis can make to his father.