Giannis Antetokounmpo's Charity Work Proves He's More Than Just a Great Basketball Player
Giannis Antetokounmpo is an increasingly dominant presence in NBA circles and rightfully so. With the height of a big man and the skills of a guard, last year's MVP continues to improve. Antetokounmpo's likable demeanor doesn't hurt, either. Despite all this, his best feature may be his charitable streak. 
Giannis Antetokounmpo's rags-to-riches tale
Growing up in Greece, the son of Nigerian immigrants knows what it's like to be impoverished. Antetokounmpo existed in a system that treated people like him as second-class citizens. Upward mobility wasn't guaranteed to even the hardest working among them.
Antetokounmpo, who reportedly couldn't even dribble a few years before joining the NBA, saw the exit via basketball and took full advantage. Now, he's one of the most popular NBA players. His stature among fans, media, and fellow players only grows every time he steps on the court.
Antetokounmpo has secured lucrative shoe deals and commercial appearances. He'll likely get a gigantic contract in a couple of years either with the Bucks or another team. Some players let all of this success go to their heads, but not Antetokounmpo.
He's among the most grounded players in the NBA. And his penchant for giving shows he's not forgotten his roots — despite a job in a brand-new country thousands of miles away from his home. 
Giannis Antetokounmpo's charity work
Antetokounmpo's charitable streak is well-documented. He doesn't just write blank checks to nonprofit organizations. On any given day, when he isn't dominating an opponent on the basketball court, Antetokounmpo can be seen giving back to the community.
During Thanksgiving 2018, fans witnessed Antetokounmpo at local food banks not only donating food and money but appearing alongside Milwaukee's most underprivileged citizens and handing out around 27,000 meals. Wisconsinites have grown to love him because of these charitable acts. But this doesn't mean he forgets his roots back home, either. 
During the 2019 offseason, Antetokounmpo returned to Greece to do several charitable deeds. One of these was "Give N Rise," which gave the people of Greece an entertaining basketball and dancing event while raising money for charitable causes. Antetokounmpo brought along teammates Eric Bledsoe and Brook Lopez, too. 
Antetokounmpo stays grounded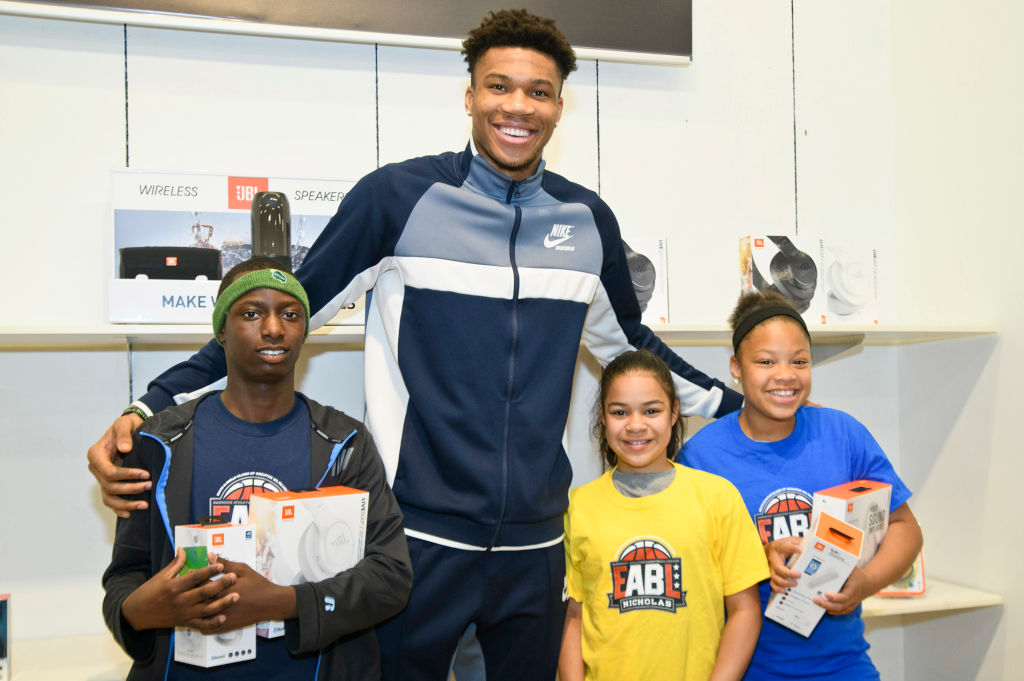 Antetokounmpo doesn't need to give back as he does. After all, he makes more than enough money to cut a check and expect others to do the work for him. But he knows what it's like to be in need and work on the streets selling whatever he could to help his family.
Now, Antetokounmpo has the means to help others. In a world where athletes often make headlines for the wrong reasons, Antetokounmpo is doing the right thing whether cameras are there or not. Wherever his career takes him, the people of Greece and the fans of the Milwaukee Bucks are grateful for Antetokounmpo.

Follow more updates from Sportscasting on our Facebook page.