Giannis Antetokounmpo's Epic Jersey Collection Includes One Signed by LeBron James That Reminds Him to 'Strive for Greatness': 'That's Big Time, You Know?'
NBA players trading jerseys post-game has become a regular tradition — whether it's two superstars who share a respect for one another or a young player on his way to earning that respect. At the same time, there are superstars, and there are superstars. As one of the greatest players of all time and one of the most recognizable human beings on planet Earth, LeBron James is one of those superstars. And at one point, Giannis Antetokounmpo was just your typical, run-of-the-mill superstar.
The Greek Freak has an extensive collection of jerseys in his basement from an assortment of other stars. But his autographed LeBron Los Angeles Lakers jersey has an inspirational message that holds more meaning for him than any other.
LeBron James has set the standard for this generation's NBA
For those who didn't get to watch Larry Bird and Magic Johnson, there was Michael Jordan. For those who didn't get to watch Jordan, there was Kobe Bryant. For those who came along at the tail end of The Black Mamba's career, there was LeBron.
Still — even at 36 years old and in his 19th NBA season — LeBron is "that guy."
The Akron Hammer had some of his high school games at St. Vincent/St. Mary broadcast on ESPN at a time when that just didn't happen. He was a nationally-known player as a 17-year-old.
And he's been the face of basketball for more than a decade and a half since he carried an average-at-best Cleveland Cavaliers to the NBA Finals at age 21.
Giannis entered the NBA in 2013. LeBron had already made his Decision, moved to South Beach, and won two titles by that point.
Understandably, Antetokounmpo was in awe of James when he entered The King's league. Giannis won his first MVP the year LeBron left Cleveland (again) to move to Hollywood.
He was still in awe of LBJ then.
Giannis Antetokounmpo has a signed LeBron Lakers jersey that holds special meaning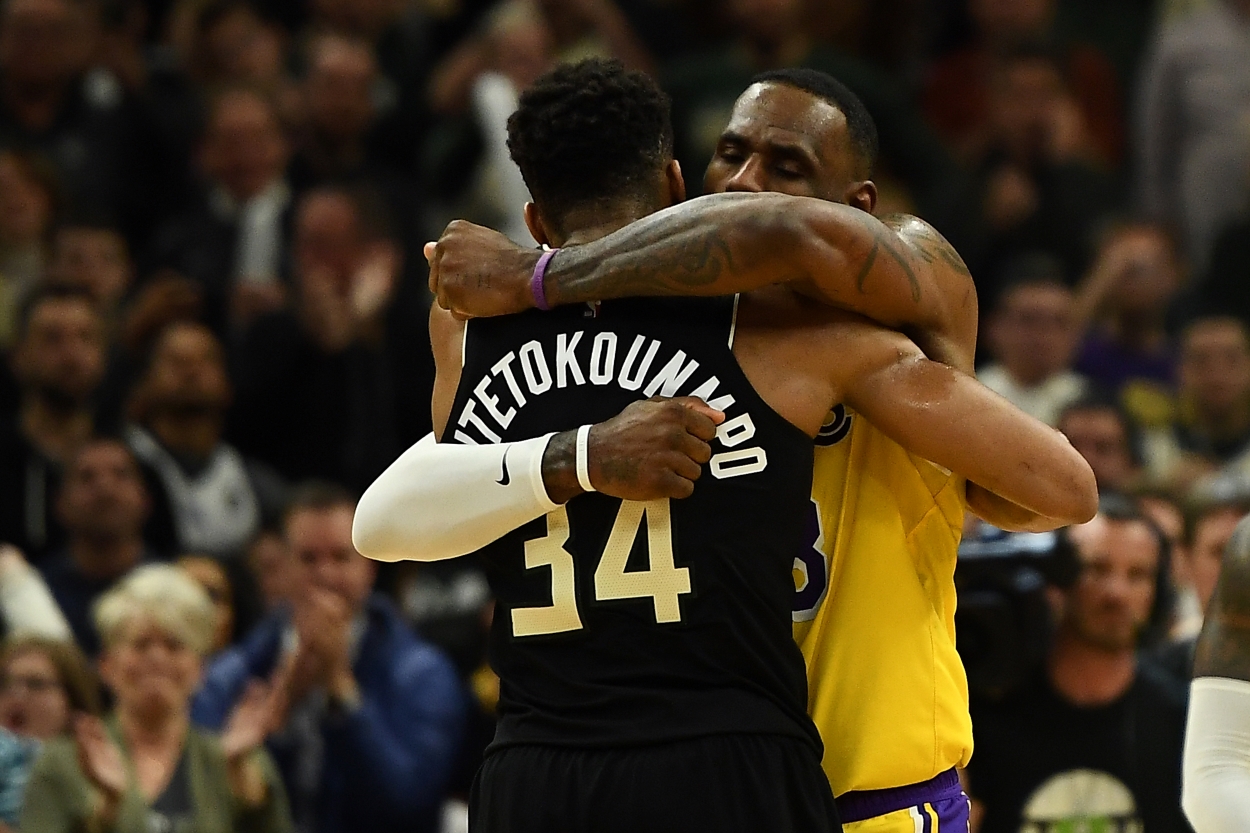 In a GQ story written by Zach Baron, Antetokounmpo showed off some of the jerseys he's collected during his career. "Dozens" of them are framed.
Retired legends like Dominique Wilkins, Dirk Nowitzki, Dwyane Wade, Vince Carter, and Kobe. But also contemporaries like Blake Griffin, Kevin Durant, Stephen Curry, James Harden, Luka Doncic, and Anthony Davis.
But as Baron wrote, there's one that the Milwaukee Bucks star has a particular affinity for.
"LeBron James, man. Look! Look what he wrote for me."

Many of the jerseys are signed, some with brief messages, but this particular one, a LeBron Lakers jersey, had a longer note, and Giannis read it out loud: "To Giannis, a.k.a The Greek Freak. Continue to strive for greatness every single day you wake up, brother. Love everything you represent to this game of hoops, and off the court as well. The limit is not the sky. Go beyond it." LeBron had signed off with the sketch of a crown.

Giannis beheld the inscription proudly: "That's big time, you know?"

Giannis Antetokounmpo on his signed LeBron James jersey
Proof — LeBron still sits on the throne.
Giannis has now carved out his own path
Now, though, Antetokounmpo is also known worldwide. He has two MVPs to his name, along with Defensive Player of the Year and Most Improved Player Awards.
Now he can add a Larry O'Brien Trophy and a Bill Russell Finals MVP trophy to the list.
Giannis is one of the next handful of superstars who will carry the league when James finally retires.
But, even now, he's still in awe of LeBron.
Like Sportscasting on Facebook. Follow us on Twitter @sportscasting19.