Giannis Antetokounmpo's Latest Offensive Evolution Is Hidden Inside His 50-Point Performance Against the Pacers, and It's Going to Be a Problem for the NBA
A good chunk of Giannis Antetokounmpo's evolution as a basketball player is obvious. He went from a 6-foot-9 skinny teenager drafted by the Milwaukee Bucks to a 6-11, 240-pound otherworldly athlete. He's won two MVPs, a Defensive Player of the Year Award, a Finals MVP, and an NBA title.
But his 50-point outing against the Indiana Pacers on Feb. 15 showed his less noticeable improvements as a scorer. That dominant performance served as a microcosm of the leaps The Greek Freak has taken as an offensive player.
Giannis was 17-of-21 against Indiana, 2-of-3 from three, and 14-of-18 from the free-throw line. And therein lies the most recent evolution in his game.
Antetokounmpo is becoming a more willing and efficient shooter from all three levels. He's no longer just attacking four defenders off the dribble. He's continuing to develop as a three-point shooter and is adding a mid-range game and pull-up jumpers to his arsenal.
Along with his overpowering dominance near the rim, a more well-rounded Giannis should be causing the NBA nightmares.
To delve deeper into it, here are Antetokounmpo's shooting numbers the past three seasons because, as they say, the proof is in the pudding:
Giannis Antetokounmpo's offensive game began to change in the 2019-20 season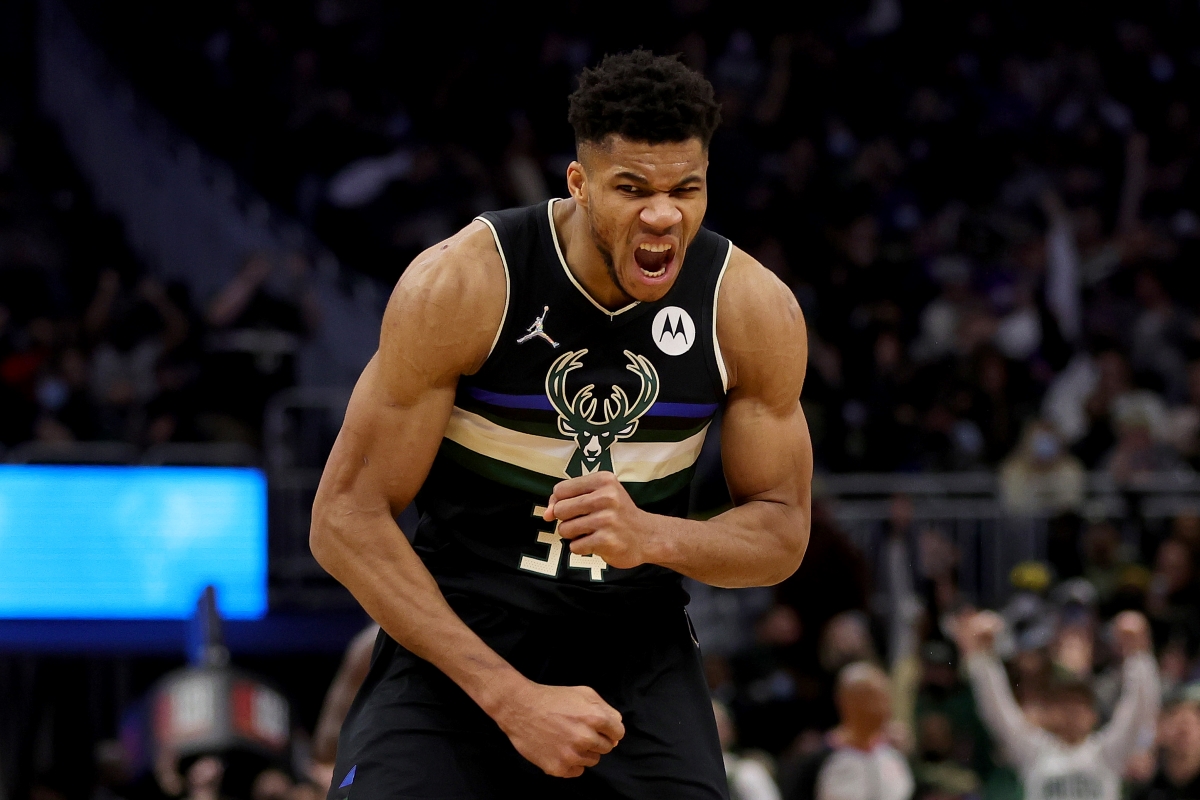 The past three years have seen a change in Antetokounmpo's offensive arsenal.
Giannis averaged 29.5 points, 13.6 rebounds, 5.6 assists, 1.0 blocks, and 1.0 steals on 55.3% shooting in 2019-20.
Delving into the more advanced stats, it's also when The Greek Freak began to drag his offense further away from the basket.
He hit 30.5% of his 4.7 three-point attempts that season, a career-high. He shot 36.9% on catch-and-shoot threes, of which he averaged more than one a game. He shot 39.7% on catch-and-shoot attempts in general — 2019-20 was the first year that became a regular part of Antetokounmpo's game.
He converted on 33.3% of his 5.6 pull-up jumpers per night and had an effective field-goal percentage of 55.1 on such attempts.
Giannis also became a more willing shooter early in possessions, as evidenced by the fact that 4.1 of his 4.7 three-point attempts came with seven seconds or more left on the shot clock. He was choosing to take long jumpers.
The evolution of Antetokounmpo's three-level scoring ability began as he won his second MVP.
The 2020-21 season saw an even bolder Greek Freak
Giannis was in the conversation for a third straight MVP the following year. He averaged 28.1 points, 11.0 rebounds, 5.9 assists, 1.2 blocks, and 1.2 steals per night. He shot 56.9% from the field.
He finished fourth in the MVP voting but he won a championship, so I'm sure he's OK with it.
To compare the same stats from the previous season, Antetokounmpo hit 30.3% from deep on 3.6 shots per night — 23.1% on catch-and-shoot attempts. He shot 23.8% on all of his catch-and-shoot opportunities.
He hit 33.8% of 5.9 pull-up jumpers per game, both of which were higher than the previous campaign.
Giannis is continuing to push the boundaries of his offensive game
Just to throw it out there quickly — as of Feb. 17, Antetokounmpo leads the NBA in scoring at 29.4 points per game. So there's that.
But so far in 2022, he's shooting 30.4% from deep on nearly four attempts per game, up from last year.
He's shooting a career-high 40.5% on catch-and-shoot threes. Nearly two of his 3.8 three-point attempts per game are coming with 15 seconds or more left on the shot clock, and a career-high percentage of those are falling as well. He's simultaneously becoming braver and more efficient in firing up long jumpers.
He's shooting a career-high (you'll sense a theme here) 41.1% on a career-high 4.0 pull-up twos. (Perhaps more than any other shot, this one passes the eye test. Just watching Giannis compared to prior seasons, he's clearly more willing and comfortable taking this type of shot).
To put the icing on the cake, he's getting to the free-throw line a career-high 11.3 times per night and hitting 72% of those, a much-welcome change from the other two seasons on this list.
Even going back to his first MVP season in 2018-19, Antetokounmpo's percentage of field-goal attempts from 10-16 feet and 16-23 feet has increased every year.
The Greek Freak is no longer relying just on his physical gifts to dominate the league. He's becoming more willing and more successful every year taking his game further and further away from the paint.
That's going to be a problem for the rest of the NBA.
All statistics courtesy of NBA.com.
RELATED: NBA Trade Deadline: The 3 Most Impactful Under-the-Radar Moves Made on Deadline Day