Giannis Is the Milwaukee Bucks' Best Player, but Jrue Holiday Is Their Most Indispensable
The Milwaukee Bucks are, without a doubt, Giannis Antetokounmpo's team. The Greek Freak won back-to-back MVPs and the following season led the franchise to its first NBA championship in 50 years. But he didn't do it alone, and he'll be the first to admit he won't do it alone again this year.
Giannis is the Bucks' best player, and Khris Middleton is likely runner-up.
But Jrue Holiday is Milwaukee's most indispensable and the one who will decide whether or not the Bucks win back-to-back titles.
Jrue Holiday is one of the most underrated players in the NBA
Two things Jrue Holiday accomplished in a matter of weeks last summer: Help a starved Milwaukee Bucks franchise win an NBA Championship, help the USA Men's Basketball Team win an Olympic gold medal.
(Fresh off a full regular season and playoff run, Holiday started every game in Tokyo and averaged 12 points per contest).
Jrue is averaging 18.6 points, 4.7 rebounds, and 6.7 assists this year on a career-best 50.9% shooting and a career-best 42.4% shooting from three.
His field goal percentage is tied with DeMar DeRozan for the best among guards, and his three-point percentage is behind only Luke Kennard of the Los Angeles Clippers among backcourt rotation players.
All this while Holiday plays his usual brand of sticky defense.
And yet he can't seem to earn a spot in the All-Star game (but Andrew Wiggins can be a starter?). Look up "underrated" in the dictionary, and you'll see this man's toothy grin.
Jrue is vital to the Milwaukee Bucks' championship hopes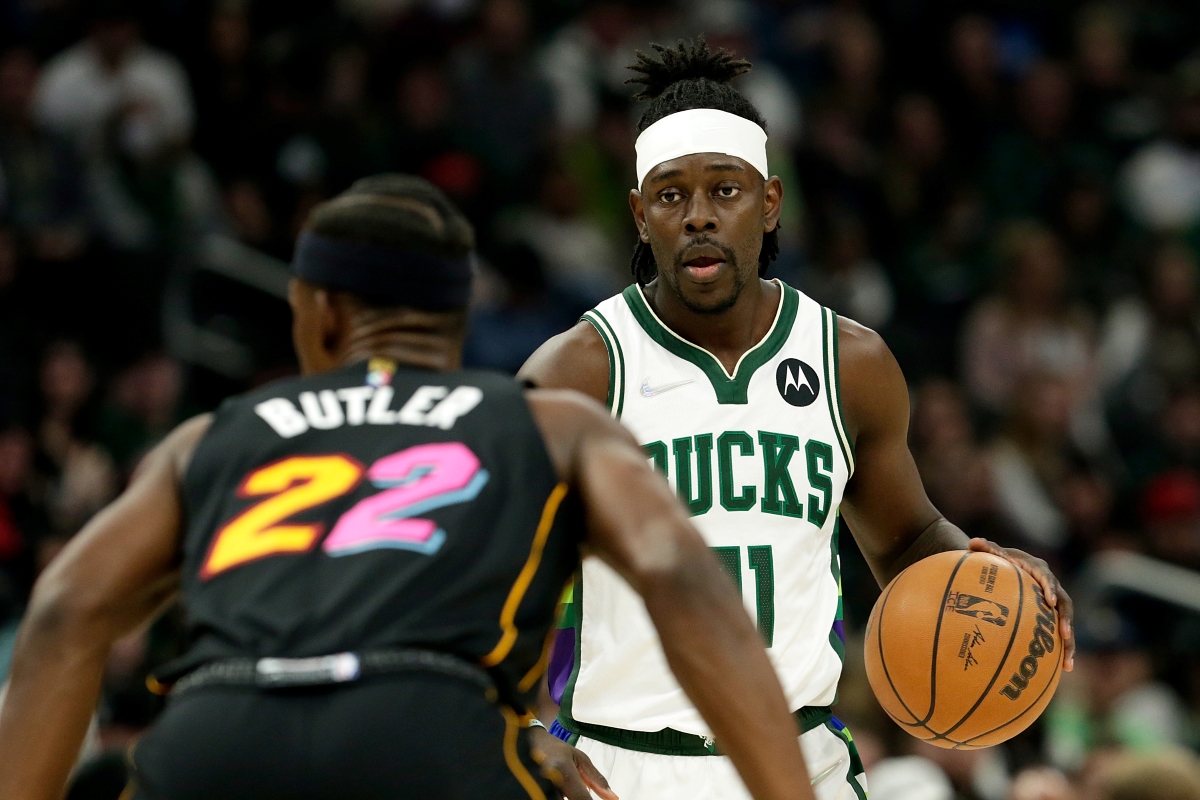 Three of Milwaukee's last four games are a microcosm of what Holiday means to the Bucks.
The team beat the Miami Heat, Chicago Bulls, and Phoenix Suns in a six-day span. The Suns have the best record in the NBA, the Heat are tied for second best, and the Bulls are ninth.
And it took maximum effort from Jrue for Milwaukee to win all three.
On March 2 against Miami, Holiday finished with 25 points — including the game-winner — and 11 assists. The Bucks held the Heat to six points in the final seven minutes. Sixteen of Jrue's 25 came in the fourth.
Two nights later, he posted 26 points, eight rebounds, and five assists in another comeback win, this time over the Bulls. That win saw Milwaukee leapfrog Chicago into third in the Eastern Conference standings.
Holiday had 24 points and nine assists in a 2021 Finals rematch against the Suns two nights after that. Antetokounmpo fouled out late, but the combination of Jrue and Khris Middleton held off Phoenix for a 10-point win.
Holiday was 2-of-7 and had seven points in the first three quarters and then dropped 17 in the fourth.
You'll notice a fourth-quarter trend, and it spans further back than just last week. Holiday leads the Bucks in plus/minus during final periods this season at 2.7, almost a full point higher than Antetokounmpo. Filter that into fourth-quarter wins, and the three-time All-Defense guard's plus/minus jumps to 4.0.
Milwaukee is 6.4 points better on the court with Holiday than off it. They're 6.5 points better with Giannis.
The Bucks have a higher defensive rating with Jrue on the court, but his impact is being felt on the offensive end more than it has throughout his career thus far. Milwaukee has an offensive rating of 117.9 when he plays and 105.2 when he doesn't.
The Bucks are simply better with Jrue on the court, and he's been the closer his team has needed all year — even more so during the team's most important three-game stretch of the regular season.
Milwaukee's point guard is the perfect third banana on a title team
The Phoenix win was a Middleton game. Khash scored 44 points and added eight rebounds and five assists. But he and Jrue combined to score 33 of Milwaukee's fourth-quarter points, per The Athletic.
Good luck spotting Holiday in many highlights, though.
Bucks head coach Mike Budenholzer said of his point guard in that same piece on The Athletic, "What's just the most impressive is when a guy is maybe not having his best game, doesn't have his best for the first three quarters and just keeps fighting, keeps competing.
"He's giving us a ton defensively, and then he just catches that wave of making baskets and feeling good in the fourth, and it's multiple nights that he's done that here recently."
Jrue is the clear third banana in Milwaukee's Big Three. But he's shown he's willing to play that role and is comfortable in it. He can defer to Giannis and Middleton when they're rolling and be content just leading the charge defensively.
It's also clear that he can take the scoring load if the other two are having off nights and that he can carry a game home in the fourth. In short: He does all the things needed to help stars win championships.
Antetokounmpo is that star. Holiday may never be, but he's the straw that stirs the Bucks' drink. (Or beer if you prefer — it is Milwaukee after all.)
All statistics courtesy of NBA.com.
RELATED: The Milwaukee Bucks Got the NBA's Biggest Steal In Bobby Portis and His $5 Million Salary