Giants Breakout Safety and Former Alabama Star Xavier McKinney Only Needed 7 Words to Confirm Nick Saban's Greatness
The New York Giants are free to send Alabama Crimson Tide head coach Nick Saban a complimentary fruit basket if they're up for it. Then again, with how many players the legendary coach has sent to the NFL over the last 15 years, something tells us he's in line to get far more creative and expensive gifts than pears and apples this holiday season. 
If you're still skeptical of Saban's greatness after seven national championships and counting, let Giants safety Xavier McKinney explain the five-time SEC Coach of the Year's legacy in seven words.
Xavier McKinney made it clear how much he values Nick Saban and Alabama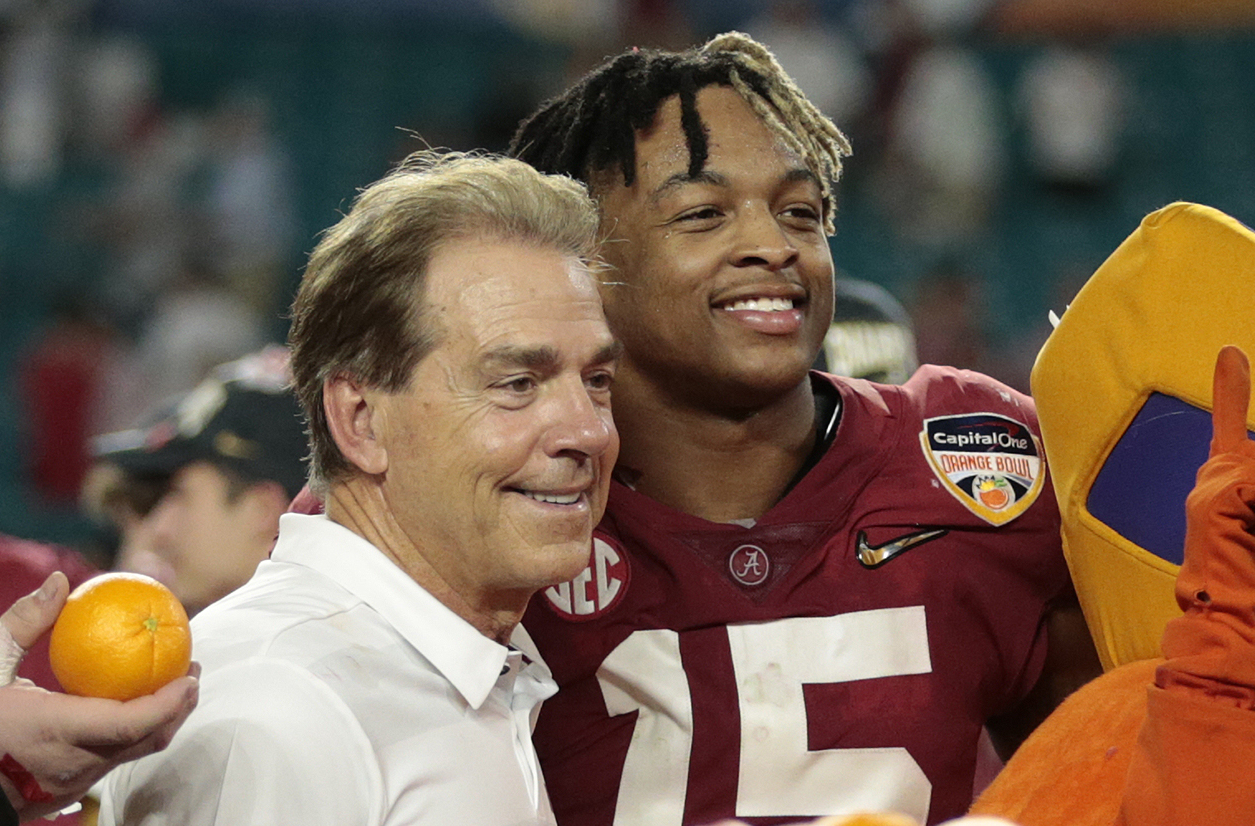 After emerging as a blue-chip prospect at Roswell High School in Georgia, McKinney signed with Alabama ahead of the 2017 season. Three years later, he put on a New York Giants hat for the first time and began his professional career as a second-round draft pick.
The bad news for McKinney is that his current team has one-third of the victories that his former team had as of publication. However, he's at least playing well in his first full season as a starter and giving embattled general manager Dave Gettleman at least one draft pick to include on his resume.
The second-year safety intercepted Las Vegas Raiders quarterback Derek Carr in a pivotal 23-16 victory at home. Not only was it the Giants' second win in their last three games, but it narrowly kept the four-time Super Bowl champions in the hunt for a wild-card berth.
According to NBC Sports, McKinney credited his time in Tuscaloosa for putting him on the path to succeed at the NFL level.
"Alabama prepared us for moments like this."

Xavier McKinney
McKinney explained that his three seasons with the Crimson Tide helped him learn "not to get too excited" and to act like he's "been there before."
"I don't want to waste energy [that] I'll need later in the game," McKinney said.
Alabama has produced numerous All-Pro players and rising NFL legends in recent years
The Alabama-to-NFL pipeline can't be stopped, especially not as Saban continues recruiting the country's top student-athletes. A staggering 54 former Crimson Tide players opened the 2021 NFL season on active, 53-man rosters.
You're likely familiar with many of those faces. Tennessee Titans star Derrick Henry ran for 2,000 yards in 2020 and was on pace to break the league's single-season rushing record before suffering a foot injury on Halloween. His teammate, Julio Jones, starred on Saban's first Crimson Tide teams in the late 2000s and early 2010s.
Wide receiver Amari Cooper and cornerback Trevon Diggs have the Dallas Cowboys headed for their first NFC East title since 2018. Rookie receivers Devonta Smith and Jaylen Waddle have adjusted well to the league despite the Philadelphia Eagles and Miami Dolphins' respective quarterback problems.
The list goes on, in large part because Alabama has had 39 players selected in the NFL draft's first round since 2009. Six players — Waddle, Denver Broncos cornerback Patrick Surtain II, Smith, New England Patriots quarterback Mac Jones, Las Vegas Raiders offensive lineman Alex Leatherwood, and Pittsburgh Steelers running back Najee Harris — joined the club earlier this year.
McKinney's comments only confirmed why so many Crimson Tide players are succeeding in the NFL. The culture at Alabama coupled with what it takes to succeed in the SEC, as former LSU quarterback Joe Burrow recently pointed out when discussing playing on the road, is the ultimate test.
McKinney is starting to look like the Crimson Tide's next great NFL player
As Alabama continues contending for national championships, the Giants are still searching for an identity. Thankfully for them, McKinney has emerged as a building block at safety.
McKinney entered the Week 10 bye with four interceptions and 46 tackles. No defensive player had a higher Pro Football Focus grade than his 94.5 in Week 9.
If McKinney can continue growing under defensive coordinator Patrick Graham, he'll go a long way in helping the Giants return to playoff contention after a decade of mediocrity. Much-criticized head coach Joe Judge also won't complain if his team ends the season's second-half strong.
The next step for the Giants is closing the 2021 season out strong. Five of the seven teams left on their schedule (the Giants play the 3-6 Eagles twice) entered Week 10 with losing records. It's not out of the realm of possibility that a talented and competitive Giants team can sneak to eight or nine wins.
Alabama prepared McKinney for clutch plays and winning on the game's biggest stages. We'll see if Giants fans begin feeling the jubilation that Crimson Tide fans have experienced since Saban arrived in 2007.
Like Sportscasting on Facebook. Follow us on Twitter @sportscasting19.