The Giants Can't Ignore the Surprising Attention Their Struggling TE Is Generating
With the New York Giants limping out to a 2-5 start this season, selling at this year's NFL trade deadline feels like a foregone conclusion. The Dallas Cowboys are running away with the NFC East, and New York's chances of cracking the playoff picture as a Wild Card team is slim.
The Giants don't have much on their roster that should intrigue rival teams (there's a reason they're 2-5). However, at least one offensive piece is reportedly garnering interest on the open market.
Multiple teams are interested in Giants TE Evan Engram
A first-round pick for the Giants in 2017 (No. 23 overall), tight end Evan Engram struggles with consistency in the New York offense. He's only caught 20 passes for 171 yards this season and is yet to record a receiving touchdown.
In all honesty, Engram hasn't experienced much success across his entire Giants career. He had a promising rookie season. However, since then, he's yet to develop much.
Engram hasn't recorded 700 receiving yards since 2017, and his career catch rate is way down at 61.3%. Engram was technically selected to the Pro Bowl last year. However, it seemingly was due to a faulty voting process. His numbers weren't even comparable to the league's top tight ends in 2020 (654 receiving yards, one touchdown).
While Engram is failing to live up to his first-round status, it isn't stopping teams around the league from checking in on his availability. Engram is a free agent at the end of the year, making him a prime trade deadline candidate.
According to ESPN's Jeremy Fowler, "multiple teams" are interested in the slumping Giants pass-catcher.
Which teams are interested?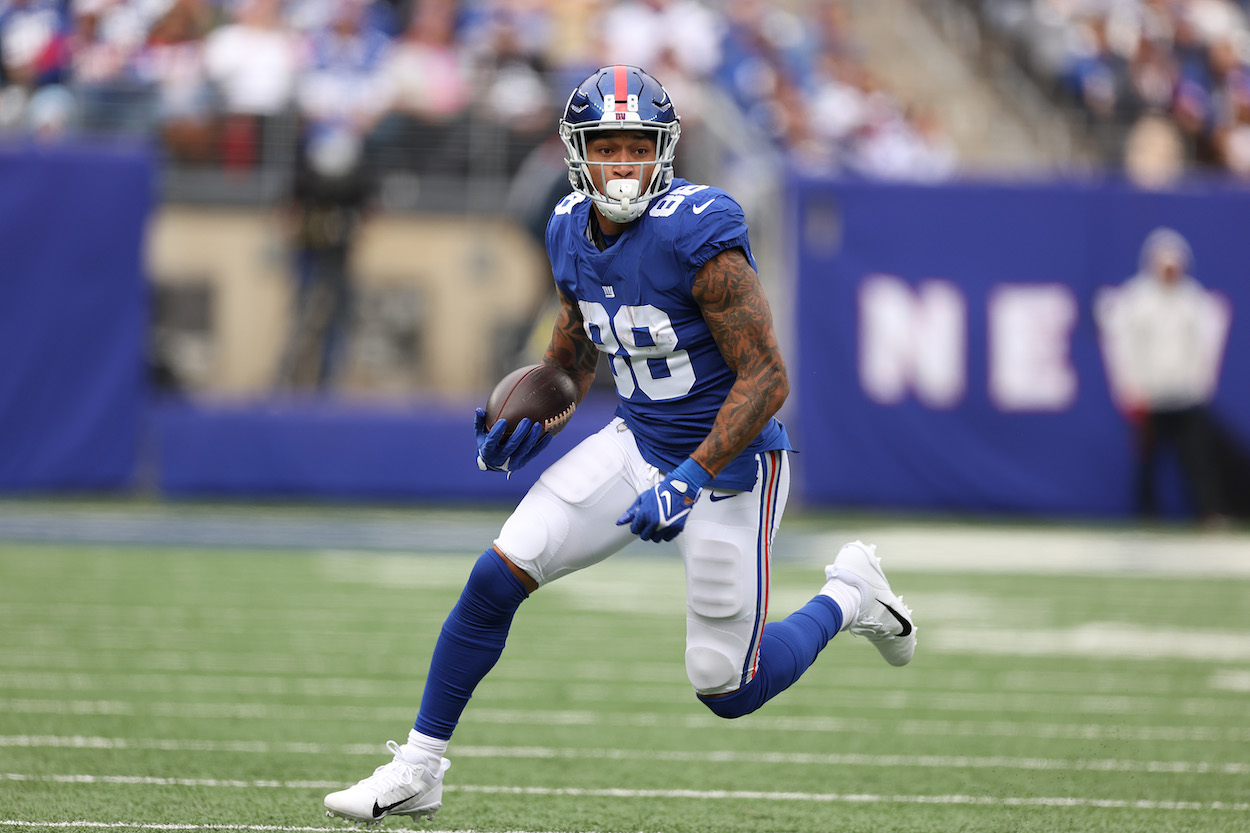 Who are these "multiple teams' that Fowler mentioned?
According to SNY's Ralph Vacchiano, the Bills, Saints, Vikings, Packers, and Titans are potential landing spots. Each one of these teams makes sense as a landing spot for Engram in their own regard. They're all looking for reinforcements as they gear up for a postseason push.
Landing with one of these teams could jumpstart a strong second half for Engram, helping him demand more money in the upcoming offseason.
Can the Giants get this deal done?
Despite the reported interest in Engram around the league, SNY's Vacchiano also mentions New York is unsure if a deal will get done before the trade deadline. The Giants are willing to trade him but are internally worried about his actual value.
"There are some teams interested in adding weapons for their offense, and definitely some that could use a tight end," one NFL personnel tells Vacchiano. "There aren't a lot of them, though. And if you do need a tight end, there are probably better ones that can be had."
Ultimately speaking, the Giants shouldn't be too stingy. Getting any value out of Engram during a lost season is a good result. New York needs as much draft capital as humanly possible moving forward.
All stats courtesy of Pro Football Reference.
RELATED: The New York Giants Could and Should Explore a Franchise-Altering Trade That Would Force a Painful Admission