Giants DB Logan Ryan Brutally Mocking Tua Tagovailoa for His Lack of Arm Strength Is Bad News for the Dolphins
Tua Tagovailoa and the Miami Dolphins have seemingly found their form post-trade deadline. After weeks and weeks of endless trade rumors regarding Houston Texans quarterback Deshaun Watson, the Dolphins ultimately opted to remain faithful to Tagovailoa, paving the way for him to win back the starting job during the second half of the season.
There's still a lot of football left to be played this season. However, early results are looking promising. The Dolphins are 3-0 since Tagovailoa returned to the starting lineup. They also beat the Baltimore Ravens in Week 10, which Tagovailoa subbed into late.
The Dolphins knocked off the Giants 20-9
The Dolphins' latest win wasn't pretty. However, it was enough to get the job done, keeping Miami in the mix for a Wild Card spot in the AFC. They beat the New York Giants 20-9, improving their record to 6-7 on the season.
The Miami defense were the real stars of the show during this Week 13 affair. They held Giants QB Mike Glennon to a measly 187 passing yards and didn't allow a single touchdown to be scored. New York spent most of the afternoon kicking field goals and bombing punts toward the end zone.
With that said, Tagovailoa still played well enough to help secure a Dolphins victory. He went 30-for-41 for 244 passing yards and two touchdowns. It wasn't a wildly dominant performance for the former top-5 pick, but it got the job done against a lackluster Giants defense.
After the game, however, praise for Tagovailoa was few and far between. At least one member of the Giants secondary was noticeably frustrated with how Miami ran their offense.
Giants DB Logan Ryan mocked Tua Tagovailoa after the game
Acting humble in defeat is clearly not a phrase in Giants defensive back Logan Ryan's vocabulary. After his team's loss to Miami, he had some choice words for his opponent's quarterback.
"I don't know if you guys saw my high school quarterback tape, but I'm going to put it out there, emergency,'' Ryan said during his postgame media availability. "A lot like Tua, a lefty. I can throw 2-yard passes to the left."
Ryan is commenting on Tagovailoa's lack of desire to push the ball downfield through the air. It's become a common complaint about the former Alabama QB since entering the NFL. More than one rival has referred to him as a check-down artist of sorts.
The Dolphins should be concerned about Tua Tagovailoa's lack of arm strength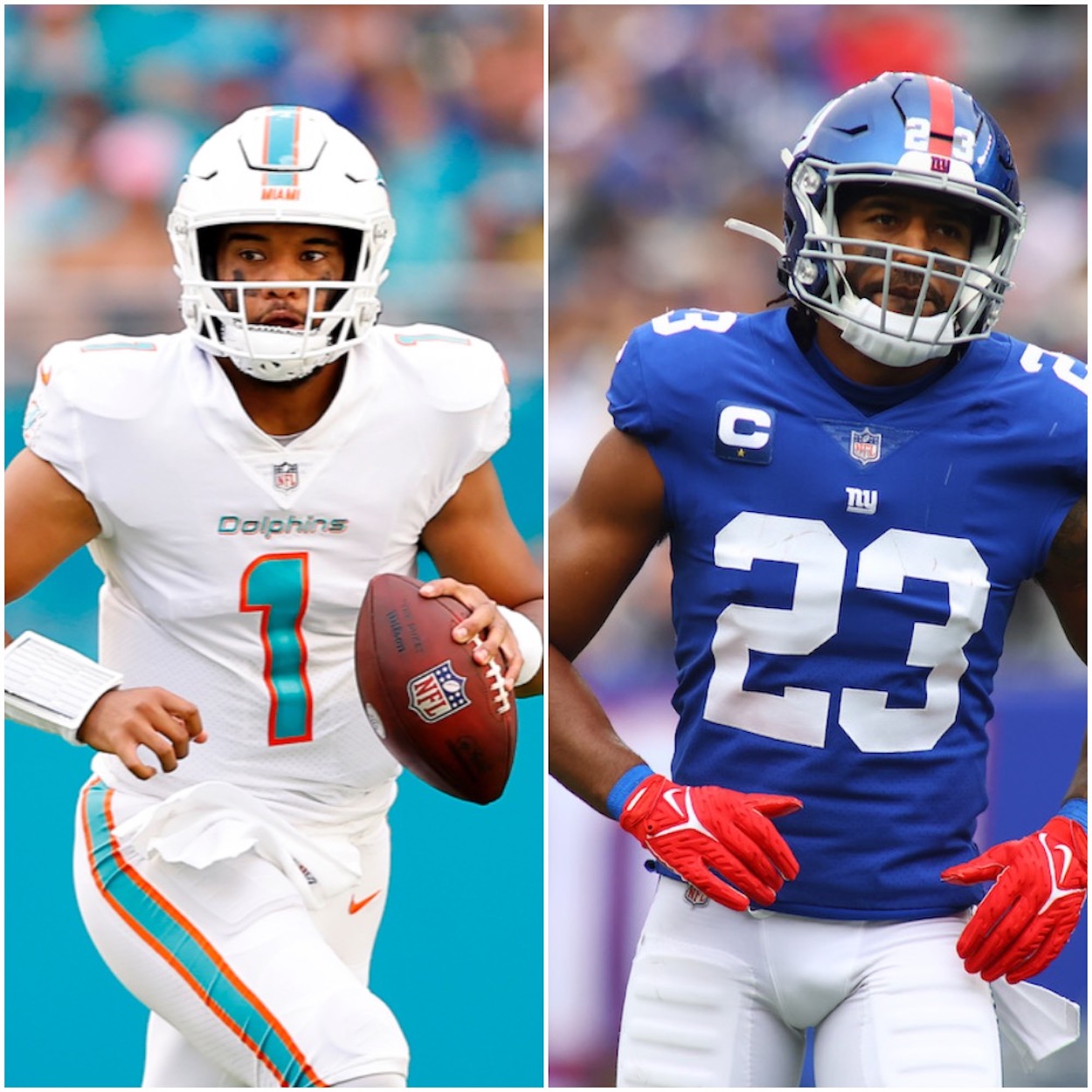 Ultimately speaking, a win is a win, and the Dolphins have to be feeling pretty good about their recent run of success. However, that doesn't mean they should act completely oblivious toward their offense's clear and noticeable flaws.
Tagovailoa wasn't throwing two-yard passes every single play (as Ryan suggests). However, he undoubtedly leaned on his short-yard passing. He averaged 5.95 yards per attempt against the Giants. That number would rank 31st out of 33 qualified quarterbacks if it were his season average.
Tagovailoa's actual yards per attempt average this season is 7.1, which currently ranks 20th in the NFL — still not very good. He's only passed for 300-plus yards once this year (during a loss), and most of his completions are coming out of an RPO-based concept.
To put things in simpler terms, from the outside looking in, it feels like the Dolphins don't trust their quarterback to win (or lose) them games passing through the air. Clearly, Giants DB Logan Ryan agrees.
It's too late for the Dolphins to completely alter their strategy this season. However, moving forward into 2022, Miami needs to have a serious conversation regarding the type of offense they want, and need, to run. It's been proven time and time again that you need a guy who can aggressively push the ball downfield to win games in the NFL consistently.
All stats courtesy of Pro Football Reference.