Giants Great Victor Cruz Endorses Embattled Joe Judge Amid Humiliating 1-5 Start: 'They Just Gotta Stay the Course'
Article Highlights:
Former New York Giants receiver Victor Cruz defended head coach Joe Judge
The Giants are 1-5 this season and 7-15 since Judge took over last season
Things are only getting worse for the once-proud franchise
Unfortunately for Joe Judge and the New York Giants, former Pro Bowl receiver Victor Cruz is not walking through that door and rescuing his team. At least, he's certainly not walking back in after what he witnessed in Week 6.
The Giants recently honored Cruz, who caught 303 catches in six seasons with the organization, and the 2011 team that won Super Bowl 46. Ahead of that ceremony, the UMass product offered kind words for Judge, the embattled second-year head coach, and urged patience amid a trying time for Giants fans.
After Sunday's humiliating loss to the Los Angeles Rams, we're not sure if Cruz has changed his tune just yet.
Victor Cruz backed Joe Judge in a recent interview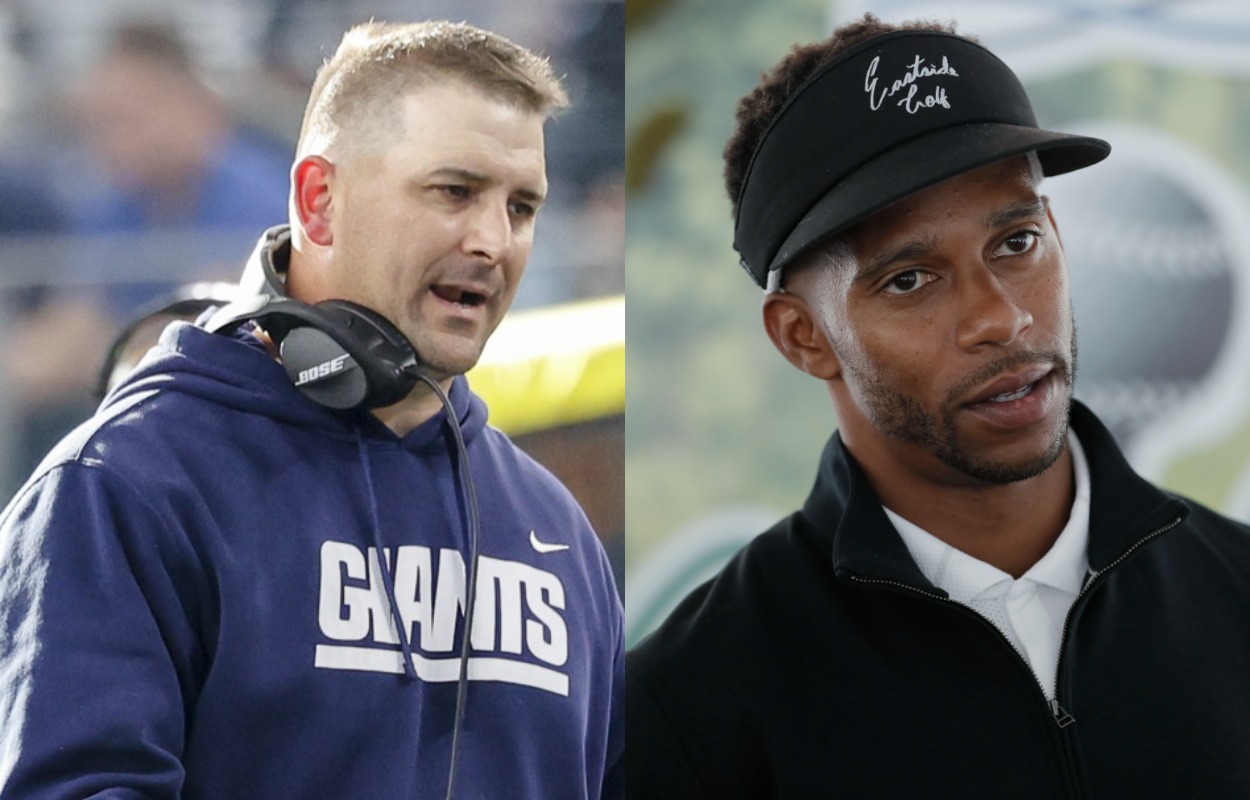 For as mediocre as the Giants were in the middle of Cruz's career they never really approached awful territory. Even during that three-season stretch from 2013-15 where they went a combined 19-29, they were still miles better than, say, the Cleveland Browns and Jacksonville Jaguars.
That's not even close to being the case right now. The Giants are a league-worst 19-51 since the start of the 2017 season, and things aren't getting any better. None of Ben McAdoo, Pat Shurmur, or Judge have fixed the culture and turned the four-time Super Bowl champions into a legitimate playoff contender.
In a recent interview with the New York Post, Cruz said he's a fan of Judge and believes he's the right fit for the job. Never mind that the Giants entered Week 6 with an inconsistent offense and a porous defense.
"He's a straight shooter, and he holds these guys accountable for everything that they do. And I love that, and I think they rally around that, and I think the team is embodying that personality in that aspect of him, and I think it's only gonna pay dividends in the long run, too … They just gotta stay the course, you know?"

Victor Cruz
With respect to Victor Cruz, staying the course is probably the worst thing the Giants can do right now. Then again, they might be incapable of changing their ways.
It's hard to understand why Cruz is so optimistic about Judge and the Giants
Although Cruz grew up in New Jersey, he was a Cowboys fan in his early years. Born in 1986, he caught the end of the dynasty years before watching America's Team become a mediocre and underwhelming franchise.
Giants fans born in 1996 can somewhat relate to Cruz's predicament. A 25-year-old at least witnessed two Super Bowl victories over the New England Patriots. A 15-year-old has likely seen the Giants play in a single postseason game in their time as a football fan.
There is no reason to believe that is going to change under Judge. The Giants are 7-15 in his two seasons as the head coach and have been outscored 534-390 in that span. Offensive coordinator Jason Garrett's offense has been, well, offensive.
Cruz said the team has rallied around Judge, which a quick 5-minute glance at their games would indicate otherwise. His straight-shooting attitude thrust him into a heated argument with former offensive line coach Marc Colombo last year and earned criticism from Kelvin Benjamin, who spent part of this summer with the Giants.
We can forgive Cruz for wanting to stay optimistic about his team, but save those hopes for quarterback Daniel Jones or running back Saquon Barkley. Don't waste that energy on a head coach who is on pace to be without a job when this season ends.
The current Giants are a long way removed from what Cruz saw and experienced
The Giants honored former quarterback Eli Manning in Week 3 and retired his No. 10 at halftime. Fans left MetLife later that afternoon, having just witnessed a crushing last-second loss to Matt Ryan and the Atlanta Falcons.
Somehow, that would have been far better than what happened in Week 6. Rams quarterback Matthew Stafford carved up the Giants' defense for four touchdowns in a 38-11 victory. New York certainly made pass-rusher Justin Tuck and the defenders from that 2011 team proud by allowing 28 unanswered points in the second quarter.
Giants fans can at least try sleeping soundly at night, knowing they won't become the first 0-17 team in NFL history. But at 1-5, a fifth straight losing season seems assured — and remember, the extra game means teams can only manage a non-losing season if they finish 8-8-1 — for a once-proud franchise.
At least Cruz has his Super Bowl ring, his health, and his pension. Those on the 2021 Giants are made to suffer, at least until either the season ends or the franchise mercifully cuts them along the way.
Like Sportscasting on Facebook. Follow us on Twitter @sportscasting19.
RELATED: NY Sports Radio Host Craig Carton Fiercely Accuses Giants Coach Joe Judge of Being 'Afraid' to Go On His Show: 'The Answer Is No'