The Giants' Massive Kenny Golladay Gamble Is Slowly but Surely Blowing up in Their Faces
This past offseason, the New York Giants wasted little time signaling to the rest of the NFL they were serious about competing in 2021. Despite possessing a pretty deep wide receiver room consisting of Sterling Shepard and Darius Slayton, the front office invested $72 million into free agent Kenny Golladay.
Most NFL analysts and experts viewed Golladay as the top free agent WR available this past spring, making the acquisition a pretty significant one for the Giants. Add in the addition of rookie WR Kadarius Toney through the draft, and the Giants were supposed to have one of the better performing offenses in the league this season.
Kenny Golladay is proving to be a major disappointment
Unfortunately for the Giants, their dreams of possessing a top-performing offense this year haven't even come close to proving true. They currently rank 29th in points scored, 27th in total yards, and 28th in expected points contributed by the offense.
Injuries and overall shaky play from quarterback Daniel Jones can be blamed for a good chunk of the Giants' struggles this season. However, it's essential to acknowledge the lack of impact Golladay has provided. Despite being paid like one of the league's premier pass-catching weapons, Golladay has only mustered up a measly 31 catches for 477 yards and zero touchdowns.
Golladay's catch rate is at a career-worst 50.8%, and his 43.3 receiving yards per game is tied with his career-low from his rookie season. Needless to say, it hasn't been a productive debut season for Golladay in New York.
As previously mentioned, the Giants' offense has been beaten up by various injuries and overall inconsistent quarterback play. They also had to fire offensive coordinator Jason Garrett halfway through the season due to poor play-calling. However, Golladay isn't immune from blame either. He's looked disinterested on more than one occasion, with multiple reporters calling out his effort when running routes.
No matter how you slice it, it's been a bad year for the former Detroit Lions receiver.
The Giants have a decision to make this offseason
The Giants are expected to undergo quite a bit of organizational turnover this offseason. General manager Dave Gettleman is on his last legs, and head coach Joe Judge shouldn't be immune to replacement either.
However, one position that's yet to be considered when discussing change in New York is quarterback. All signs currently point toward former first-round pick Daniel Jones returning to the starting lineup in 2022, which could be problematic for Golladay.
Despite their best efforts, Golladay and Jones failed to consistently link up while playing together this season. Not only did it kill the Giants' chances at a good offense this year, but it put a damper on the team's overall investment into Golladay. They were paying Golladay $72 million to run empty routes and not catch touchdowns.
Does Kenny Golladay have a real future with the Giants?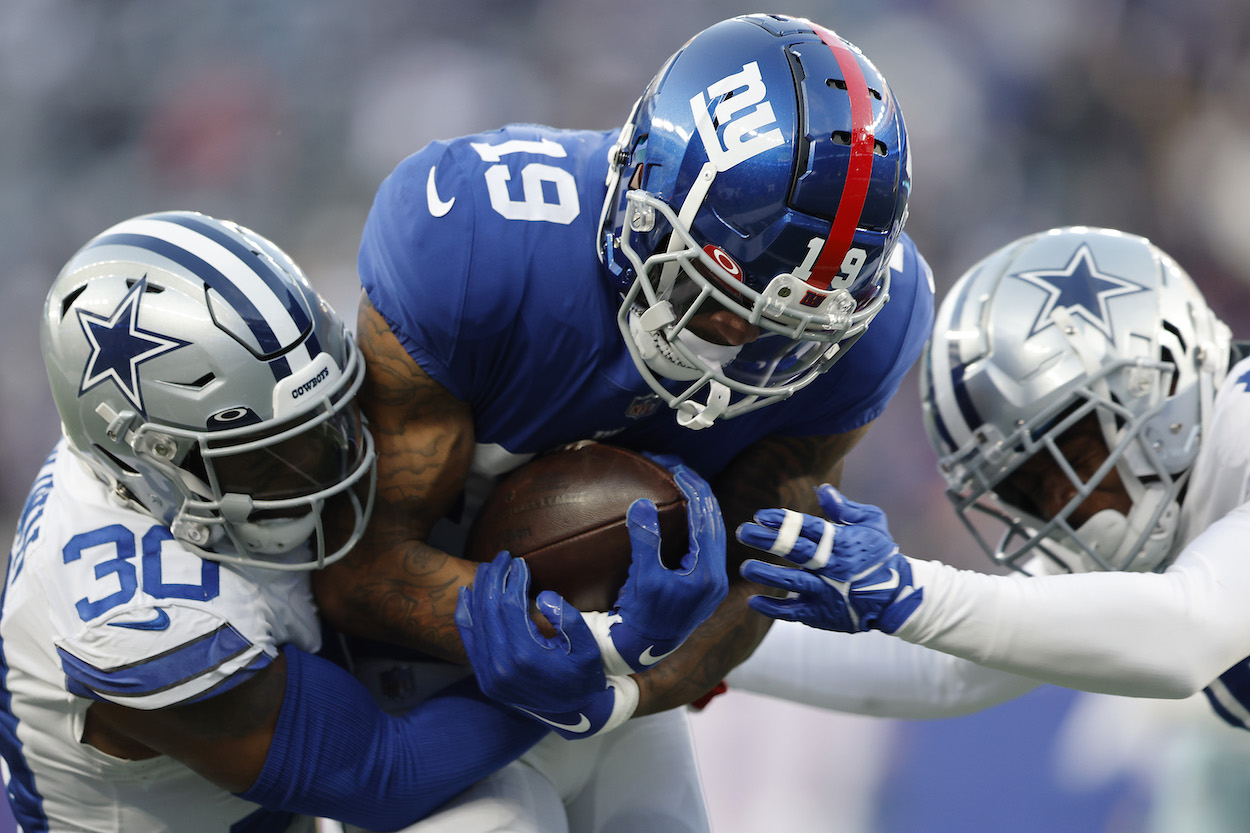 It's hard to imagine the Giants bailing on Golladay after just one bad season. However, questions are already emerging about his and Jones' ability to be a solid one-two punch together.
The whole point of signing Golladay in the first place was to make Jones' life easier. Instead, it's only created drama.
Whether it's Joe Judge coaching New York next season or someone else, the Giants need to find a way to get better production out of Golladay moving forward. 600-something receiving yards per season is unacceptable. The Giants are paying him to churn out 1,000-plus yard years.
All stats courtesy of Pro Football Reference.