The Giants Must Finally Admit Their Mistake With Joe Judge As He Continues to Fail to Live Up to His Promises
The New York Giants are a dumpster fire right now, with no escape plan in place. The team fell to 4-9 after an embarrassing loss to the Los Angeles Chargers in Week 14. The losses continue to pile up, and two top-10 picks in the 2022 NFL Draft are quickly becoming a reality. Head coach Joe Judge avoided the first round of cuts, but he shouldn't last much longer.
Joe Judge promised to give fans something to be proud of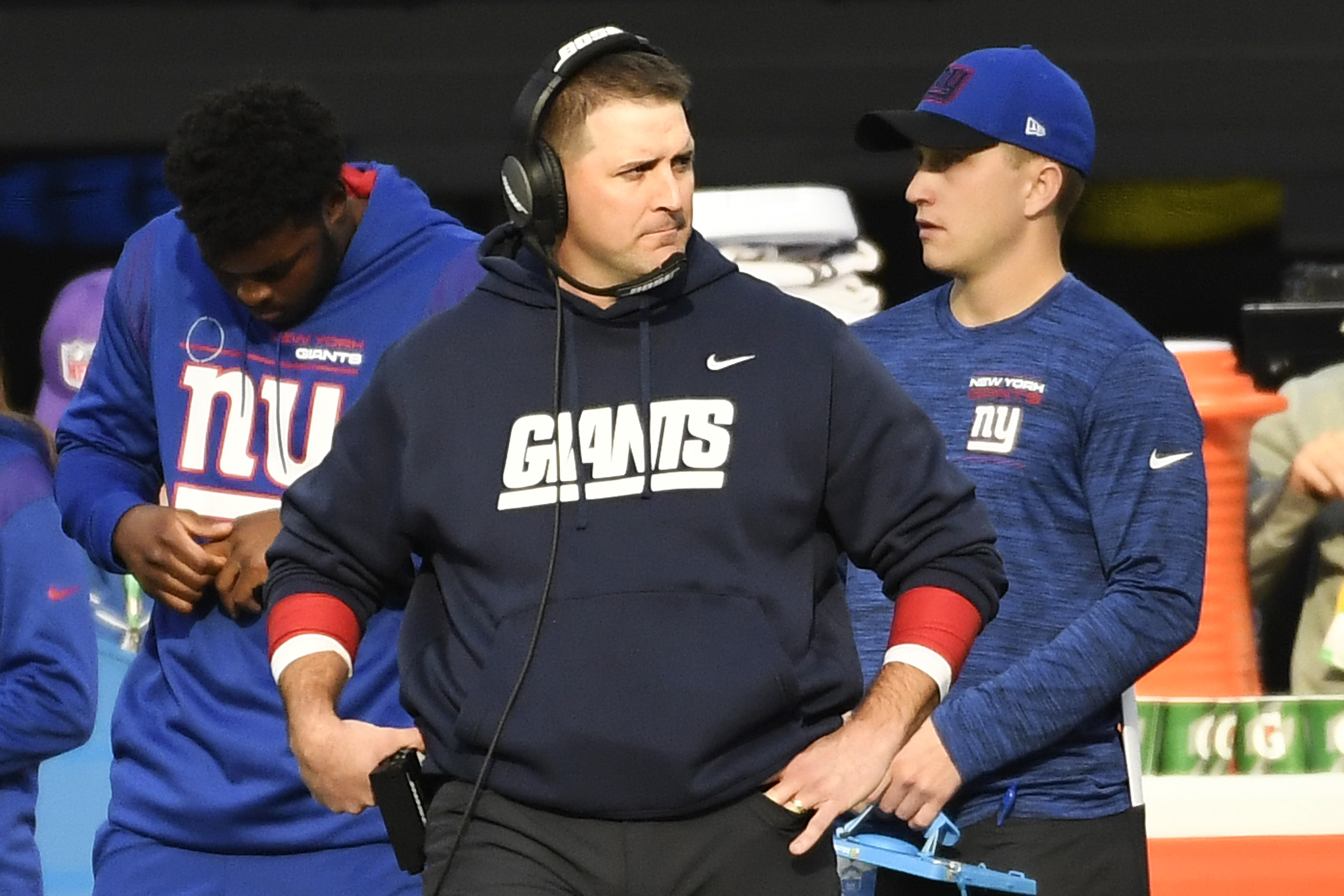 Joe Judge has been great for quotes throughout the 2021 NFL season. He made some telling comments after New York's 30-10 loss to the Tampa Bay Buccaneers on Monday Night Football.
"I'm telling you we're going to put something on the field that you're going to be proud of," said Judge per ESPN's Jordan Ranaan. "That is on my name. You understand that? I am the leader of this team. I'm in charge of this team. That is on me. I don't point fingers. I don't make excuses. We're going to get this right."
Shortly after, offensive coordinator Jason Garrett was packing up his things after the team fired him. Garrett certainly deserved to be fired. The offense showed little to no progress under his leadership. However, the same goes for Joe Judge.
The Giants posted a 6-10 record in Judge's first season at the helm. They nearly survived the NFC Least and earned a playoff berth but fell just short.
Even in a losing 2020 campaign, New York showed a lot of grit and fight. The 2021 team lacks those characteristics, which speaks volumes about the leader.
The Giants have done nothing to give fans something to be proud of, and that falls squarely on the man who made the declaration. The painfully loyal fan base is getting desperate for a winner. Judge's words won't cut it in New York.
The Giants need to clean house, starting with Judge and Dave Gettleman
With yet another losing season looming, expect owner John Mara to be extremely busy in the offseason.
The issues start from the top down, and Mara's not going anywhere. So, the next best thing would be general manager Dave Gettleman.
Gettleman arrived in New York after spending five seasons as the general manager of the Carolina Panthers. While Carolina enjoyed some success on his watch, the Giants haven't been so fortunate.
Since 2018, the Giants have recorded three straight seasons with six wins or less. The 2021 season will bring the total to four.
The longtime NFL executive was responsible for trading Odell Beckham Jr. to the Cleveland Browns. He also drafted Daniel Jones, who has yet to leap forward in year three. Most recently, Gettleman hired Joe Judge as head coach.
Judge served as a special teams coach on Bill Belichick's staff with the New England Patriots since 2012. Before that, he spent time in college football, most notably at Alabama. He's been part of winning programs, but the mentality hasn't quite rubbed off on the Giants' head man.
If Gettleman and Judge cannot get the job done, then the franchise needs to get people in the building who can.
New York needs someone competent to take over the franchise
Joe Judge is only in his second season with the New York Giants. Perhaps, he deserves some grace. However, it becomes increasingly more difficult to grant him that with each loss.
The team has yet to show strides since Judge made those comments. The Giants did get a win over the Philadelphia Eagles in Week 12. Still, it was an ugly game that probably should've gone the other way.
With games against the Eagles, Dallas Cowboys, Chicago Bears, and Washington Football to close 2021, it's possible New York doesn't win another game.
If the Giants finish with a pathetic 4-13 record, there's no way Judge stays on. If he goes, then Dave Gettleman must get the boot as well. The general manager also hired Pat Shurmur, another failed head coach before Judge.
New York isn't devoid of talent. The roster features promising building blocks, including Saquon Barkley, Kadarius Toney, and Kenny Golladay. Azeez Ojulari, Xavier McKinney, and Quincy Roche have bright futures on the defensive side of the football.
The Giants are a long way from contending for a Super Bowl, but they're also not the Detroit Lions or Houston Texans. The front office needs the right people in place.
John Mara may opt to bring in an external candidate like Louis Riddick, Scott Piolo, or Matt Groh. He could also give the nod to Kevin Abrams, who is the Giants' assistant GM.
Regardless, it's safe to assume changes are coming.
All stats courtesy of Pro Football Reference