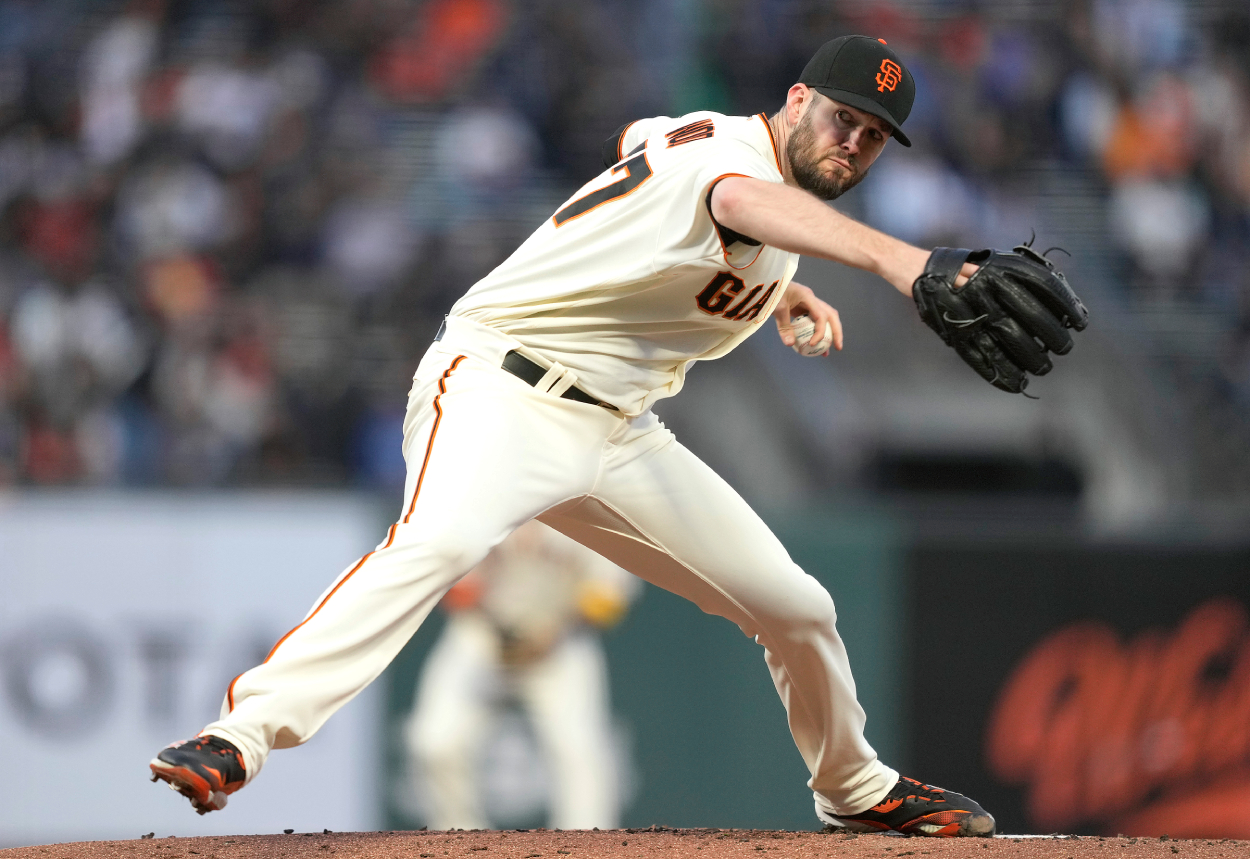 Giants Pitcher Alex Wood Heads List of Fuming MLB Players, Cites 'PR Illusion'
Giants pitcher Alex Wood was one of several players to voice their displeasure at Major League Baseball.
San Francisco Giants pitcher Alex Wood called it before it became official. Just before Major League Baseball Commissioner Rob Manfred announced MLB and its players couldn't come to an agreement on a new collective bargaining agreement, Wood questioned the sincerity of the league during negotiations.
After Manfred announced the first two series of the MLB season will be canceled, Wood had a lot more company. Many players voiced their frustrations with Manfred and the lack of progress as both sides still remain far apart on a new deal.
Alex Wood questions sincerity of MLB during negotiations
There was a glimmer of hope heading into Tuesday as the deadline drew near for a new collective bargaining agreement. Reports stated there was progress, and there was some optimism entering Tuesday's 5 p.m. deadline. No deal was struck, and Manfred made the announcement nobody wanted to hear — regular-season games are canceled.
"We worked hard to avoid an outcome that's bad for our fans, bad for our players, and bad for our clubs," Manfred said to reporters after the deadline.
He assured fans that the lack of an agreement wasn't because of a lack of effort. That comment may not sit well with Wood.
Less than two hours before the deadline, the Giants pitcher tweeted his doubts on the sincerity of MLB during negotiations. Wood wrote that MLB "has pumped to the media last night & today that there's momentum toward a deal. Now saying the players tone has changed. So if a deal isn't done today it's our fault. This isn't a coincidence. We've had the same tone all along. We just want a fair deal/to play ball."
He followed that up with another tweet, hinting that MLB may not have negotiated in good faith.
"The last 24hrs I'd say there was cautious optimism on the players side because the owners were actually at the table negotiating with us toward a deal," he wrote. "What we're asking is more than fair. If there's no deal the optimism from MLB was a PR illusion to make it look like they tried."
Alex Wood wasn't the only player blasting MLB
Wood got the ball rolling when it came to players ripping Manfred and MLB after the cancelation of the first two series this year.
"Manfred gotta go," Chicago Cubs pitcher Marcus Stroman wrote on Twitter.
"It's mind blowing these dudes legitimately caused these issue & continue to lie about it," tweeted Houston Astros pitcher Lance McCullers Jr. "Walk out on us in Dallas. Lock us out. Don't speak to us for 6 weeks. Take weeks at a time to respond to our proposals. Clearly don't care about fans, baseball or the game. It's exhausting."
Free-agent catcher Robinson Chirinos was crushed with the announcement that opening day was canceled, posting a message on Twitter.
"Cancel opening day a whole tradition thrown out the window today, one of the biggest and most exciting days of the season," he wrote. "A sad day for all of us who love baseball."
Manfred: No agreement will take place 'until at least Thursday'
Games are canceled. Players and executives are flying back home after failing to reach an agreement. Manfred, according to Yahoo Sports, said with all the traveling that no agreement is possible "until at least Thursday."
After the announcement, the MLBPA issued its own statement, suggesting MLB's goal is to break the players' union.
"Rob Manfred and MLB's owners have canceled the start of the season," the statement read. "Players and fans around the world who love baseball are disgusted but sadly not surprised.
"From the beginning of these negotiations, Players' objectives have been consistent — to promote competition, provide fair compensation for young Players, and to uphold the integrity of our market system. Against the backdrop of growing revenues and record profits, we are seeking nothing more than a fair agreement.
"What Rob Manfred characterized as a "defensive lockout" is, in fact, the culmination of a decades-long attempt by owners to break our Player fraternity. As in the past, this effort will fail. We are united and committed to negotiating a fair deal that will improve the sport for Players, fans, and everyone who loves our game."
It's highly unlikely anything happens Thursday, but both sides better get back at it if they want to save the 2022 season.