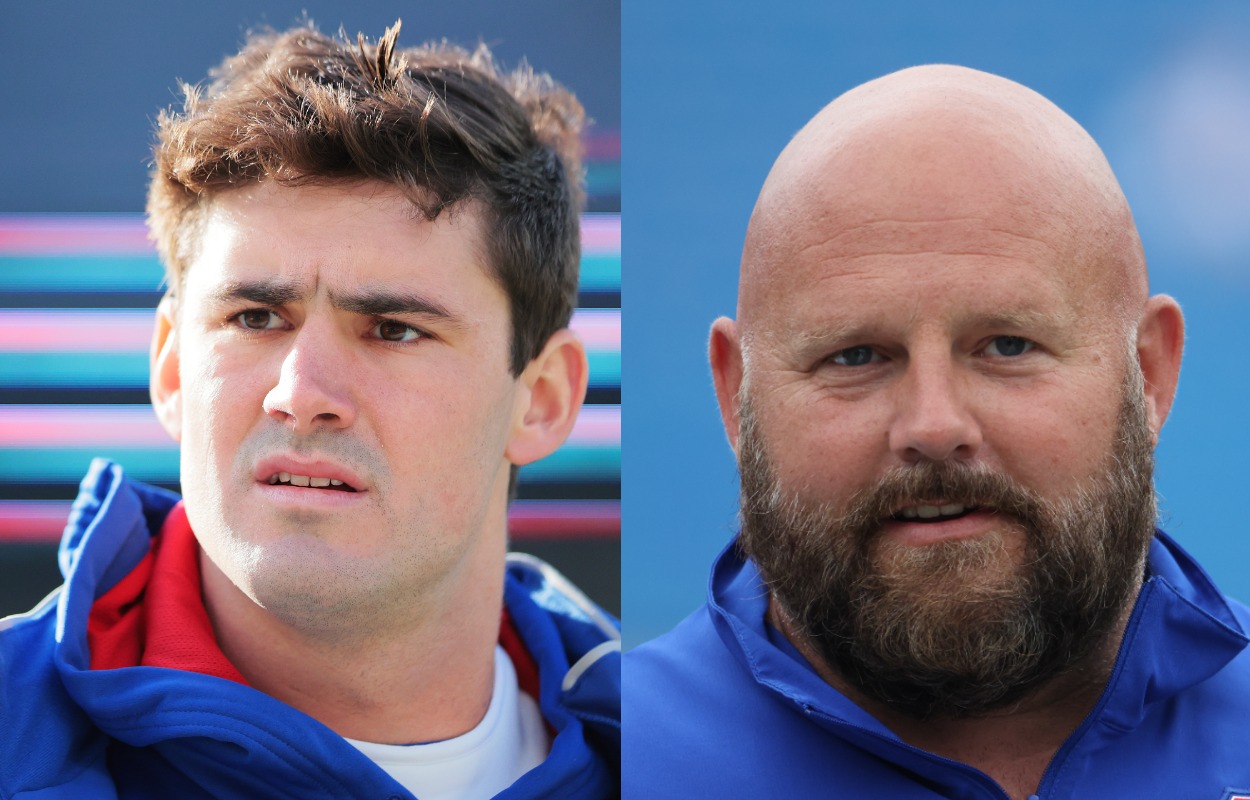 Giants QB Daniel Jones Revealed He and Brian Daboll Are Collaborating on the Playbook
Not even the impending threat of a snowstorm prevented New York Giants head coach Brian Daboll and quarterback Daniel Jones from going over the playbook.
Article Highlights:
New York Giants quarterback Daniel Jones said he and new head coach Brian Daboll are already collaborating on the quarterback
The rising fourth-year signal-caller said he and Daboll met in January despite an impending snowstorm
Jones must hope the new coaching staff helps him reach a new level in 2022, especially if he hits the market next year as a free agent
New York Giants quarterback Daniel Jones is nearing crisis mode. The former Duke standout is likely entering the final year of his rookie contract — unless Big Blue picks up his fifth-year option — and faces severe questions about his long-term future as an NFL starting signal-caller.
Despite the lingering uncertainty, it appears new Giants head coach Brian Daboll is committed to helping his incumbent quarterback. Not even the threat of a snowstorm could change the veteran offensive mind's desire to connect with his new signal-caller.
Giants head coach Brian Daboll made it clear he wanted Daniel Jones' input on the playbook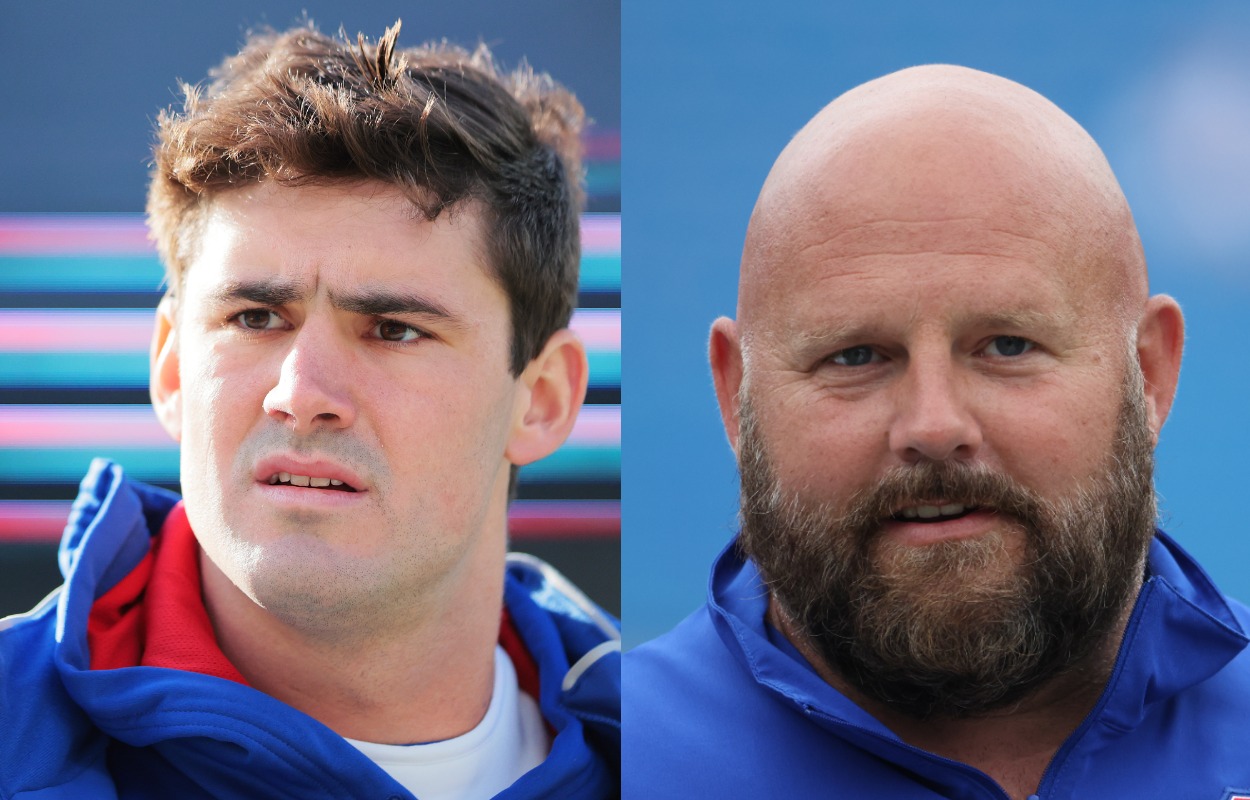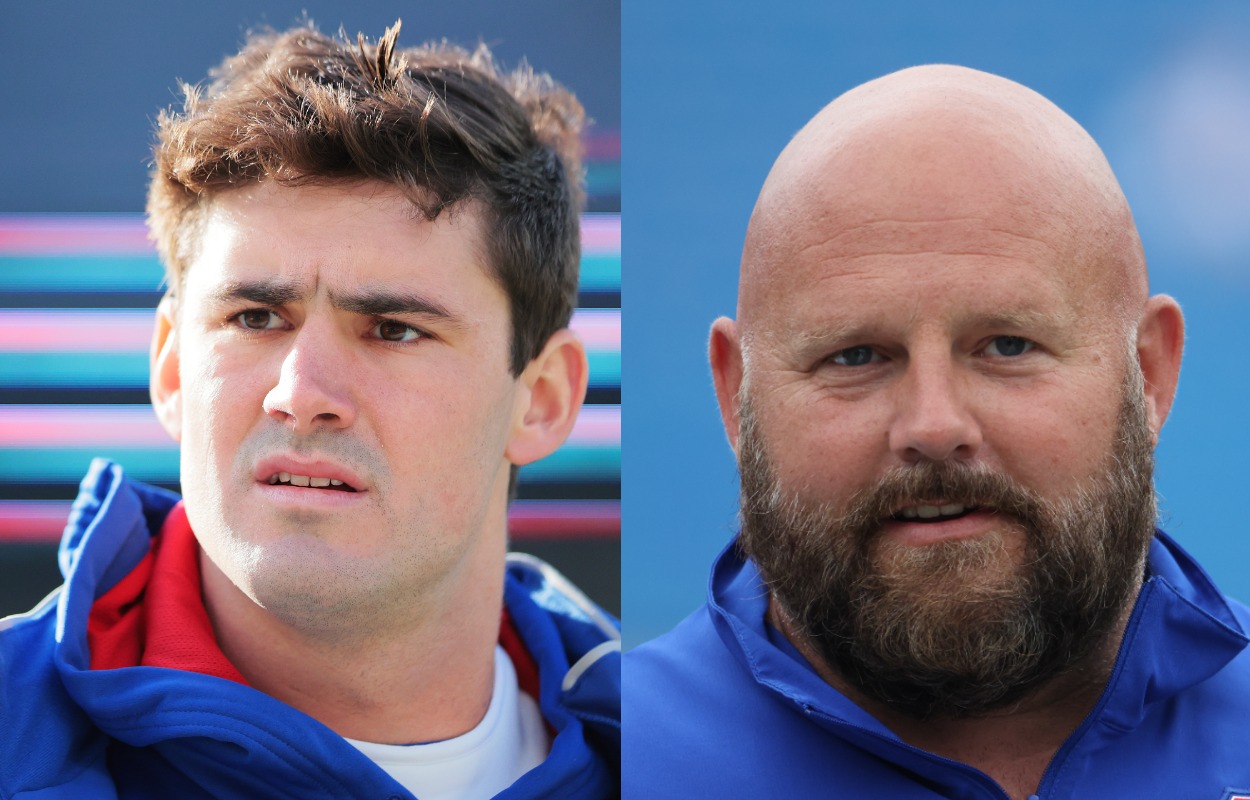 After several years of a middling offense, Giants fans are understandably hoping Daboll will engineer change in East Rutherford, New Jersey, especially after his work with Buffalo Bills star quarterback Josh Allen. Led by Allen and Pro Bowl receiver Stefon Diggs, Buffalo averaged 31.3 points per game in 2020 and 28.4 PPG last season.
Giants fans might be skeptical that Jones is capable of improving, but Daboll certainly isn't. 
Jones told ESPN's Jordan Ranaan that he and his new head coach spoke on Friday, Jan. 28, only hours after the four-time Super Bowl champions officially hired the Bills' offensive coordinator. During a phone call that night, Daboll told Jones to start brainstorming plays, even those he hadn't used since high school, so that the Giants could work them into their 2022 playbook.
Despite the impending threat of a snowstorm, Daboll drove all the way from Buffalo and met Jones in New Jersey on Saturday, Jan. 29.
"Him asking for my ideas and some of the things that I've liked to run … was cool. It will be an ongoing process to get a feel for what those things are — what I like, what he likes. And we'll do it."

Daniel Jones
Unfortunately for Jones, it'll likely be some time before he and Daboll can truly start testing things in practice. The 24-year-old, who suffered a season-ending neck injury last November, isn't expected to be cleared for full football activities until this summer.
Former Bills quarterback Davis Webb said Daboll applied a similar strategy in Buffalo
Theoretically speaking, Daboll did not have to commit to Jones as his starting quarterback, let alone offer him the opportunity to provide extensive commentary on the playbook. He could have either said "my team, my rules" or waited until the Duke product proved himself before requesting his input.
However, Giants backup Davis Webb, who played for Daboll in Buffalo, told Raanan that this is how Big Blue's new head coach thinks. Webb, a third-round pick of the Giants in 2017, estimated roughly 80-90% of the plays in Daboll's Bills playbook were recommended by various players, including Allen and veteran receiver Cole Beasley.
"I remember [Beasley] had four or five plays he loved at SMU and the [Dallas] Cowboys. And we put them in three years ago, and they have been our best plays, or [among] of our best plays, over the last three years."

Davis Webb
Webb said the Giants' offense would be "fast-paced" and likely include aspects of what worked for Allen in Buffalo. After an inconsistent rookie season, the Wyoming product completed 64.1% of his passes from for 12,040 yards, 93 touchdowns, and 34 interceptions from 2019-21. He also rushed for 1,694 yards and 23 touchdowns en route to reaching the playoffs each year.
"But Josh's favorite 15 plays might not be Daniel's," Webb cautioned. "And then Josh's next 15 plays might be Daniel's. It's going to be based off the quarterback and what they have around them."
Daboll will work a miracle if he can salvage what remains of Jones' career
Daboll has already done everything possible to ensure Jones has a chance of salvaging whatever remains of his Giants career. He hired Mike Kafka, a former Philadelphia Eagles quarterback who served as Kansas City Chiefs star Patrick Mahomes' quarterbacks coach, as the Giants' offensive coordinator. The first-year head coach needed only hours to tell Jones he believed enough in him to solicit his thoughts on the playbook.
However, the rest is on Jones, especially as he recovers from a neck injury. Raanan reported the Giants are unlikely to pick up Jones' fifth-year option; such a move would allow New York to part ways with Jones after next season and will enable him to become an unrestricted free agent.
Jones' uncertain Giants future isn't entirely on him. He's someone who has had to overcome a porous offensive line, former general manager Dave Gettleman, Joe Judge's coaching, and a lack of consistent weapons. With that said, the Giants can't pin all of his interceptions on an oft-criticized general manager or running back Saquon Barkley's various injuries.
Expectations aren't high for Daboll's first year. According to Odds Shark, Bovada gave the Giants +6500 odds (bet $100 and win $6,600) to win Super Bowl 57 when the 2021 season officially ended. Only five teams, including the crosstown New York Jets, had lower odds.
Then again, East Rutherford received roughly a foot of snow the day after Daboll and Jones met. If inclement weather couldn't stop the two from trying to succeed together, what could? What will?
Well, an inconsistent offensive line is still a problem. We also can't forget about the Giants' salary cap issues.
Fine, we get it.
The point remains that Daboll is dedicated to helping Jones, and the two, at least for now, will enter 2022 hoping to restore the Giants' winning ways. Stranger things have happened before, especially when the Giants are involved.
How to get help: In the U.S., contact the National Council on Problem Gambling helpline at 1-800-522-4700. Text HOME to 741-741 to connect with a trained crisis counselor at the free Crisis Text Line.