The Giants Are Reportedly Close to Resolving Their Unforgivable James Bradberry Problem
Article Highlights:
The New York Giants are expected to reach a decision on cornerback James Bradberry's future in the coming days
The four-time Super Bowl champions will almost certainly part ways with the 2020 Pro Bowl selection for cap purposes
The Giants can thank former general manager Dave Gettleman's terrible cap spending and roster management for Bradberry's impending departure
In an ideal world, the New York Giants would be building around cornerback James Bradberry. The 2020 Pro Bowl selection will play all of next season at 29 years old, has excellent size at 6-foot-1 and 212 pounds, and is likely motivated to rebound after an inconsistent 2021 campaign.
The Giants have one problem: their current situation is far from ideal, in large part because of former general manager Dave Gettleman.
Instead of building around Bradberry and hoping he returns to Pro Bowl form in new head coach Brian Daboll's first season, the Giants need to part ways with the Arkansas State product to clear cap space. Unfortunately for Giants fans, the reality of the cornerback's impending departure is rapidly approaching ahead of the new league year.
The Giants are reportedly close to trading former Pro Bowl cornerback James Bradberry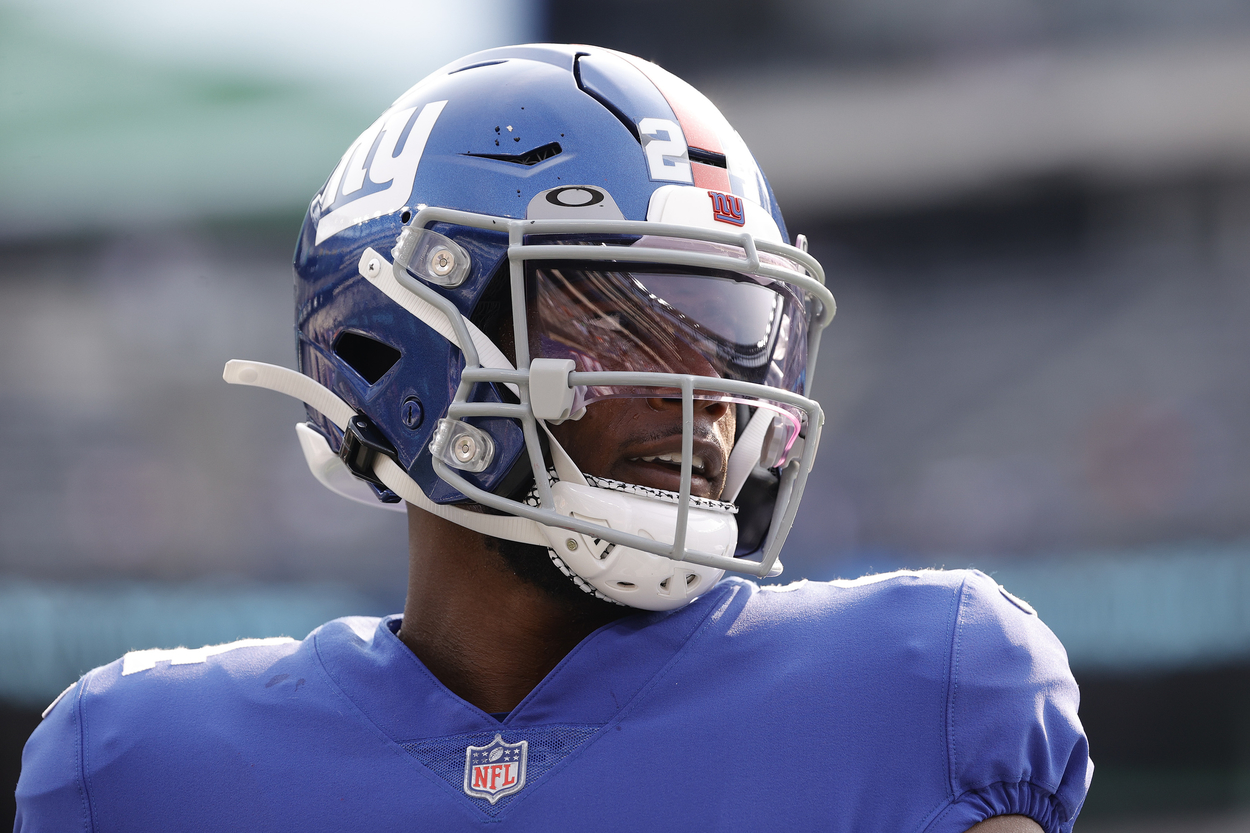 New Giants general manager Joe Schoen made it clear upon his arrival he wanted to create roughly $40 million in cap savings. He started the process by cutting running back Devontae Booker and tight end Kyle Booker ahead of the new league year to create $7.1 million.
The next step? According to The Athletic's Dan Duggan, the Giants are expected to reach a decision on Bradberry this week, in large part because they must be under the cap when the new league year starts on March 16. The Giants would create $12.1 million in savings by cutting or trading the 28-year-old.
According to Duggan, the Giants could cut Bradberry to give him time to find a new team before teams begin spending money in free agency. Similarly, a team would want to acquire the veteran cornerback, who is due a $13.5 million salary in the final year of his contract, to check a box off before free agency opens.
As of publication, neither Bradberry nor the Giants had not publicly hinted which path they intended to take. 
The Giants are only in this situation because of Dave Gettleman's horrific cap and roster management
Most teams need to make difficult cap decisions each year, and the Giants are no exception. What makes the Bradberry situation so frustrating is how preventable it was had Gettleman used greater judgment in previous offseasons.
There was no reason the Giants needed to sign Rudolph to a two-year, $12 million deal, especially not when his physical revealed a pre-existing foot injury required surgery. Rather than add a young, affordable running back through the draft or via trade, the Giants signed Booker to a two-year, $5.5 million deal. Why not try to bring Alfred Morris back on the veteran minimum?
Gettleman signed receiver Kenny Golladay (four years, $72 million) and cornerback Adoree' Jackson (three years, $39 million) to significant contracts last offseason. Injuries limited Golladay to 37 catches, 521 yards, and no touchdowns in 2021. Jackson played in 13 games and broke up eight passes on a Giants team that allowed 24.5 points per game, which ranked 23rd out of the league's 32 teams.
Perhaps the worst part of the Giants' cap situation is how many issues arose from early draft picks not working out. Gettleman foolishly used the second overall pick in 2018 on Penn State running back Saquon Barkley instead of selecting Notre Dame offensive lineman Quenton Nelson, who is currently on a Pro Football Hall of Fame path. Injuries have sapped Barkley of his effectiveness and currently have him on the trading block.
The jury is still arguably out on quarterback Daniel Jones, the sixth overall pick in 2019. However, he hasn't lived up to the billing of a first-round pick, and it remains unclear if the team will extend him within the next two years. The Giants are currently expected to pick up Jones' fifth-year option, guaranteeing his 2022 salary, and work from there.
According to Spotrac, Jones and Barkley will cost a combined $15.5 million against the cap next year. Oops.
Which teams should try to acquire Bradberry this offseason?
The good news for Bradberry is that he's still in his 20s and could, theoretically, earn one final notable payday. He likely won't receive anything close to four years and $48 million in free agency, but don't rule out him finding a way to make $8 million per year on his next deal.
The bad news? Bradberry is coming off an inconsistent 2021 campaign and is inching ever close to 30 years old, which is usually the beginning of the end for defensive backs.
Nonetheless, Bradberry should have several teams interested in his services. The crosstown New York Jets have the cap space and a need for another cornerback. However, the downside is that Bradberry would be trading one incompetent franchise for another, except the other has more money.
The Cincinnati Bengals also have the cap space, and they're fresh off a Super Bowl appearance. Although Bradberry might need to settle for slightly less money than he could earn elsewhere, he'd at least be joining a team expected to make another deep playoff run next year.
Football fans should also monitor the Las Vegas Raiders, in large part because former Giants defensive coordinator Patrick Graham holds the same position there. The Silver and Black reached the playoffs last season and will likely do everything in their power to make it consecutive years in 2022.
At least Bradberry is poised to come out from this a winner. As for the Giants, they can take solace knowing Gettleman isn't around to hurt them anymore.
Like Sportscasting on Facebook. Follow us on Twitter @sportscasting19.
RELATED: Should the New York Giants Consider Turning to Carson Wentz as Their Next Franchise Quarterback?