Giants Safety Xavier McKinney Has Only Played 1 Game Against the Cowboys but Already Has a Vendetta Against His NFC East Foe
Fans of NFC East teams are some of the most passionate in the NFL, and their hatred for their divisional opponents have resulted in some intense rivalries. Dallas Cowboys fans hate the New York Giants and vice versa; the same goes with Philadelphia Eagles and Washington Football Team supporters, as they all have equal disdain for the other squads. That hatred, though, also trickles down to the players, including Giants safety and 2020 second-round NFL draft pick Xavier McKinney.
In fact, McKinney recently revealed that he has a vendetta against one NFC East team in particular: the Cowboys.
Xavier McKinney went to the Giants in the 2020 NFL draft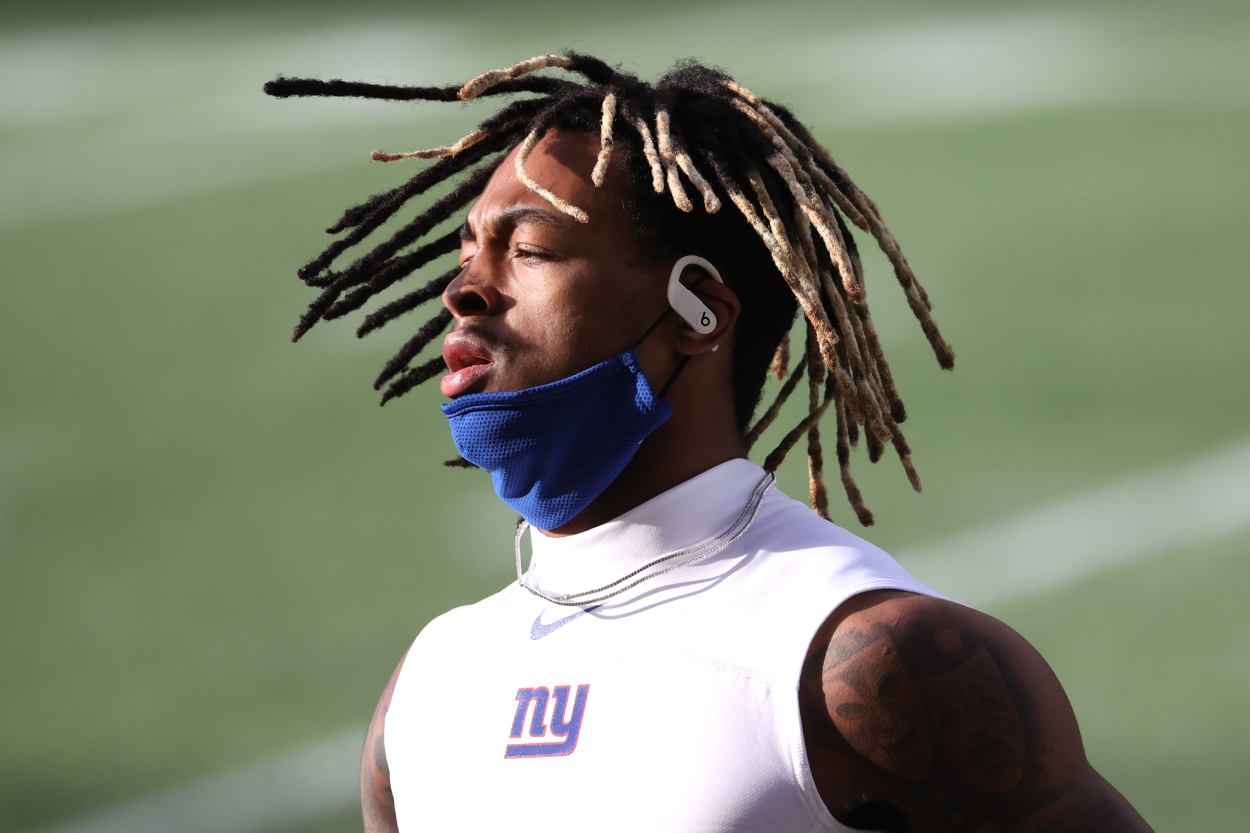 McKinney was a talented prospect heading into the 2020 NFL draft. He racked up 74 total tackles, three sacks, and two interceptions in 2018 with the Alabama Crimson Tide. He then had 95 total tackles, three sacks, and three interceptions in 2019.
McKinney ultimately thought Jerry Jones' team would select him in the 2020 draft, but he ended up going to the Giants in the second round and with the No. 36 overall pick.
However, the safety suffered an injury in training camp and only played in six games during the 2020 season. He eventually started the last four, though, including the season finale against the Dallas Cowboys, where he caught the game-clinching interception in the end zone with 1 minute, 15 seconds left. 
It was the first interception of his career, and it kept the Giants' playoff hopes alive, although Washington won later that night to clinch the NFC East's automatic playoff spot.
He has a vendetta against the Cowboys
That game-clinching pick during his only matchup against the Cowboys last season meant a lot to McKinney. It was not only the first interception of his career, but it also came against the team that passed on him in the draft.
"I think everything came full circle for me," McKinney said during the All Things Covered podcast, per USA Today's Giants Wire. "That was the team that was supposed to come get me. The team talked to me a lot, and they liked me when I was interviewing and all that stuff. … Having that pick against the Cowboys was great because going into that game, I knew what we needed to do to have a chance to even make the playoffs. I knew it was a big game going in."
He continued: "For me, I take it personal every time I play the Cowboys for the rest of my career. That's just how I feel about that situation."
McKinney's comments were probably music to Giants fans' ears. His hatred for the Cowboys could fuel wins against Dallas for at least the next few seasons, and maybe even more.
The Giants and Cowboys play in Week 5 and Week 15 during the 2021 season.
Xavier McKinney hates another NFC East team
The Cowboys aren't the only NFC East team McKinney hates. He also dislikes the Eagles.
In Week 17 last season, New York could only make the playoffs if the Eagles beat Washington, as a WFT loss would have made the Giants NFC East champs. A Washington win, though, kept them home for the rest of the season.
WFT ultimately won 20-14.
However, many speculated whether the Eagles actually tanked the game for better draft position, as Washington's win came after Philadelphia made several questionable decisions throughout the night.
The Eagles chose not to go for a chip-shot field goal that would have tied the game in the third quarter. They, instead, went for it and turned it over on downs. Eagles coach Doug Pederson also benched quarterback Jalen Hurts and played Nate Sudfeld, who had only appeared in three games throughout four seasons before that night. Lastly, Philly jumped offsides on fourth-and-inches during a late-game Washington drive.
"I would be lying to you if I said I didn't [hold a grudge], man. I'm not gonna lie," McKinney said on All Things Covered, per Giants Wire.
McKinney actually didn't turn the game on until he saw his teammates' reactions in a group text. They ultimately weren't too happy with the Eagles' tank job that night.
"I'm like, 'Damn, what the hell? What's going on?' So I go look, I turn on the game and I start watching, and I'm like, 'Damn, they just about to give it up.' … They gave it up, man," McKinney said, per Giants Wire. "It was rough, it was rough to see it happen like that. But everything happens for a reason."
The Giants' games against the Eagles and Cowboys this season will certainly be box office given that McKinney heads into them with some extra motivation. He always wants to perform well, but he'll want to ball against those teams specifically.
Get your popcorn ready.
Stats courtesy of Sports Reference and Pro Football Reference