Gilbert Arenas Can't Stand the Comparisons of the Current Team USA to the Dream Team: 'We Got Players … Not Even Top 100 in the NBA'
Besides overwhelmingly winning a gold medal at the 1992 Barcelona Games, the Dream Team also became a gold standard. Every Team USA entry in the Olympics since then comes with comparisons to the original. Former NBA star Gilbert Arenas has had just about enough of that, too.
A former All-NBA guard and current coach of the Big 3's Enemies, Arenas knows about being one of the top players in the NBA. That's precisely why he thinks all the comparisons to the 1992 team fall woefully short.
Gilbert Arenas exited the NBA for good in 2012
For a three-season stretch from 2004–07, Gilbert Arenas was one of the NBA's premier scorers for the Washington Wizards. In 2005–06, he became the youngest player in NBA history to average at least 29 points, six assists, and two steals in a season.
Arenas is also the reason for one of the many stipulations regarding free agency. After winning the NBA Most Improved Player award in 2002–03, Arenas became a restricted free agent. Because he was a second-round pick, he didn't have the typical rookie contract.
The Golden State Warriors had early Bird rights on Arenas and could also match any offer sheet. But the Wizards went high. Arenas agreed to a six-year, $65 million offer sheet. The first-year salary of $8.5 million proved unworkable for the Warriors, who didn't have that much cap room.
The Arenas provision in the collective bargaining agreement limits the first-year salary teams can offer restricted free agents who have been in the league for two years or less.
Arenas was a top-10 scorer for three straight seasons before injuries chipped away at his effectiveness. He kicked around the NBA until 2012 and spent one season in China before retiring.
As for his stance on Team USA, the irony is that Arenas was never a member of a national team.
Arenas doesn't want to hear any Team USA comparisons that involve the Dream Team
During an interview with Fanatics View, Gilbert Arenas was adamant that comparisons to the iconic 1992 Olympic team are ridiculous.
"I'm stuck on the Dream Team. When you look at the team, they had the best players on the team besides one or two. You look at Chris Mullin; Chris Mullin was a top-six scorer in the NBA; I think he was (fourth) or (fifth) that year. They had the top six scorers, and the only one that didn't make it was Dominique Wilkins. So, they had the best players at their position."

Gilbert Arenas
Team USA's last time anything approaching that sort of talent level was the 2008 and 2012 entries. Dubbed the Redeem Team after Team USA's dismal bronze-medal showing in Athens in 2004, Team USA stormed to a gold medal in 2008. But the caliber of the 2020 Tokyo squad is not at that level.
"When we compare our lineups to them, and we got players on our team that's, they're not even the second-best player on their team, not even third-best, not even top 100 in the NBA, it's kind of hard just to say, 'Oh, they're the same team.'"

Gilbert Arenas
Arenas isn't wrong. The Dream Team had 11 Hall of Famers. Team USA in Tokyo has Keldon Johnson and JaVale McGee. No disrespect intended to either Johnson or McGee, but they aren't Michael Jordan and Patrick Ewing.
Team USA doesn't have the same attitude, Gilbert Arenas says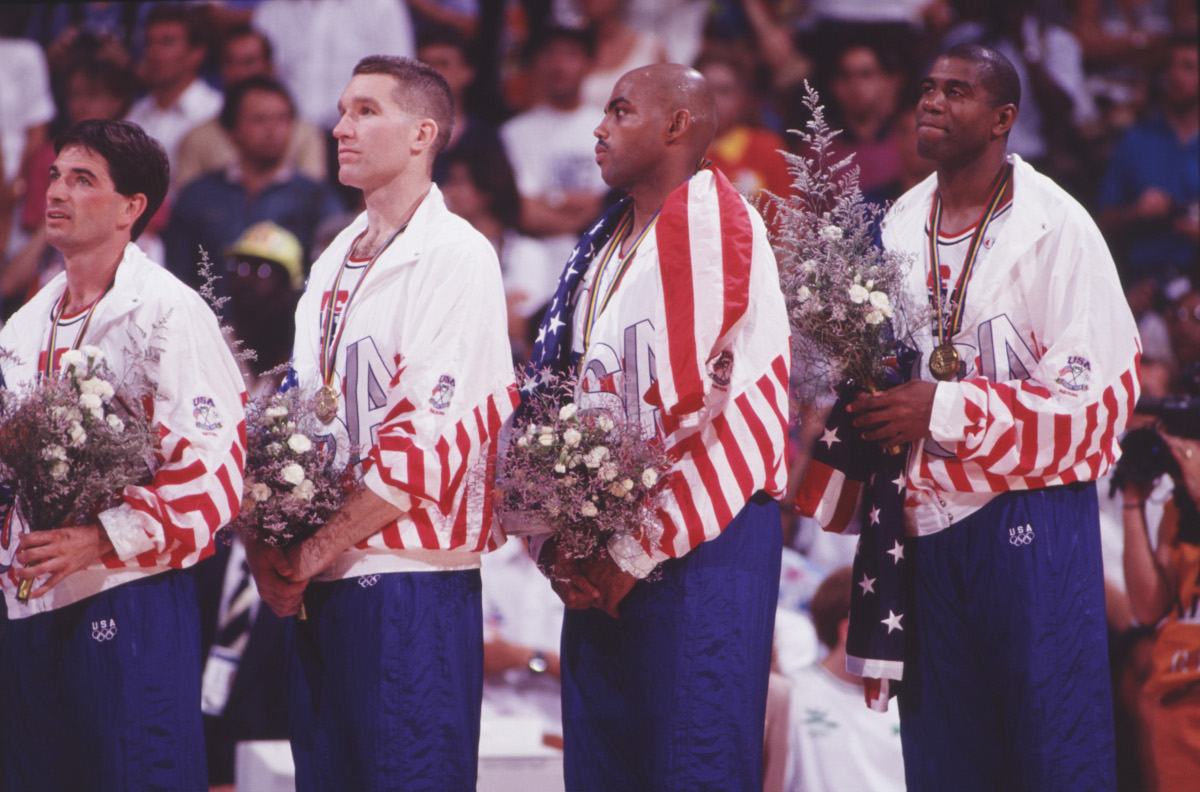 While Team USA has won the last three Olympic gold medals, its 2019 FIBA World Cup entry placed a disappointing seventh. Gilbert Arenas thinks some of that is because international play is not as important as it once was.
"I don't think we take it as seriously as anybody else, and I think that's the Issue. The Dream Team, that was their purpose, to go out there and let everyone know who they are. We don't do that anymore."

Gilbert Arenas
Arenas doesn't think Team USA has a guaranteed gold medal in Tokyo. Australia, Team USA's semifinal opponent, won an exhibition meeting between the squads before the Olympics. The present group also lost an exhibition to Nigeria and opened the Olympics with a loss to France. It was just the sixth Olympic loss for Team USA in 19 appearances at the Games.
Arenas thinks Luka Dončić's dominance gives Slovenia a puncher's chance to win the gold.
"Sh*t, I mean, he sure did it for Dallas. That YMCA team he had, and he got them to the playoffs. So he has a chance. He has a chance, yes."

Gilbert Arenas
With NBA salaries continuing to climb, the allure of potentially sacrificing a big payday by getting hurt playing for Team USA becomes less attractive. Gilbert Arenas is right. Dream Team comparisons are ludicrous at this point.
Statistics courtesy of Basketball Reference.