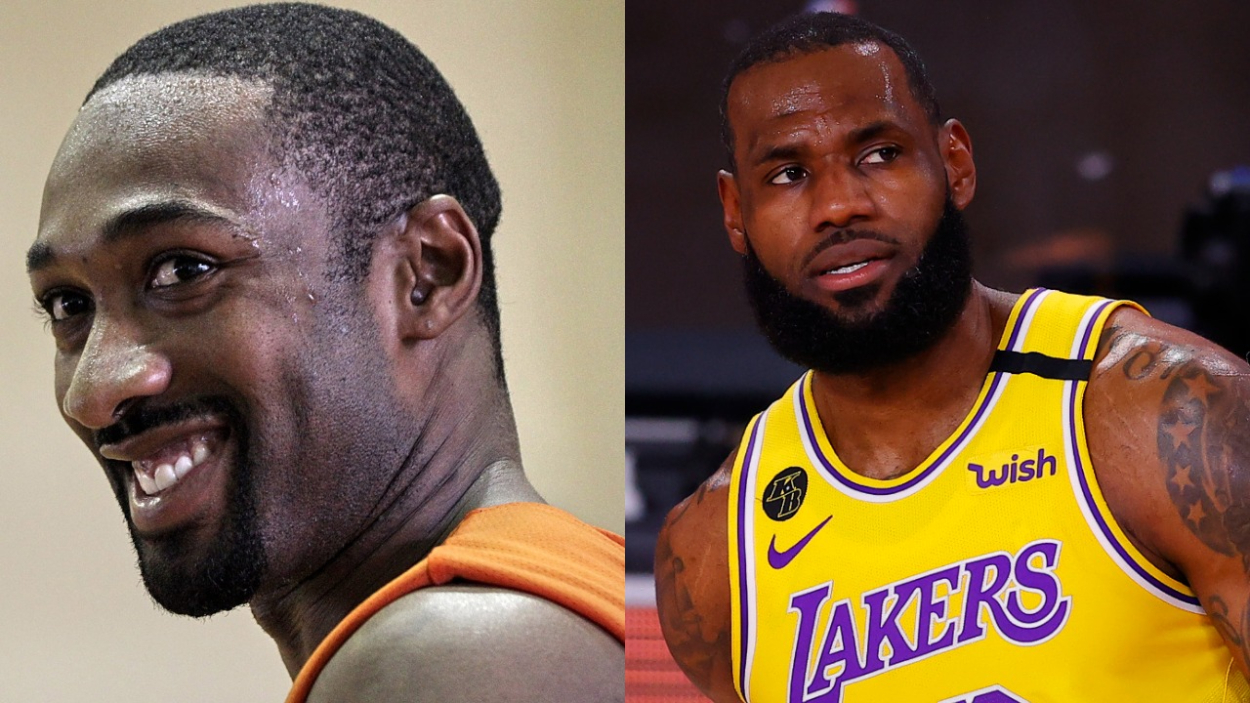 Gilbert Arenas Clowns the Lakers, Calls Them the 'Senior Citizens Discount Team': 'No Carbs After 7'
The Los Angeles Lakers have drastically improved through free agency this offseason, but they have also become a very old team, which has led to many people making jokes about their players' ages. Of those people to make jokes has been former NBA star Gilbert Arenas, who didn't hold back on Instagram.
The Los Angeles Lakers have improved their roster drastically in free agency so far this offseason, but their haters have criticized one glaring issue: their age. The LeBron James-led Lakers have formed one of the oldest teams in NBA history, but they should still have enough talent to contend for a championship.
However, a former NBA star had some jokes about the average age of the Lakers: Gilbert Arenas.
The Los Angeles Lakers have built an old team in free agency
The Lakers were already an older team, as their best player, James, turns 37 in December, while Anthony Davis is 28. They also had Marc Gasol (36) and then recently traded for Russell Westbrook, who is 32.
After trading for Westbrook, LA has since added the 37-year-old Carmelo Anthony, Trevor Ariza (36), Dwight Howard (35), Wayne Ellington (33), and Kent Bazemore (32).
Kendrick Nunn, who is 26, also recently joined the Lakers, as did Malik Monk (23). The team just re-signed Talen Horton-Tucker (20) as well. But the cumulative age of all the guys previously mentioned make the Lakers the oldest team in the league. Their roster will be an average of 31 years and 302 days (31.83) once the season begins, according to ESPN.
Gilbert Arenas trolled LA's roster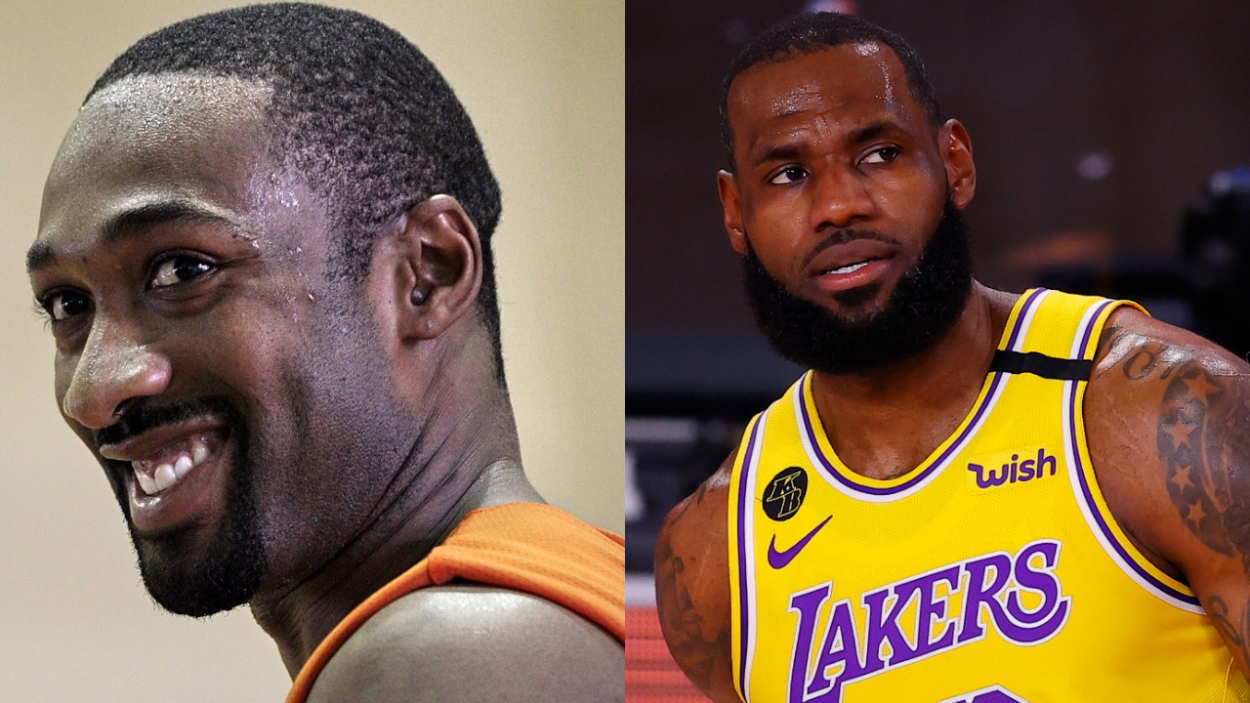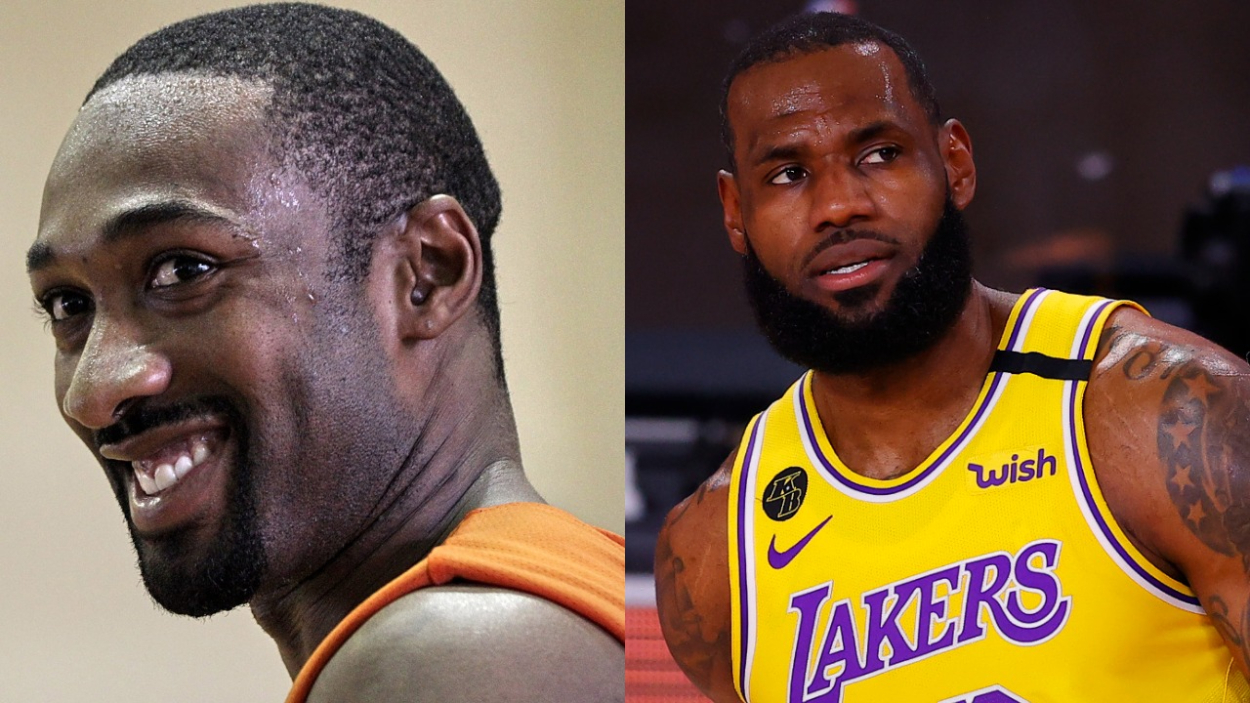 Former Washington Wizards star Gilbert Arenas hasn't played in the NBA since 2011-12, but he still frequently has strong opinions about what's going on around the league, and he couldn't help himself when it came to the Lakers.
Arenas recently took to Instagram and posted a screenshot of a Bleacher Report tweet that had the ages of all the Lakers' players in it. He then added a caption and didn't hold back.
"My Lakers just became the senior citizens discount team," Arenas wrote. "We the male version of the San Diego [Splash Sisters]. #LoadManagement #Age[Management], we will be doing it (100 emoji). [LeBron James], ain't no taco Tuesdays this year (no carbs after 7pm) for this team. #2022LakerChip #LakerAdultLeagueTeam."
The Splash Sisters are a women's basketball team comprised of players who are 80 or older.
The Lakers certainly aren't up there quite yet, but they are putting together a team that is old in basketball years, and Arenas is just one of many who has made jokes about it.
When it comes to LeBron James, though, age is nothing but a number.
LeBron James deleted a tweet that defended the Lakers' free agency moves
With everyone talking about the ages of all the Lakers' players, James couldn't keep quiet. He took to Twitter to voice his frustrations.
"Keep talking about my squad, our personnel ages, the way he plays, he stays injured, we're past our time in this league, etc etc etc," James posted in a since-deleted tweet, per the New York Post. "Do me one favor PLEASE!!!! And I mean PLEASE!!! Keep that same narrative ENERGY when it begins! That's all I ask. #ThankYou"
It's unclear why James deleted the tweet, but he is justified in his frustration. His team still has a chance to be one of the best squads in the NBA.
The King averaged 25.0 points, 7.8 assists, and 7.7 rebounds last year, while Davis is still one of the best big men in the NBA (21.8 points and 7.9 rebounds in 2020-21). Westbrook was as good as ever last season, too, averaging a triple-double for the fourth time in his career with 22.2 points, 11.7 assists, and 11.5 rebounds.
Also surrounding James, Davis, and Westbrook are great shooters in Anthony, Ellington, Nunn, Ariza, and Monk. They may be old, but this team has the potential to be scary.
Arenas — whose post seemed to be in good fun — and others may have jokes about James and the Lakers. But this old team has a chance to dominate the youngsters of the league. They have a chance to win another NBA championship.
Stats courtesy of Basketball Reference