Gilbert Arenas Drops the Hard Truth On the Lakers' Team-Crushing Russell Westbrook Dilemma
Earlier this season, former NBA All-Star Gilbert Arenas told his podcast listeners that fans of the Los Angeles Lakers shouldn't panic about the team's awful preseason and slow start. But nearly four months later, Agent Zero has a different message for the same fan base, and it's a sobering one.
In LA, there's been one constant through injuries, health and safety protocols, and associated drama. The top-heavy roster doesn't mesh well with its role players, and Russell Westbrook is not playing anything like a former MVP. With the Feb. 10 trade deadline looming, Arenas wonders if there's a realistic fix available for the Lakers.
Arenas tells it like it is about the Lakers' first unit
On his No Chill podcast, Arenas explained an often-overlooked problem the Lakers deal with regularly. To the three-time All-NBA guard, LA relies on a lot of scoring from very few sources.
"You got three players that start that's going to take one to four shots," Arenas said. "They have three players in the starting lineup that average a total of 15 points combined. Well, unfortunately that's two players vs. five defenders. You're going to struggle."
With LeBron James returning from a five-game absence because of swelling in his left knee, there is a restoration of balance. In his return, James went for a triple-double, scoring 29 points as LA beat the New York Knicks in overtime.
But as the Lakers went 1–4 without The King, coach Frank Vogel started players whose offense mainly was offensive. In a Jan. 28 loss to the Charlotte Hornets, LA got 57 points from its starting five. Of course, 35 of those came from Russell Westbrook, so maybe Arenas was on to something.
Given the amount of time James and Anthony Davis have missed and Westbrook's struggles at times catching rim with his jumper, it's not a surprise to see the Lakers rank 23rd in offensive rating, scoring 108.6 points per 100 possessions.
There have been various trade scenarios floating in the rumor mill about Westbrook. However, Arenas splashed ice water on those, as well.
Arenas asks the quiet question about a Lakers trade out loud
During his discussion about the Lakers, Arenas touched on the trade rumors that always percolate near the trade deadline.
He isn't sure any of them are viable, though.
"I don't see what the Lakers can trade that's going to get back something that's going to help them," Arenas said. "This is all the pieces you have. You got to figure out how to cook this dish, and that's the thing you got to figure out. Like, I got everything you need to make a Thanksgiving meal, so then where do you place the blame at for this season."
The former All-Star said Russell Westbrook is the player most affected by the Lakers' offensive imbalance.
"You got one guy struggling because the space he needs is not there," Arenas said. "So now he has to do something that he just doesn't do. He has to settle, he has to shoot more jumpers, he has to try to force the action, and that's because there's players on the court that are just sitting there."
According to the former player, the Lakers become easy to defend because of players defenses ignore.
"I'm like, 'Why would I ever guard (Avery) Bradley? What is he gonna do?' He's going to sit in the corner somewhere. I want you to pass it at him; all he does is pump fake and pass back. I don't gotta guard Trevor Ariza. Trevor's there for defense. Trevor's gonna shoot about four shots. The best — the best — he can give you is 12 on those four shots if he hits all four threes. So I'm just going to sit in the lane."
The struggles are weighing on Westbrook.
Russell Westbrook is a difficult player to trade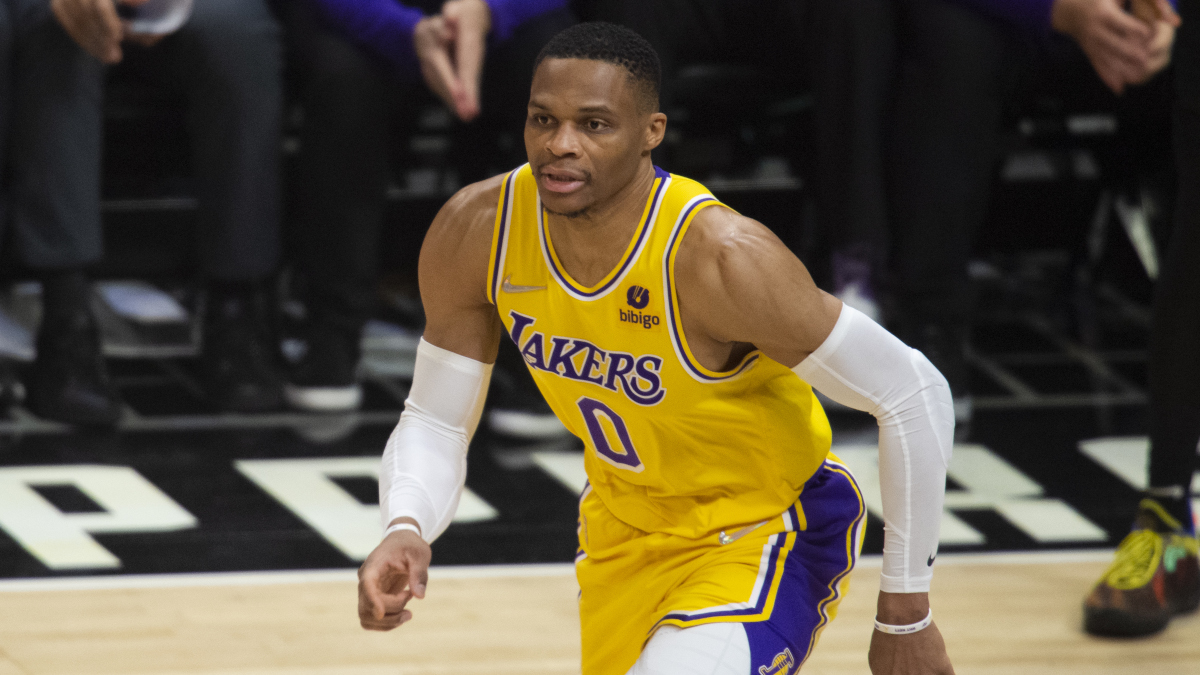 Russell Westbrook averages 18.4 points a game. That's the lowest mark since his second season. He's shooting 47.6% from two-point range and 30.0% on 3.5 attempts a game from deep.
There's something to the point Arenas made about space for the offense. The former MVP is getting to the rim much more often this season than he did in 2020–21 with the Washington Wizards. But he's less effective.
Last season, Westbrook took 19.4% of his shots in the restricted area, converting 65.0%. Since coming to the Lakers, he gets to the rim for 34.7% of his attempts and makes only 59.3%. His accuracy from floater range is down from 46.5% to 36.0% on roughly the same rate of attempts.
LA is a taxpaying team, and Westbrook is the highest-paid Laker at $44.2 million. This season, his poor play isn't doing a lot for his trade value, and he holds a $47.1 million option for next season. Put those two factors together, and the chances the nine-time All-Star declines his option to test free agency are nil.
About the only chance the Lakers have is to find a team with a similarly hideous contract to trade and exchange problems with someone. Maybe that's John Wall of the Houston Rockets. But that doesn't change the dynamic in LA. They'd still have a poor shooter who needs the ball a lot.
One thing is sure. It's been a rapid descent for a Los Angeles Lakers team that won a championship 16 months ago. Acquiring Russell Westbrook was just one of many decisions that backfired spectacularly.
Statistics courtesy of Basketball Reference. Contract information courtesy of Spotrac.
RELATED: Russell Westbrook's Childhood Dream to Play With Lakers Has Morphed Into a Nightmare