Gilbert Arenas Delivers the Verdict for the Greatest NBA Scorer Ever, and It's Not Michael Jordan: 'And I'm a Jordan Fanatic'
Who is the greatest scorer the NBA has ever seen? It seems like it should be such a simple question. But the truth is that it's far from it. Just a glance at the Association's history book provides not just one answer but several. Kareem Abdul-Jabbar scored more points than anyone else. But Wilt Chamberlain had more points and the best scoring average in a single season. Then there's Michael Jordan.
Jordan edges out Chamberlain for the top average in league history. It's so close they must go to hundredths of a point to figure it out. Both averaged 30.1 points per game in their careers. But Jordan's 30.12 is ever-so-slightly better than Chamberlain's 30.07. Considering no one else is within 3.5 points of them, going with either to answer the original question seems to be on the right track.
But former NBA All-Star Gilbert Arenas, a fine scorer in his own right once upon a time, further complicated the issue with his recent answer to that question. He likes the player who is the current active scoring average leader.
Kevin Durant has gotten much of the attention this summer
With his scintillating effort in a losing effort for the Brooklyn Nets during the NBA Playoffs, Kevin Durant made sure we all remembered he is still an elite scorer. At the Tokyo Olympics, Durant flew past Carmelo Anthony as the all-time leading scorer in U.S. Olympic history. What Anthony took 31 games to do, Durant surpassed in 22.
Durant is narrowly ahead of LeBron James as the leading active scorer in the NBA. Durant's 27.02 average clips the 27.00 posted by James. In the playoffs, Durant put on a masterclass in scoring efficiency. He averaged 32.6 points in a five-game triumph over the Boston Celtics. For an encore, he nearly dragged the battered Nets — with a one-legged James Harden and without Kyrie Irving — past the eventual champion Milwaukee Bucks.
In that seven-game battle, Durant averaged 35.4 points. In 12 games, that's an average of 34.3, and he did it at nearly a 50/40/90 pace. He only shot 87.1% from the free-throw line. Slacker.
That came after a regular season during which he put up 26.9 points a night. That was while returning from a ruptured Achilles. At age 32. Durant did miss 37 games with ankle and thigh injuries, but it's hard not to call his comeback anything but a rousing success. However, does that make him the greatest scorer ever?
Arenas likes Durant over Michael Jordan
While appearing on the fubo Sports podcast on Aug. 10, 2021, Arenas made a case for Kevin Durant as the greatest scorer of all time. Not the most outstanding player, but simply the greatest scorer.
Arenas pointed to Durant's run against Milwaukee. KD scored 49 points in a Game 5 win and dropped 48 while playing all 53 minutes of the Game 7 overtime loss. It could have been 49 and a series victory, but a toe on the 3-point line ended that dream.
"As a basketball fan who understands the game, the way Kevin Durant scores is really effortless. He can't actually be stopped, controlled, or challenged because of his height, his shooting. So, he is probably the easiest bucket-getter in NBA history. So it is Kevin Durant, in my opinion, and I'm a Jordan fanatic."

Gilbert Arenas
Arenas had a three-year run with the Washington Wizards from 2004–07 when he averaged 27.7 points a game, but he didn't do it with the efficiency of Durant. Still, he knows what it takes to score with volume in the NBA.
Stacking up Michael Jordan against Kevin Durant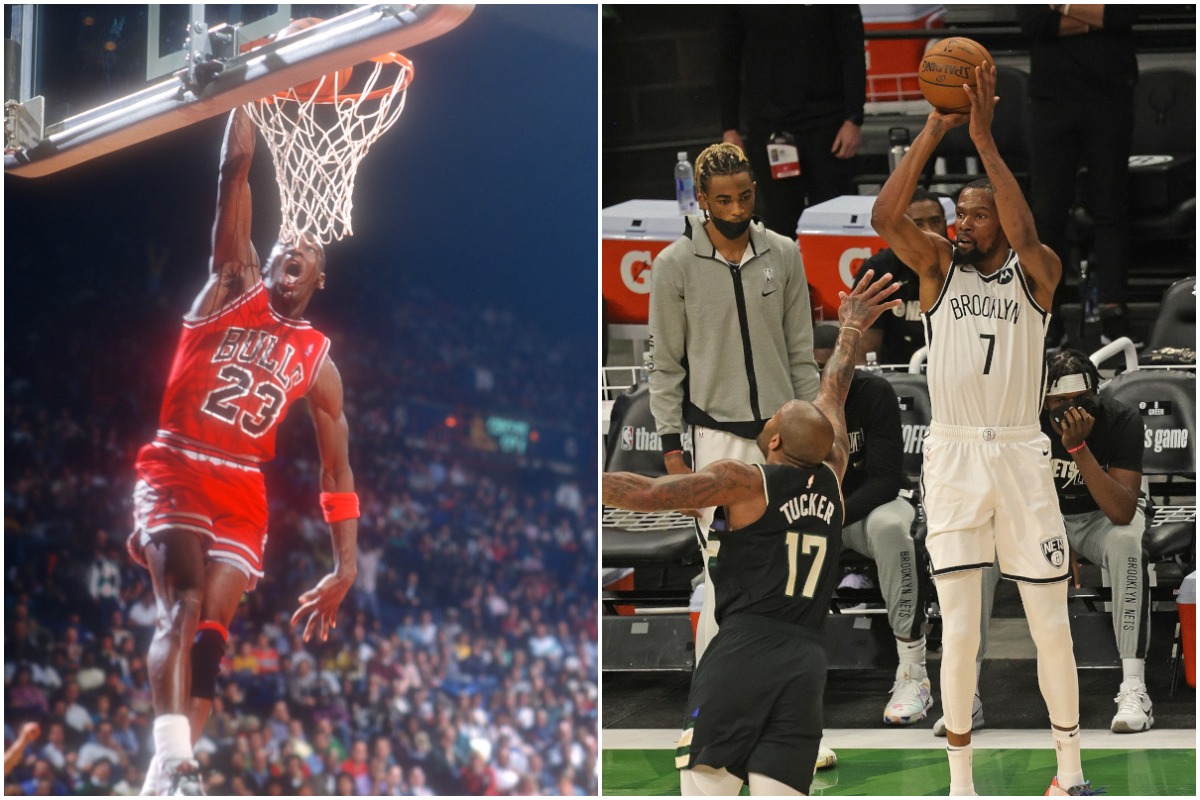 Since their careers never overlapped, all we can do is look at their respective numbers and make a case for Michael Jordan or Kevin Durant. The greatest scorer in NBA history is a big title, but these are two worthy candidates.
But at first glance, the bout appears to be Jordan by a knockout.
Jordan was a 10-time scoring champion, including winning three straight from ages 32–34. Durant was the league's top scorer four times in five years from 2009–14 but hasn't done so since. As a shooter, Durant has the edge with a slash line of 49.4/38.4/88.3. Jordan's is 49.7/32.7/83.5.
The instinct is to believe Jordan had more playing time than Durant. Rotations are longer now, as are NBA rosters. But while Jordan does have an edge, it's only 38.3 minutes per game to 36.7 for Durant. Normalized per 36 minutes, MJ averaged 28.3 points. KD checks in at 26.5.
With all due respect to Agent Zero, Kevin Durant has work to do to top Michael Jordan as a scorer.
Statistics courtesy of Basketball Reference.