Gilbert Arenas Says He Had a 'Horrible' 1st Game Against Kobe Bryant, and That a Lakers Legend Scared Him so Bad He 'Fell': 'They All Laughing'
Everyone in today's NBA remembers their first game against LeBron James. But before him, stars remembered their first encounter with Michael Jordan and then eventually Kobe Bryant. For former Washington Wizards star Gilbert Arenas, he can recall his first game (in the preseason) against the latter, and it apparently didn't turn out too pretty for him.
In fact, Bryant's legendary Lakers teammate scared him so bad he fell down.
Gilbert Arenas' play drew comparisons to Kobe Bryant's on the Lakers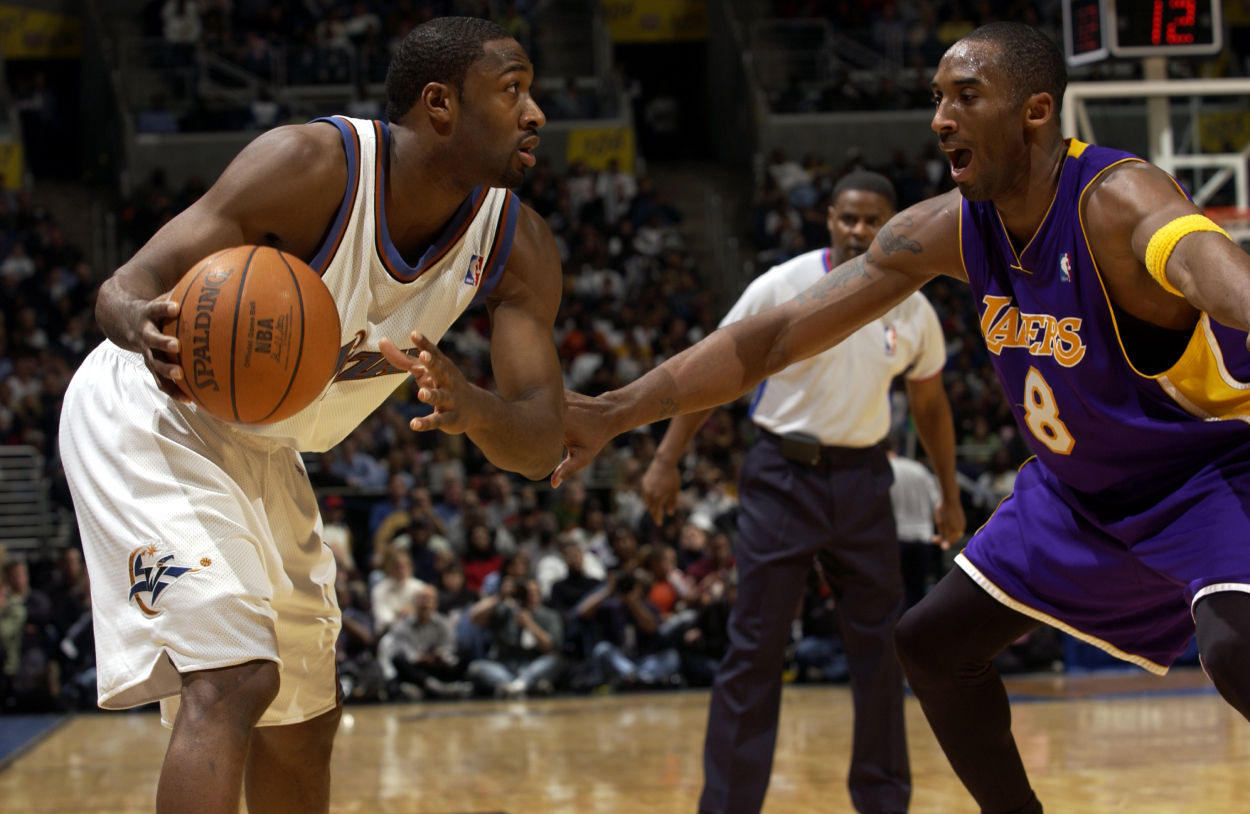 Gilbert Arenas was a lethal scoring guard throughout his basketball career, and because of that, he says his play drew comparisons to Kobe Bryant's on the Lakers.
"I grew up on Kobe," Arenas said on his No Chill with Gilbert Arenas podcast. "And then everything was Kobe, Kobe, Kobe, Kobe, Kobe. I'm compared to Kobe in high school."
The comparisons between him and Bryant may seem bold, but he earned them as a young star. Arenas was a second-round pick with the Golden State Warriors out of Arizona in 2001, but he averaged 18.3 points in his second season before going to the Washington Wizards in his third year and becoming an All-Star during the next campaign.
Arenas then earned three consecutive All-Star selections with the Wizards from 2004-05 through 2006-07 and became one of the most dominant scorers in the league, averaging 27.7 points and 5.7 assists combined in those seasons. The three-time All-NBA honoree also even recorded as many as 29.3 points per game in 2005-06, which was only fewer than LeBron James, Allen Iverson, and, of course, Bryant.
Arenas then had unfortunate luck the rest of his career and dealt with injuries, but it appears there's something from his years in the NBA that he'll never forget: his first encounter with Bryant.
He played 'horrible' during his first game against Kobe in the preseason
While appearing on his No Chill podcast, Gilbert Arenas discussed his first matchup against Kobe Bryant, Shaquille O'Neal, and the Lakers, which he says came in the preseason.
"When I first seen [Kobe] in real life, I'm like, 'That's, that's, that's him. That's him,'" he said. "Horrible game. I had a horrible game."
Arenas then reached his lowest point of the night when he received an unwelcomed surprise from Bryant's teammate, Robert Horry. Horry is a Lakers legend who won three titles with the team and hit a buzzer-beater in the 2002 Western Conference Finals.
"You get in like the last three minutes, and I remember coming off the pick-and-roll, and all Robert Horry did was like, 'Ah!'" Arenas said. "I got so scared, bro. I'd never seen that before. It was harsh; it was harsh, yo. And then I fell down; I just fell, they went, dunked, scored. They all laughing. I got so embarrassed."
That doesn't sound like the greatest way to introduce yourself to Bryant. But Arenas eventually made up for it a few years later.
Gilbert Arenas had much better games against Kobe Bryant
Arenas and Bryant ended up becoming very well-acquainted, as the former Wizards star even vowed to fulfill what Bryant requested of him before his death, which was to pass his basketball knowledge on to the next generations.
He didn't earn Mamba's respect without the two partaking in some battles, though.
In 2006, Arenas dropped 60 points, eight rebounds, and eight assists in a six-point win over the Lakers. He then subsequently talked trash to Bryant after the game, which didn't turn out great for him. The Lakers won the next meeting by 16 points, and Bryant nearly dropped 40 by scoring 39 on 14-of-26 shooting.
"I put my hand out, [Kobe] walked right past me. He did not shake anybody's hand, he walked up to Gil, slapped him on his butt and said, 'Remember you asked for this, and make sure you guard me the way I'm gonna guard you,'" former Wizards big man Brendan Haywood recalled in January, per NBC Sports.
That first meeting between Arenas and Bryant turned out to be a long-forgotten memory just a few years later. It seems that the two stars eventually developed a mutual respect due to their bucket-making prowess.
Stats courtesy of Basketball Reference