Gilbert Arenas Presents an All-Time Ridiculous Take on Who the Los Angeles Lakers Should Start: 'Sometimes You Just Gotta Do S*** Just to See What the Other Team Is Gonna Do'
After six games of mediocre basketball, Frank Vogel finally shook things up.
The Los Angeles Lakers head coach made a slight adjustment to the starting lineup Sunday against the Houston Rockets, swapping out center DeAndre Jordan for guard Avery Bradley. The lineup, which featured Anthony Davis at the 5, succeeded in defeating Houston 95-85.
While Vogel's small-ball lineup earned praise from many, it's a direct contradiction to former All-Star Gilbert Arenas' ideal starting lineup for the Purple and Gold.
The Los Angeles Lakers have typically tried to start a big lineup
It should come as no surprise to know the Lakers value having an impact center. After all, who else can say they employed Wilt Chamberlain, Kareem Abdul-Jabbar, and Shaquille O'Neal over their franchise's history?
Dating back to last season, LA's most prominent starting lineup saw AD at the 4 and Marc Gasol at the 5. That duo, along with LeBron James and the departed guards Dennis Schroder and Kentavious Caldwell-Pope, started 20 out of 72 regular-season games. Vogel's second-most popular lineup was sans Davis or James, instead featuring Gasol flanked by 6-foot-10 forwards Kyle Kuzma and Markieff Morris.
As a whole, the Lakers had just two games, playoffs included, in which they didn't start any true center. And the trend continued into 2021-22, with Jordan starting each of LA's first six games. However, the change to Bradley seemed to have a positive impact.
With three guards joining the superstars LeBron and AD, the Lakers held the Rockets to 85 points. Along with Friday's win against the Cleveland Cavaliers, it's the second straight game LA allowed under 115 points and its first under 100. Jordan was limited to a team-low 17 minutes, while backup center Dwight Howard sat out with a stiff neck.
Gilbert Arenas wants to see the Lakers start a huge lineup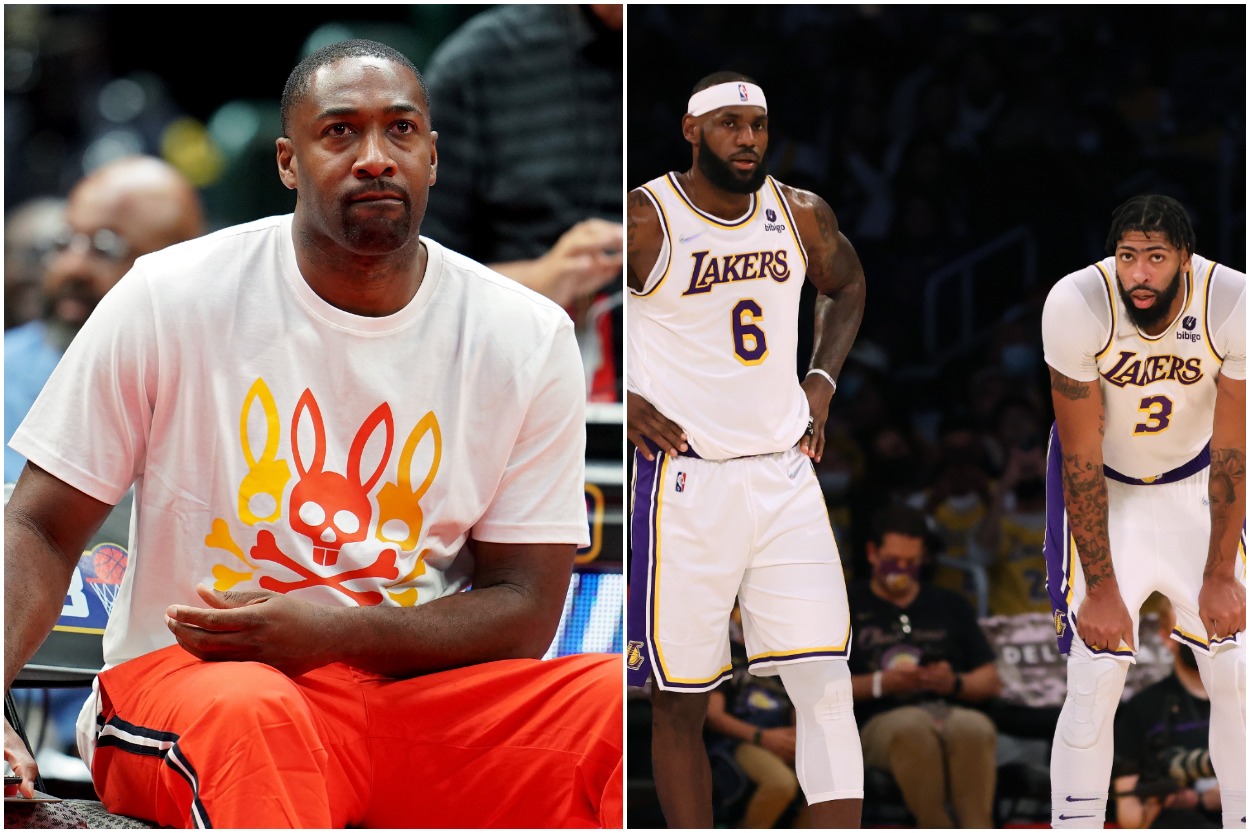 Days after the Lakers fell in their season-opener to the Golden State Warriors, Arenas discussed the Purple and Gold on his show No Chill with Gilbert Arenas. Interestingly, the 6-foot-4 former guard offered his bold stance on who LA's starting five should be.
"Sometimes you just gotta do s*** just to see what the other team is gonna do," Arenas explained. "So I would start a lineup where DeAndre Jordan's at the 5, Dwight's at the 4, Anthony Davis is at the 3, LeBron's at the 1, [and] Carmelo [Anthony] is at the 2."
Arenas' projected lineup would see the 6-foot-7 Anthony as the smallest of the bunch, followed by the 6-9 James. Meanwhile, Davis and Howard measure at 6-10 while Jordan leads them all at 6-11.
"What are you going to do?" Arenas continued. "You're not going to shoot threes because everybody is 6-8 and above. You're not going to get to that basket because Dwight Howard and DeAndre Jordan are back there. So I'm not worried about none of the defense and stuff. I just want to see what you guys are going to do. … Sometimes you let them adjust to you."
Should the Lakers continue to go with a smaller lineup?
The Lakers found success on the defensive end with a smaller lineup on Sunday. But it was also their lowest offensive output of the season, scoring just 95 points on 40.6% shooting. They even shot just 29.0% from beyond the arc, a figure you'd expect to see improvement in without a true center on the floor most of the time.
It's worth noting that who you open a game with could be far different than who you decide to close a game with. Jordan may have started all but one game this season, but he's still only averaging 14.0 minutes per game. Howard is also averaging just 15.2 minutes off of the bench. So it's not as if Vogel is keeping his bigs on the court for 35 minutes a night.
Still, neither Jordan nor Howard has proven to be a starting-caliber player this season. The aging veterans have each lost a step, which keeps them lugging behind a Los Angeles Lakers team aiming to push the pace. So even if it is just for a few minutes early on, starting either seems like an unnecessary step for Vogel to take. Which makes Arenas' opinion to start both of them, even just for a few minutes, utterly ridiculous.
All statistics courtesy of Basketball Reference.
RELATED: LeBron James Is Proving He's Still an Ageless Wonder, and It Doesn't Surprise Him One Bit