'Girl Dad' Patrick Mahomes Admits He's Had to Take on a Lot of Responsibility in the NFL but 'Nothing's Like Having a Kid'
After a disappointing end to the previous season, Patrick Mahomes is in a better place after Week 1. He led the Kansas City Chiefs to a nail-biter victory against the Cleveland Browns, a matchup where quarterback Baker Mayfield's one major mental error handed off the game to the Chiefs. But Mahomes has more to worry about than his next QB showdown — he has a 6-month-old daughter watching from the stands. Week 2 against Lamar Jackson and the Baltimore Ravens marks his second chance to show his daughter what the rest of the world already knows about her talented dad.
Mahomes and Brittany Matthews welcomed daughter Sterling Skye in February 2021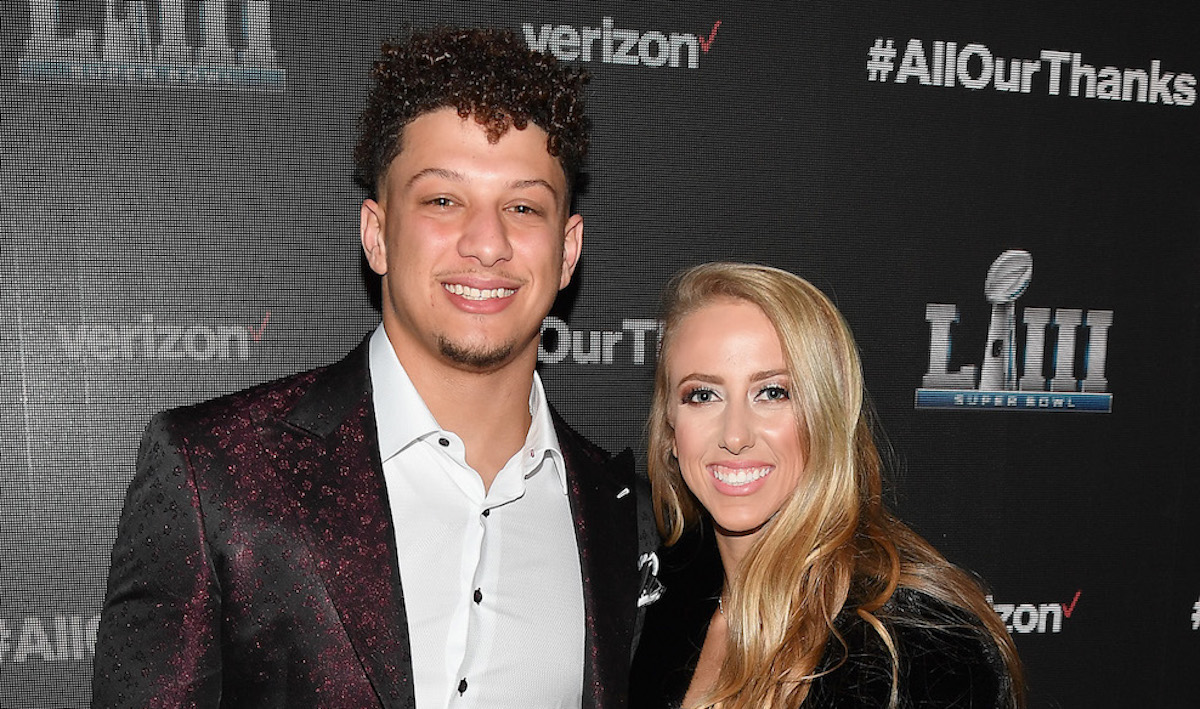 "We're taking a small detour to the wedding," Mahomes announced back in September 2020. It was a wry understatement. The Super Bowl-winning QB and his wife Brittany's lives changed for the better on Feb. 20, 2021, according to People. That's when the soon-to-be Mrs. Mahomes delivered a healthy baby. The couple named their first child Sterling Skye Mahomes.
The pair announced Sterling Skye's arrival on Instagram with a beautiful shot of her tiny hand grasping her father's finger. The Mahomes family as a whole instantly embraced their newest member, of course. Pat Mahomes, the former MLB player turned grandfather, was spotted at preseason games with Sterling Skye on his lap, People reports.
The younger Mahomes isn't settling for having others step in all the time to take care of his new daughter, of course. "I've grown a lot in my first few years in the NFL, and I've had to take on a lot of responsibility," he said, "but nothing's like having a kid and having someone that you're going every single day knowing that you're trying to take care of."
Patrick Mahomes says he will 'do whatever he can' as a 'girl dad'
As the Week 1 showdown proved, Sterling Skye's father is going to be busy with a lot of work on and off the gridiron to keep the Chiefs primed for another Super Bowl run. According to TMZ Sports, he told gathered press that nothing will stop him from doing "whatever he can" to be a great "girl dad."
Looming over all the positivity is the nature of the game of football. It's worth worrying about, considering the Chiefs spent much of their latest playoffs campaign leaving their QB1 vulnerable. This exacerbated knee and foot issues that the Mahomes family (Brittany is a personal trainer) has come together to solve in the offseason. Thankfully, an NFL.com report has the new dad feeling positive about his offensive line's prospects for 2021.
"I think they've had an amazing preseason," the younger Mahomes said. "I haven't got hit a lot. I don't really think I got touched today. […]They've done a great job and gotten better each and every week so I'm excited for the season."
Sterling Mahomes has already seen her dad in action at Arrowhead Stadium
Arrowhead Stadium is a special place for the Mahomes family, in more ways than the obvious. Brittany's boyfriend became her fiancée after he popped the question at Arrowhead. MSN reports that buildings around the Kansas City area, including Arrowhead, deployed special lighting to herald Sterling Skye's birth.
And, starting with a handful of preseason games, USA Today reports that the Mahomes family's new member has been present and watching her dad do his thing. Brittany showed off her daughter at Arrowhead during Week 1 via Instagram. That moment marks the first of what will undoubtedly be many times Sterling Skye watches her dad walk off the field with a win. Now her dad will have to prove it to her all over again, this time against the Ravens.
RELATED: Patrick Mahomes Believes a New-Look Group Could Deliver the Chiefs Another Lombardi Trophy