Gisele Bündchen and Other Famous Women Who Make More Than Their NFL Husbands
The NFL produces athletic giants who rake in millions. So it's hard to imagine that some have partners who make even more. However, the following NFL stars married women who've made a name for themselves in fashion, acting, and more, beating their husband's salaries by millions.
Gisele Bündchen and Tom Brady
Gisele Bündchen's estimated net worth: $386 million
Tom Brady's estimated net worth: $180 million
Bündchen, one of the highest-paid supermodels in the world, wed Tom Brady in 2009. The New England Patriots quarterback makes most of his cash from salaries, bonuses, prize money, and endorsements. As one of the greatest NFL players of all time, 41-year-old Brady has won six Super Bowls.
Bündchen, on the other hand, makes her money through major advertising campaigns for the likes of Chanel, Balenciaga, H&M, Chanel, and Louis Vuitton. They have two children together.
Jessica Simpson and Eric Johnson
Jessica Simpson's estimated net worth: $150-$170 million
Eric Johnson's estimated net worth: $100 million
Simpson's many titles — singer, actress, and fashion designer — reflect her massive net worth. In 2014, she married former San Francisco 49er Eric Johnson. The tight end retired from the NFL in 2008, after spending six seasons with the 49ers and one season with the New Orleans Saints. Now, he and Simpson have three children and live in Los Angeles.
Elisabeth and Tim Hasselbeck
Elizabeth Hasselbeck's estimated net worth: $16 million
Tim Hasselbeck's estimated net worth: $12 million
Elisabeth Hasselbeck married Boston College sweetheart and NFL quarterback Tim Hasselbeck in 2002. Prior to their wedding, Elizabeth starred on Season 2 of reality TV show Survivor. Tim played eight seasons of pro football, retiring in 2008 and becoming a sports analyst for ESPN. Elizabeth has authored several books since her 10-year career on The View. The couple has three children.

Katherine Webb and AJ McCarron
Katherine Webb's estimated net worth: $1.5 million
A.J. McCarron's estimated net worth: $1 million
With an annual salary of $350,000, Katherine Webb has made money through modeling, pageants, and broadcasting. The now-30-year-old wed NFL quarterback AJ McCarron in 2014. Originally drafted by the Cincinnati Bengals, the 28-year-old now plays for the Houston Texans. As McCarron continues his NFL career, he'll quickly catch up to his wife concerning net worth.
Kerry Washington and Nnamdi Asomugha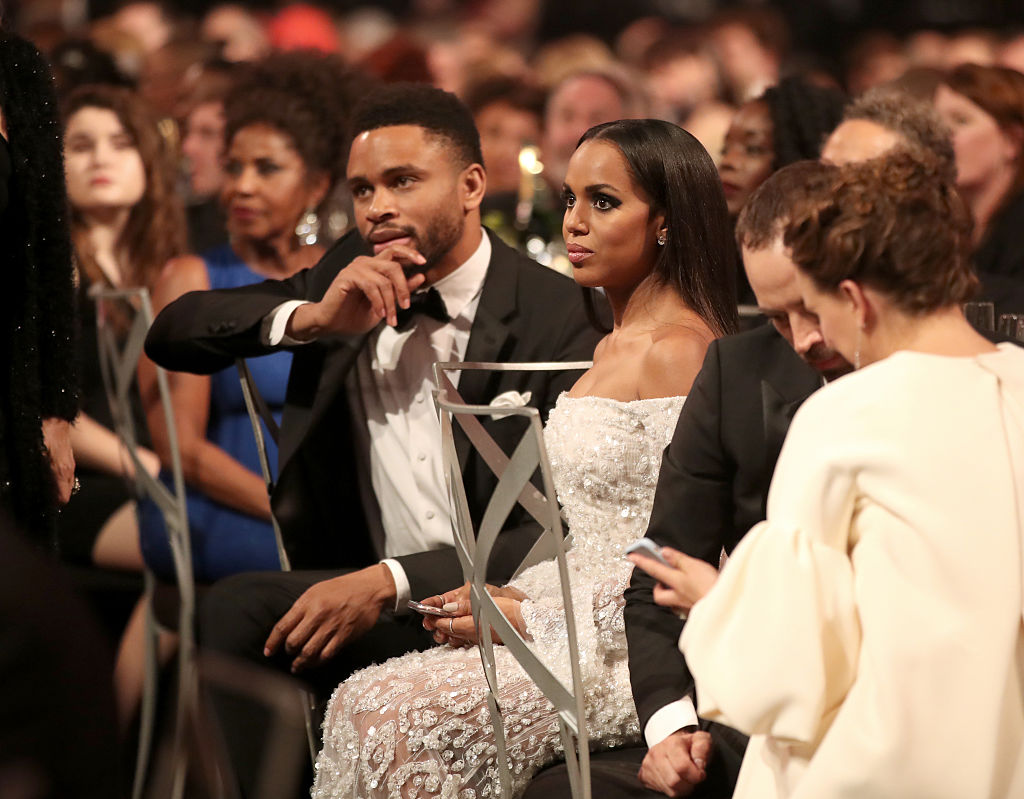 Kerry Washington's estimated net worth: $18 million
Nnamdi Asomugha's estimated net worth: $20 million
Although she'd been involved in the entertainment industry since 1994, Kerry Washington's role in ABC's 2012 series, Scandal, took her career to the next level. The actress wed NFL cornerback Nnamdi Asomugha, who played for the Oakland Raiders, Philadelphia Eagles, and San Francisco 49ers. After retiring in 2013, Asomugha began acting.
Although Washington's husband has slightly surpassed her in net worth, they remain equal (and wealthy) partners in life together. The couple has two children.