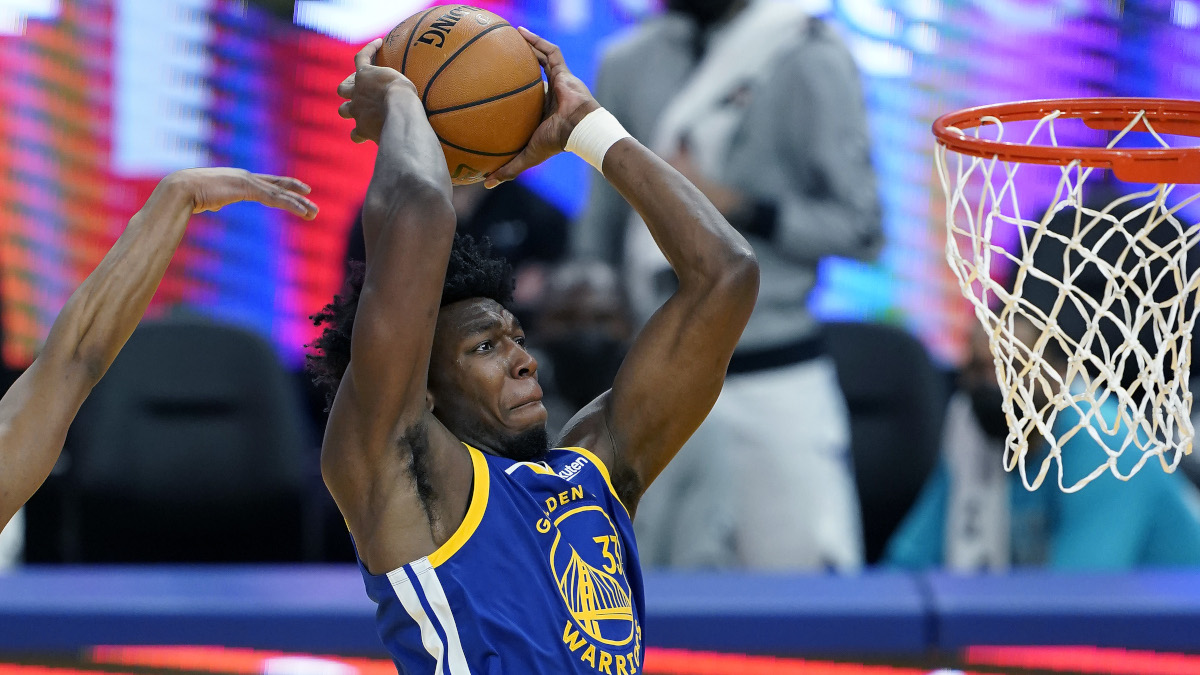 Golden State Warriors Could Have a Bold Plan for Their Lottery Pick
When the Golden State Warriors drafted James Wiseman second overall last year, the expectation was they would rebuild around him. But Stephen Curry's huge 2019-20 season might prompt the Warriors into giving the championship core one more shot at another title. There's speculation they would part with Wiseman for the right piece to do that.
For the second straight season, the Golden State Warriors are in the top half of the NBA draft. When the Minnesota Timberwolves didn't get into the top three picks, the Warriors picked up Minnesota's first-rounder. So that No. 7 pick plus their selection at No. 14 gives Golden State two top-half choices.
At least for now.
There are reports the Warriors are still in win-now mode and want to package that seventh-pick to get a veteran. It's not an outlandish idea, not by any stretch.
Golden State Warriors still have an open window
The Golden State Warriors missed the playoffs for the second straight year. They had a shot, but the Warriors coughed up two chances to play into the postseason. First, Golden State lost to the Los Angeles Lakers for the No. 7 seed in the inaugural play-in tournament. Later, the Memphis Grizzlies came to San Francisco and swiped the No. 8 spot from the Warriors.
Despite the sudden playoff drought, there are still pieces on the roster that suggest the Dubs still have an open window. A fourth championship for the Stephen Curry-Draymond Green-Klay Thompson core is legacy-defining for all of them.
Curry bounced back from a lost 2019–20 season with a fantastic campaign. He averaged a career-high 32.0 points per game to win his second scoring title. Despite the Warriors not getting into the playoffs, Curry was an MVP finalist. He finished third behind winner Nikola Jokić and runner-up Joel Embiid.
Green has never duplicated his 38.8% shooting from the Warriors' 73-win season in 2015-16. He is still an elite defender, though, and Golden State can still run its offense through him. Thompson is the X-factor. He'll be returning (knock on wood) after two straight seasons lost to injury. Thompson is a top-15 3-point shooter all-time at 41.9%, so getting him back healthy is key to a potential title run.
What could put the Warriors over the top, and what are they willing to give up getting it? Those are the critical questions heading into the NBA's silly season.
Reports have the No. 7 pick definitely on the table, along with a surprise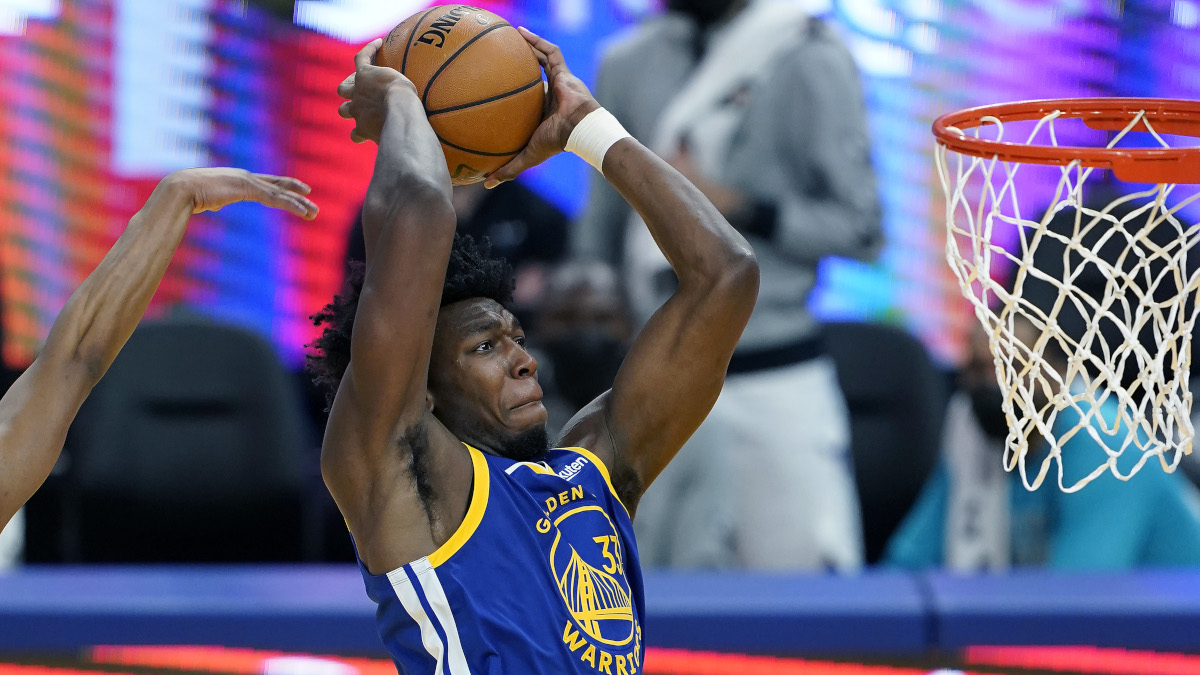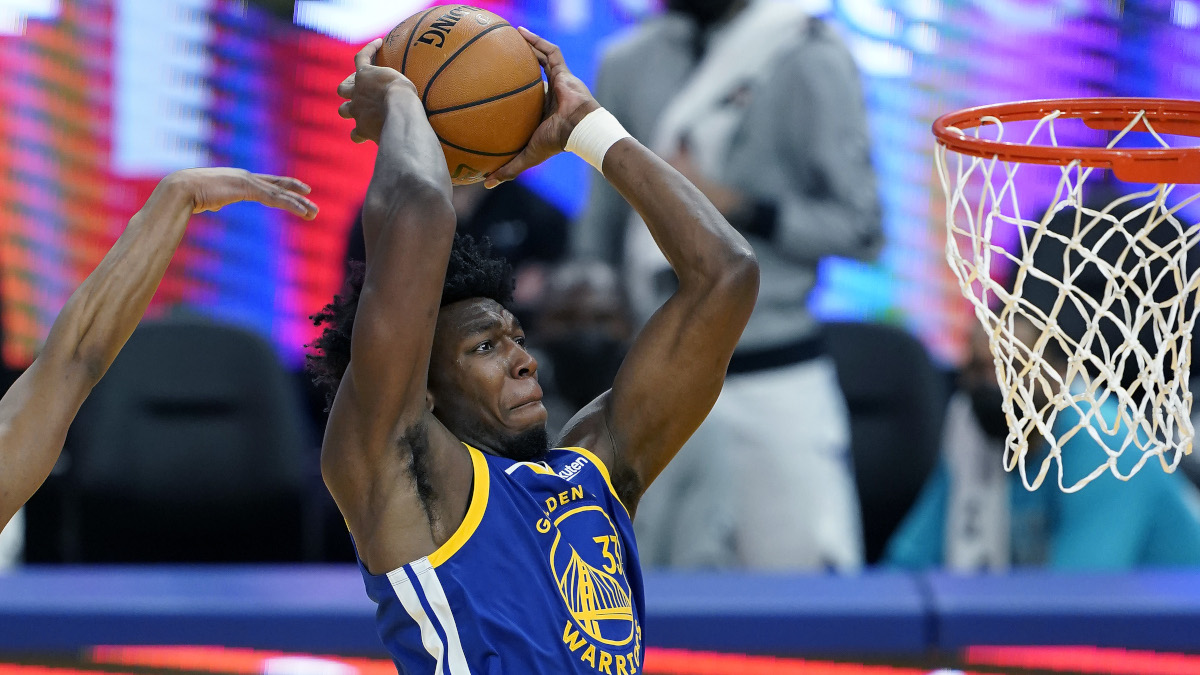 That the temptation is there for the Golden State Warriors to part with a top-10 selection isn't a surprise. Their core is aging out of its prime. Rather than waste that window, it makes sense to stay with a win-now approach.
What is a surprise is what the Warriors are reportedly willing to package with the No. 7 overall pick. Last year, they drafted Memphis big man James Wiseman with the second-overall selection in 2020. Wiseman made an impact despite a microwave offseason, no summer league, and a COVID-19 protocol delay.
He started 27 games before tearing his right meniscus in April. Heading into last season, the Warriors believed he was the piece they would rebuild around. That is until Curry got hot and just got hotter.
John Hollinger of The Athletic recently speculated about the potential of a No. 7-Wiseman package to bring in a veteran.
Who might Golden State target to team with Curry and the gang?
The Golden State Warriors probably want to get a big wing or another big back if they include Wiseman in a trade.
Hollinger speculated that Pascal Siakam, once an All-NBA player for the Toronto Raptors, fits the Warriors. This season, Siakam's 3-point shooting stroke didn't make it through customs as the displaced Raptors struggled in Tampa. After seasons at 36.9% and 35.9% from deep, Siakam cratered to 29.7% as Toronto plummeted from contention.
Even with that, he still averaged 21.4 points and 7.2 rebounds a game while also contributing a career-high 4.5 assists a night. The downside with Siakam is he won't return from surgery to repair a torn labrum until at least November.
Monte Poole of NBC Sports Bay Area had another target in mind. Myles Turner of the Indiana Pacers led the NBA in blocked shots in two of the last three seasons. Last year, he swatted a career-best 3.4 shots a game. Golden State could use a rim protector. For all of Wiseman's potential, he only averaged 1.6 blocks per 36 minutes last season. Turner's per-36 rate was 3.9.
Turner is also much more affordable. He has two years left on his contract at $18 million per season. Siakam still has three years and $100.92 million remaining on the extension he signed after his Most Improved Player campaign in 2018–19.
The Golden State Warriors are in the dreaded gray area between moving forward with rebuilding or giving the championship core one more shot at glory. Yet, less than a year ago, Wiseman was the future in Golden State. So does he turn into a means to an end for a title chase?
Statistics courtesy of Basketball Reference.