The Golden State Warriors Are Walking a Dangerous Line While Matching a Record the Sorry Old Clippers Set in Their Dark Ages
With all due respect to the 5–1 Golden State Warriors, contending teams generally should avoid drawing direct lines between themselves and the 1980s Los Angeles Clippers. Between 1979–80 and 1988–89, the Clippers hit the 60-loss mark four times, including a 70-loss season. They topped out with a decade-best 36–46 record in 1980–81. Oh, and there was that whole "never made the playoffs" thing, too. But as part of their hot start, the Warriors matched a record set by the 1985–86 Clips.
Golden State won its first four games despite trailing at the half in each contest. The Warriors followed that up by splitting their next two games after having the intermission lead both times. The LA Clippers of 1985–86 are the only other team to start 4–0 after trailing at the break in every game. The Clippers wound up with a 5–0 start before reverting to the mean with eight straight losses and 12 defeats in their next 13 games. That's the other shoe the Warriors desperately want to avoid.
To be fair, the Golden State Warriors don't look anything like the dreaded Clippers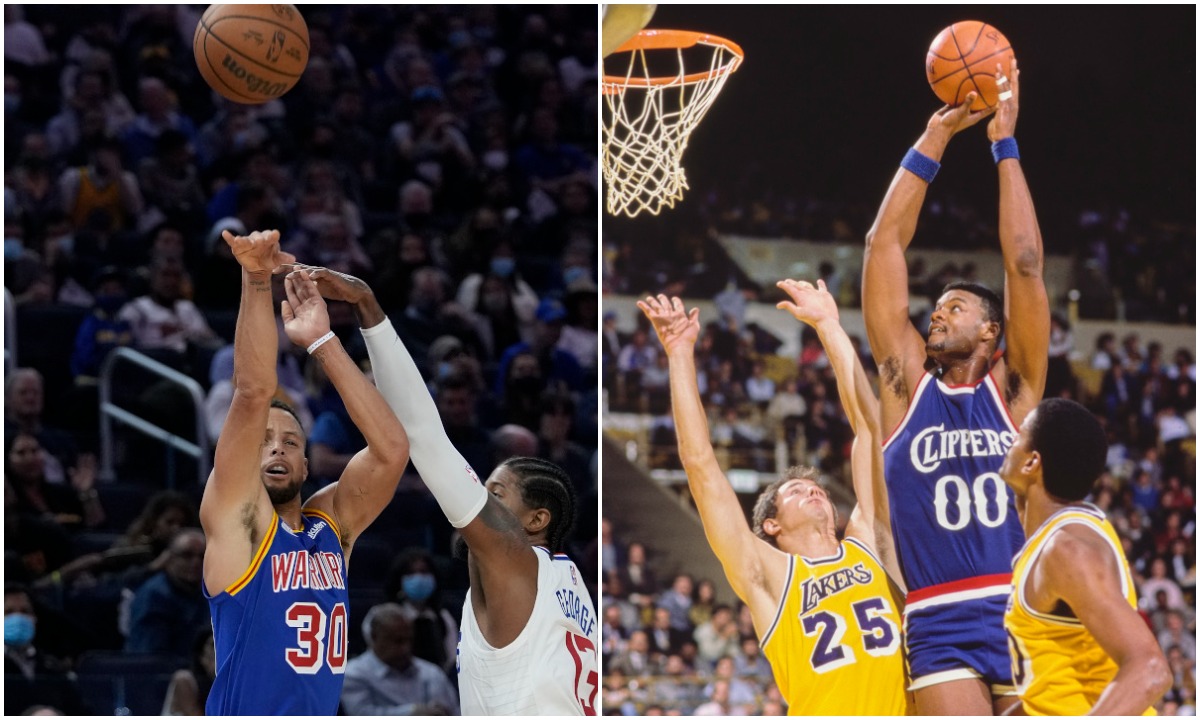 The 1985–86 Clippers were like nearly every edition the franchise turned out in the bad old days. LA was a grab bag of veterans past their primes (if they had them) and young players on their way to either disappointing or going on to be serviceable players once they escaped Clipperland.
They had Marques Johnson, an All-Star that season. The Clippers also boasted Norm Nixon, Cedric Maxwell, and Jamaal Wilkes, veterans who had tasted championship glory with other teams. Young Derek Smith was off to a tremendous start, averaging 27.1 points per game before injuring his knee in mid-November. Not only was his season wrecked, but his career was never the same either.
No. 3 overall pick Benoit Benjamin started 37 games at center. He turned out not to be the franchise center the Clippers had hoped. Instead, it was the first year of a 15-year journeyman odyssey that took him to nine teams. In those 15 years, he played for three playoff teams.
In 1985–86, the Clippers finished 32–50 (or 27–50 after their hot start) and missed the postseason by three games. One of the joys of having eight playoff teams in a 12-team conference was the death struggle down the stretch between teams with 37, 35, 32, 32, 31, and 30 wins fighting for the last two postseason spots.
The Warriors are an eyelash from being 6–0
The Golden State Warriors came from behind in the second half to beat the Lakers, Clippers, Kings, and Thunder to get to 4–0. Then they ran out to a 19-point first-quarter lead against Memphis before the Grizzlies chipped away for a 104–101 overtime victory.
Stephen Curry went ice-cold after halftime, hitting 3-of-11 from deep, including two potential game-winners in the final 1:28 of regulation and three misses in three tries while going scoreless in overtime.
The last shot Golden State got was a 3-point try by Damion Lee with 8.5 seconds left that would have tied the game.
But the Warriors followed with a start-to-finish dismantling of Oklahoma City, leading by as much as 31 and never trailing. They have a chance to stack some wins up in the early going, with six more games remaining on a season-long eight-game homestand.
Of their 60 scheduled games before the All-Star break (which isn't much of the halfway point anymore), Golden State plays 32 of them at Chase Center in San Francisco. However, 15 of those are in two large chunks. Besides their current stretch of home games, the Warriors won't travel for seven games from Jan. 18-29.
So they would be well-advised to avoid a Clipperesque collapse.
Welcome additions coming soon for the Golden State Warriors
Klay Thompson hasn't played in a game since the 2019 NBA Finals, but he's expected to resume practice in November. At last report, the Golden State Warriors were aiming for a Christmas Day return for Thompson.
Meanwhile, 2020 second overall pick James Wiseman is close to full practice participation as he recovers from a torn meniscus. Wiseman averaged 11.5 points and 5.8 rebounds in 39 games last season before the injury. The 7-footer would be a big addition (literally) for the second half of the campaign.
Curry is averaging 28.7 points per game, and he's not shooting up to his usual standards yet — just 42.2% overall and 39.7% from 3-point range, well off his career figures of 47.6% and 43.3%, respectively. Lee is leading the bench scorers with 14.2 points a night, and much of the offense is running through Draymond Green, as usual, as he's dishing a team-high 7.0 assists a game.
The Golden State Warriors have missed the playoffs the last two years after five straight NBA Finals berths. But they aren't the 1985–86 Clippers, so there's likely no cause for alarm. Sometimes, coincidences are nothing more than simply that.
Statistics courtesy of Basketball Reference and NBA.com.
RELATED: A Beloved Warriors Security Guard Recently Got the Opportunity of a Lifetime to Try Out for the Team's G League Affiliate