Golden State Warriors Teammates Hilariously Troll Klay Thompson Over NBA 75 Team Snub
Being left off the NBA 75th-anniversary team bothered Golden State Warriors guard Klay Thompson. He wasn't shy about expressing his dissatisfaction, declaring firmly he felt he belonged on the list of the top 75 (ahem, 76) players in NBA history. He wasn't the only notable snub; the exclusion of Dwight Howard and Vince Carter rankled many. But in only the way teammates can, the Warriors tried to show Thompson they had his back covered.
It probably wasn't the gesture Thompson hoped he would receive.
Klay Thompson has a solid resume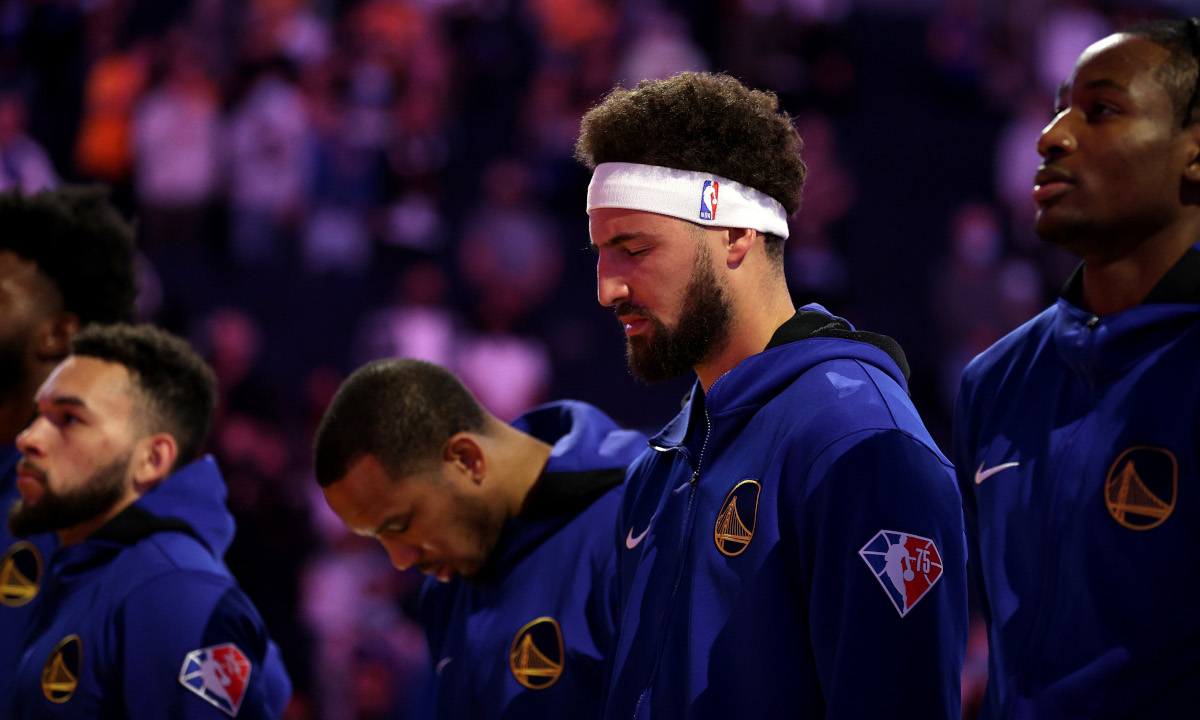 Since the Golden State Warriors drafted him with the 11th overall pick in 2011, Klay Thompson has been a valuable piece of three championship squads in the Bay Area. He's also a two-time All-NBA performer, an outstanding 3-point shooter, and showed his two-way ability with an All-Defensive nod in 2018–19.
However, that does not make for an overwhelming case for one of the 75 76 best NBA players ever. Thompson has never shot less than 40.1% from 3-point range in his career and his 41.9% mark in his eight seasons ranks 14th all time. But on two of Golden State's title teams, he was the third-best player on the roster behind Kevin Durant and Stephen Curry.
Ask Chris Bosh how easy it was for third wheels to make the NBA 75 list.
Injuries may have contributed to his demise, as well. Still an active player, Thompson hasn't played since tearing his ACL during Game 6 of the 2019 NBA Finals. While recovering from the knee injury, he ruptured his right Achilles' tendon and missed the 2020–21 season after also sitting out all of 2019-20.
He still hasn't been cleared for full practice activity, though reports say that should be happening soon.
Essentially, Thompson had a case for inclusion on the list. Just not an overwhelming one.
Golden State Warriors teammates have a little bit of fun with Thompson
The Golden State Warriors arrived at the team facility for practice on Oct. 23, coming off a 115–113 win over the Los Angeles Clippers in their home opener two days earlier.
Thompson's teammates were ready for Thompson's arrival. They gave him a special jersey and hung it in his locker. Only the jersey didn't sport Thompson's regular No. 11.
Instead, his thoughtful colleagues presented him with a No. 77 jersey. Coach Steve Kerr took a minute to tumble to the joke, per Nick Friedell of ESPN.
"I didn't know what it meant at first. And then somebody explained it," Kerr said. I thought that was quite, quite funny. You have to have humor with everything. His teammates obviously got that done to have a laugh with him."
As for a suspect? Kerr had an idea:
"I'm guessing Steph. But I can't confirm that. It's a guess."

Golden State Warriors coach Steve Kerr
Curry does seem a likely potential candidate.
To Klay Thompson's credit, he took it in stride
Klay Thompson didn't hide his disappointment with not making the NBA 75 list, but he also went along with the ribbing from his Golden State Warriors teammates:
"77! Best player of all time, baby!"
Curry chimed in as well.
"Get the new jersey!" Curry exclaimed. "New jersey alert!"
No, Thompson won't be changing from No. 11 to No. 77. For starters, there's a protocol for changing numbers. A player must apply to the league, and the NBA and Nike must approve the proposal.
This season, there was a notable uniform switch as Los Angeles Lakers star LeBron James gave up No. 23 for No. 6 again. He made the exact change when he left the Cleveland Cavaliers for the Miami Heat in 2010, but that time was because the Heat had already retired No. 23 for Michael Jordan, who never played for Miami.
An NBA season is a long slog. Players welcome any chance for a bit of fun. Thompson's teammates spotted an opportunity to troll their friend and took it. He went along for the ride. Everyone laughed, the mood lightened, and then they all went back to work.
But given the other high-profile exclusions from the list, maybe the Golden State Warriors should have gone with a jersey number in the 80s for Klay Thompson.
Like Sportscasting on Facebook. Follow us on Twitter @sportscasting19.
RELATED: Stephen Curry Reached a Massive NBA Milestone in 2020–21 and then Talked to His Favorite Childhood Player on Zoom Directly After