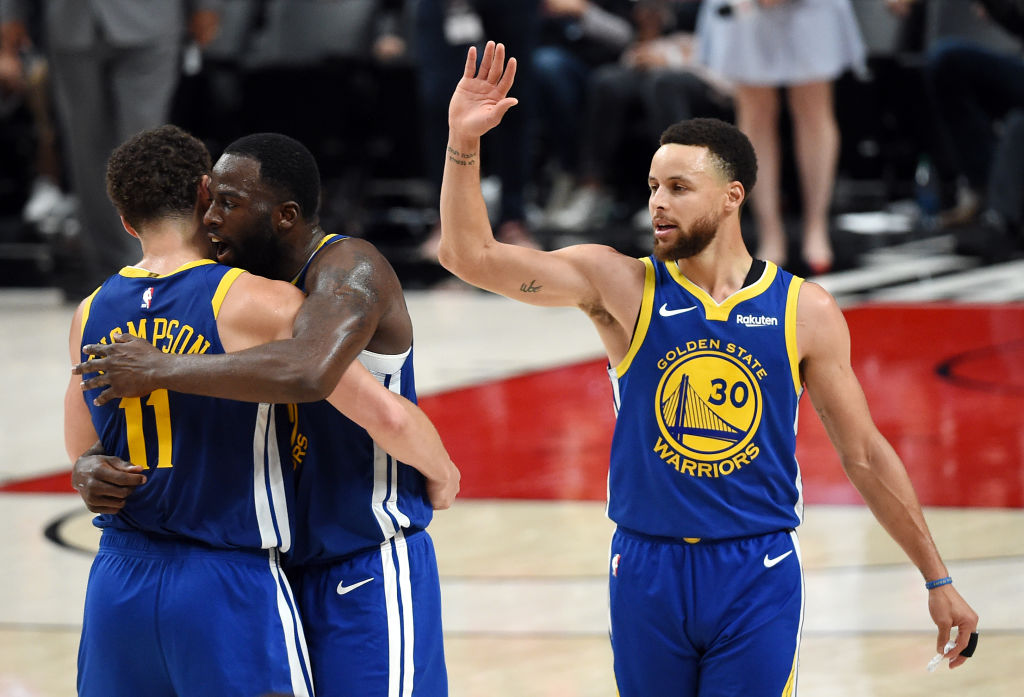 What Will the Golden State Warriors' Lineup Look Like Next Season?
NBA free agency could alter the Golden State Warriors' lineup. Here are four potential starting groups for Golden State in 2019-20.
The Golden State Warriors made short work of the Portland Trail Blazers in the Western Conference Finals, and they're on their way to the NBA Finals for the fifth straight season. However, they have a lot of questions to answer this offseason. Two franchise-altering players — Kevin Durant and Klay Thompson — are unrestricted free agents, and it looks like at least one of them won't be in a Golden State uniform next season. Key players Stephen Curry, Draymond Green, and Andre Iguodala are locked up through the 2019-20 season, but the rest of the Warriors' lineup could look drastically different.

With a bunch of potential moves the Warriors stars can make during free agency, we look at four possible starting lineups Golden State can have at the start of the 2019-20 season.

Warriors lineup 1
Steph Curry
Klay Thompson
Thabo Sefolosha
Draymond Green
DeMarcus Cousins
Not much changes when looking at this lineup. Thompson gets resigned to a near max deal for five years, and Cousins returns on a one-year deal to try to set himself up for a max contract next season after suffering a quad injury in the first round of the 2019 playoffs.

The glaring hole in this lineup is Kevin Durant, who is replaced here by veteran small forward Thabo Sefolosha. He isn't a name that will put butts in the seats, but Sefolosha can still provide quality minutes in a starting rotation that will also include Andre Iguodala switching in with a fairly even split of Durant's minutes.

Lineup 2
Steph Curry
Jimmy Butler
Kevin Durant
Draymond Green
DeMarcus Cousins
No, this isn't NBA 2K19, but if Thompson moves to another franchise, would the Warriors stay in luxury tax purgatory to sign Butler? Keeping Thompson is the one move the Warriors should focus on this offseason, but when it's time for someone to make the big shots, Butler is a guy you want in your corner. He only cares about winning, which is something the Warriors do well, if you haven't noticed.

Coach Steve Kerr is a master and managing the Warriors' lineup, and he wouldn't have a problem handling any drama from Butler, who would mesh well with the other dominant voices in the locker room.

Lineup 3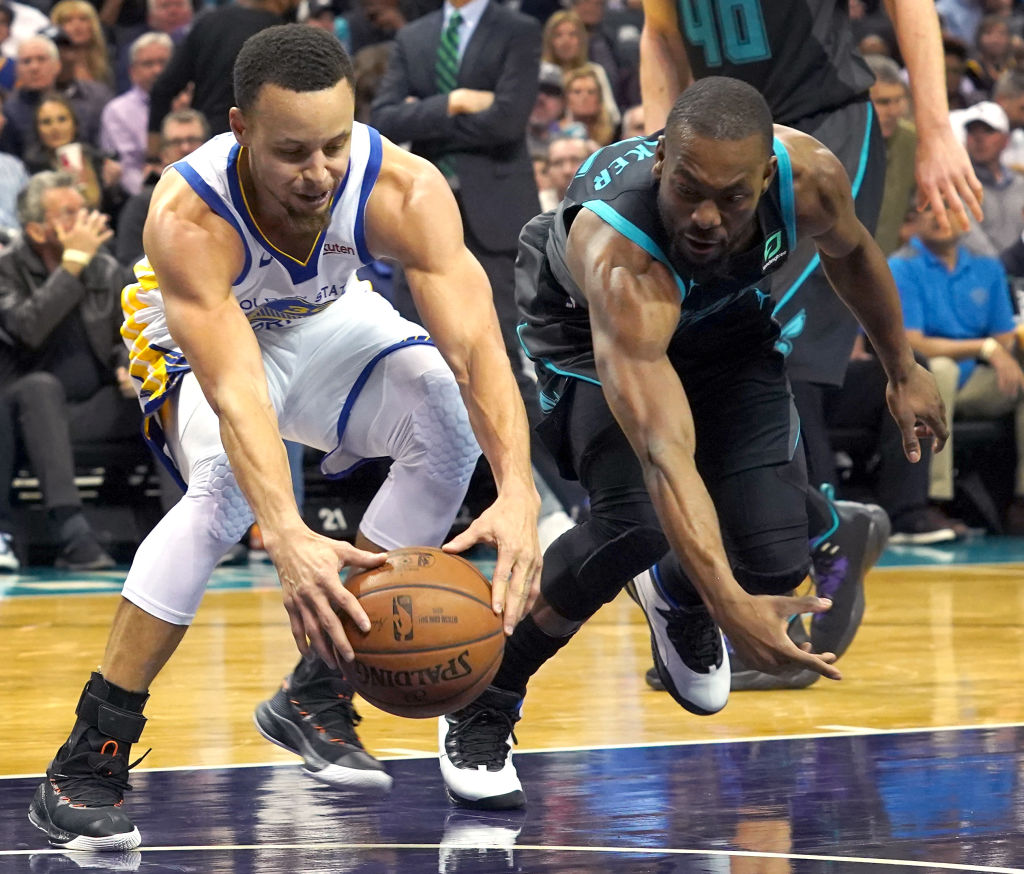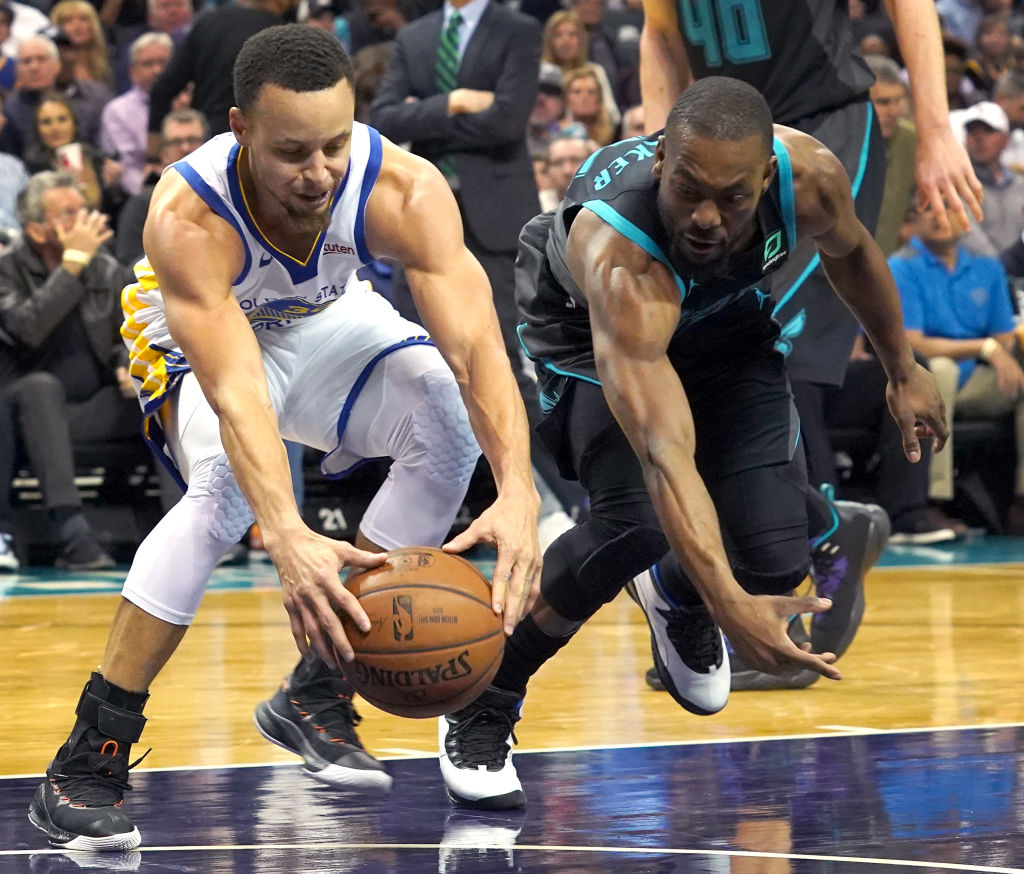 Steph Curry
Kemba Walker
Tobias Harris
Draymond Green
Kevon Looney
This is another crazy Warriors' lineup that might happen. Kemba Walker should do the smart thing and spend the remaining years of his prime away from the Hornets. He will have several suitors for his style of play, including the Mavericks, Clippers, and Lakers.

However, joining the Warriors would be an excellent choice. With the cap room available due to Thompson and Durant both leaving in this scenario, Walker's attacking style would fit well with Steph Curry, and also ease some of the burden on the two-time MVP.

Harris could have been an All-Star this year and played well during his time in Philadelphia, but he would choose sunny California and a shot at multiple championships over more money with the 76ers. He brings a tough-nosed mindset to the small forward position. Harris would be a downgrade from Durant, but not as significant as people may think.

Lineup 4
Steph Curry
Jimmy Butler
Draymond Green
Kristaps Porzingis
DeMarcus Cousins
The only way the Mavericks let Porzingis go is via a sign and trade deal, and that's exactly what the Warriors front office would do to land the Unicorn. Klay Thompson and Porzingis would both sign deals with their respective clubs before a trade, but the Warriors may have to throw in a first-round pick to sweeten the deal.

That move would bring an entirely new dimension to the Warriors offense, as Porzingis playing the four spot and Green at the three would be a matchup nightmare on offense. You would have four excellent passers on the floor at any given moment, something Steve Kerr would enjoy deploying against the best teams in the West.

Thompson leaves town in this scenario, but Butler comes to the Bay Area. He doesn't have the same kind of range as Thompson, but this Warriors' lineup doesn't sacrifice anything in the way of defense with Butler at the two spot.