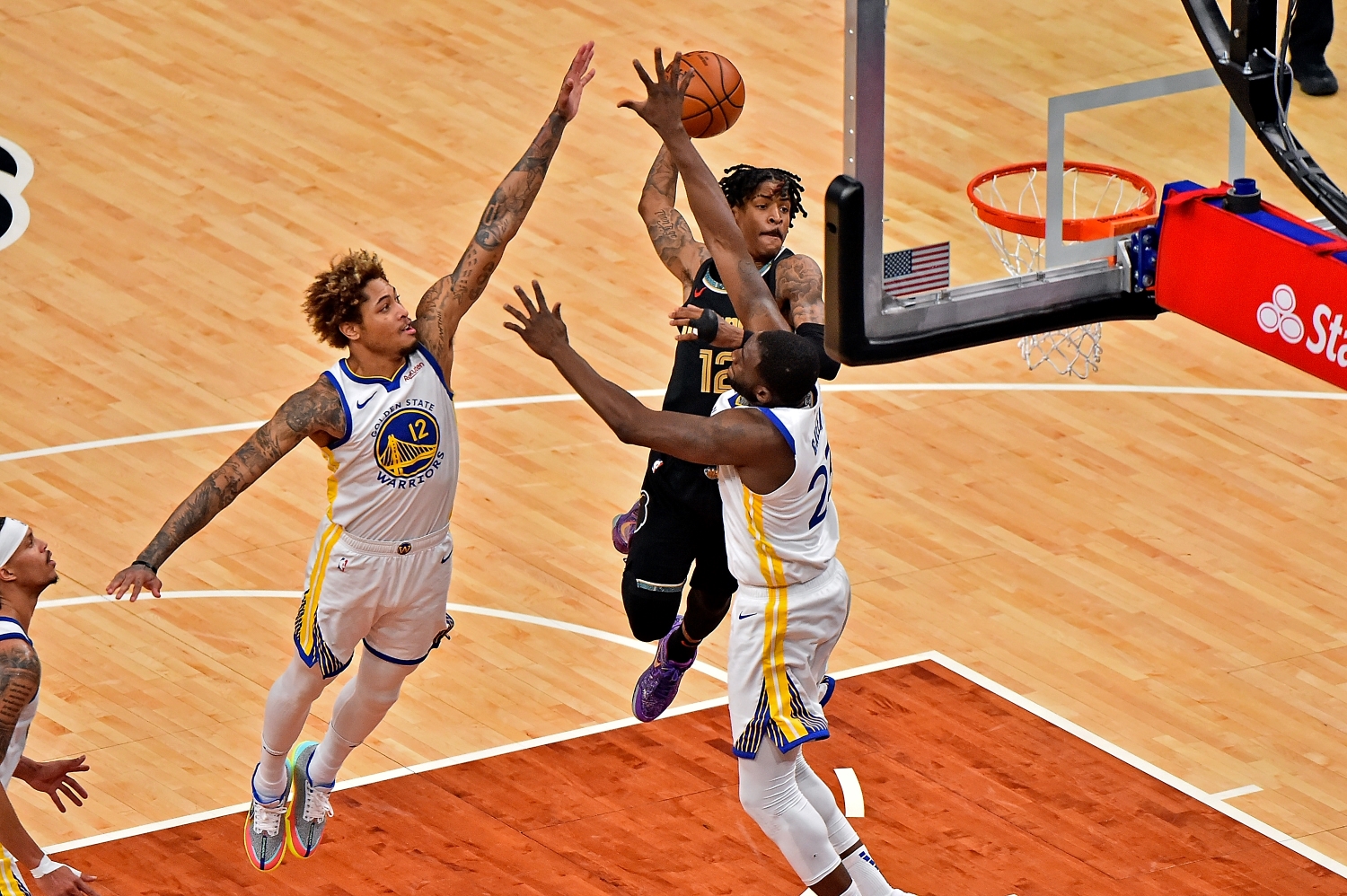 The Golden State Warriors May Soon Bring an End to Their Disappointing Offseason Gamble
The Golden State Warriors may no longer have Kelly Oubre in their lineup if an NBA team convinces them to trade the 25-year-old forward.
When Klay Thompson suffered another devastating injury back in November, the Golden State Warriors faced a tough decision. In desperate need of a starting wing, the franchise opted to go the trade route to try and address a huge hole in the lineup.
However, the Warriors may soon bring an end to their disappointing offseason gamble on Kelly Oubre.
Golden State took a gamble by trading for Kelly Oubre
Seeking a short-term solution to fill Klay Thompson's spot in the lineup, Golden State took a gamble by trading for Kelly Oubre. Originally selected 15th overall in the 2015 NBA draft, the 6-foot-7, 192-pound wing failed to live up to expectations in 252 games with the Washington Wizards.
However, Oubre showed significant improvement during his short stay with the Phoenix Suns.
In 2019-20, he averaged career-highs in points (18.7), rebounds (6.4), and steals (1.3). The lefty also set personal-bests by shooting 45.2% from the field and 35.2% from 3-point territory.
Just days after Thompson sustained another brutal injury, the Warriors traded a conditional 2021 first-round pick and a 2021 second-round pick to the Suns for Oubre.
Coming off a breakout campaign, he joined Golden State under the pressure of high expectations. Unfortunately for the 25-year-old wing, his first season playing for the Warriors has featured many disappointing performances.
The Warriors may soon bring an end to their disappointing offseason gamble
Although Kelly Oubre deserves credit for remaining healthy and starting 41 games, he simply hasn't made the same type of impact he did a year ago.
And his struggles began right away.
Oubre started the season by averaging 7.8 points on 26% shooting in four December games. In January, he averaged 13.1 points while only connecting on 27.5% of his 3-point attempts.
Following a strong month of February in which he averaged 20.1 points and 6.4 rebounds, Oubre has reverted back to being a streaky shooter who can't be counted on to consistently put the ball in the basket. He's hit just four 3-pointers on 25 attempts through the first six games of March.
With their offseason trade acquisition in the midst of an up-and-down campaign, the Warriors could soon bring an end to the entire experiment.
According to a March 21 report from Kevin O'Connor of The Ringer, Golden State is "shopping" the soon-to-be unrestricted free agent. Considering they don't have a shot at winning an NBA title this year, it makes sense for the Warriors to recoup some value for someone who could find more success playing for a contender.
Zach Lowe of ESPN described the situation in a different manner on Monday.
"The Warriors are listening to lots of potential offers on Oubre," he wrote.
While Lowe reported Golden State doesn't seem to feel much urgency to move Oubre, the team might be willing to trade him "for something that helps it [the roster] in the future."
What does the future hold for Oubre?
While O'Connor and Lowe described the situation a little differently, it certainly sounds like the Warriors have considered a future without Kelly Oubre in it.
Unless Golden State wants to invest in retaining him for years to come, it makes sense for the franchise to hold a "bidding war" for the forward's services.
Sure, Oubre hasn't taken his game to another level in his age-25 season. But he has flashed moments of brilliance and still has that dreaded "potential" tag attached to his name.
If a contender views him as a worthwhile trade target, perhaps the Warriors can recoup some draft capital or another asset for the future.
Then again, if NBA teams believe Oubre is closer to the player he showed in the months other than February, maybe they won't be willing to pay a high price to acquire him before the NBA trade deadline passes on Thursday.
All statistics courtesy of Basketball Reference.