The Golden State Warriors Still Appear to Have No Idea Who They're Teaming Stephen Curry up With for 2021-22
The Golden State Warriors will have a busy week leading into the 2021 NBA Draft, as they hold the No. 7 and 14 picks. But given that Golden State still has most of its core that it won titles with, in Stephen Curry, Klay Thompson, and Draymond Green, the franchise has a lot of pressure on it to make the most of its championship window by trying to win now.
However, just three days before the draft, it appears that Warriors general manager Bob Myers still doesn't really know who he wants to team up with Curry and company in 2021-22.
The options are endless.
The Golden State Warriors hold the No. 7 and 14 picks in the 2021 NBA Draft
The Warriors just had the No. 2 pick in the 2020 draft and used it to select James Wiseman.
In 2021, they have two more top-15 picks, despite barely missing the playoffs this past season. Golden State has its own selection at No. 14, as well as the Minnesota Timberwolves pick at No. 7.
The 7th and 14th picks are certainly decent spots to be in, as Curry and Chris Mullin were both No. 7 overall picks. The Portland Trail Blazers also selected Clyde Drexler with the 14th pick in 1983.
Rookies, though, often take time to develop, so if the Warriors want to win now, it would be wise to trade their picks for already established veterans. In fact, Curry, Thompson, and Green would reportedly like the franchise to go all-in instead of drafting young players who may not be ready to contend for titles right away, per The Athletic.
Bradley Beal and Myles Turner are names who have been linked to the Warriors, but most trade rumors don't actually happen. So, it's possible Golden State just hasn't received an offer worth the No. 7 and 14 picks.
GM Bob Myers plans to keep the Warriors' 2021 NBA Draft picks
Myers recently spoke to the media on July 26, three days before the NBA draft. And he addressed whether the team plans to keep their No. 7 and 14 picks.
"As of 2:00 [p.m.] today, yeah," he said, per a video on the team's YouTube channel. "But here's the problem with that answer: At 2:45, that can change, or 3:15. … The league has never operated closer to the deadline than it does now, and things have never happened faster. Today, I got some trade stuff, that, it's Monday, the draft's three days away, that had never been discussed; brand new."
Myers added that some trades don't even happen until the night of the draft because teams want to wait and see who's available at certain picks.
"When you make deals at the top, or any big deals, you want as much certainty as you can get. So, that's why you do that," he said.
Although it appears the Warriors, as of right now, plan to add young prospects through the draft, that doesn't mean they don't have an urgency to win now.
The Golden State Warriors still want to win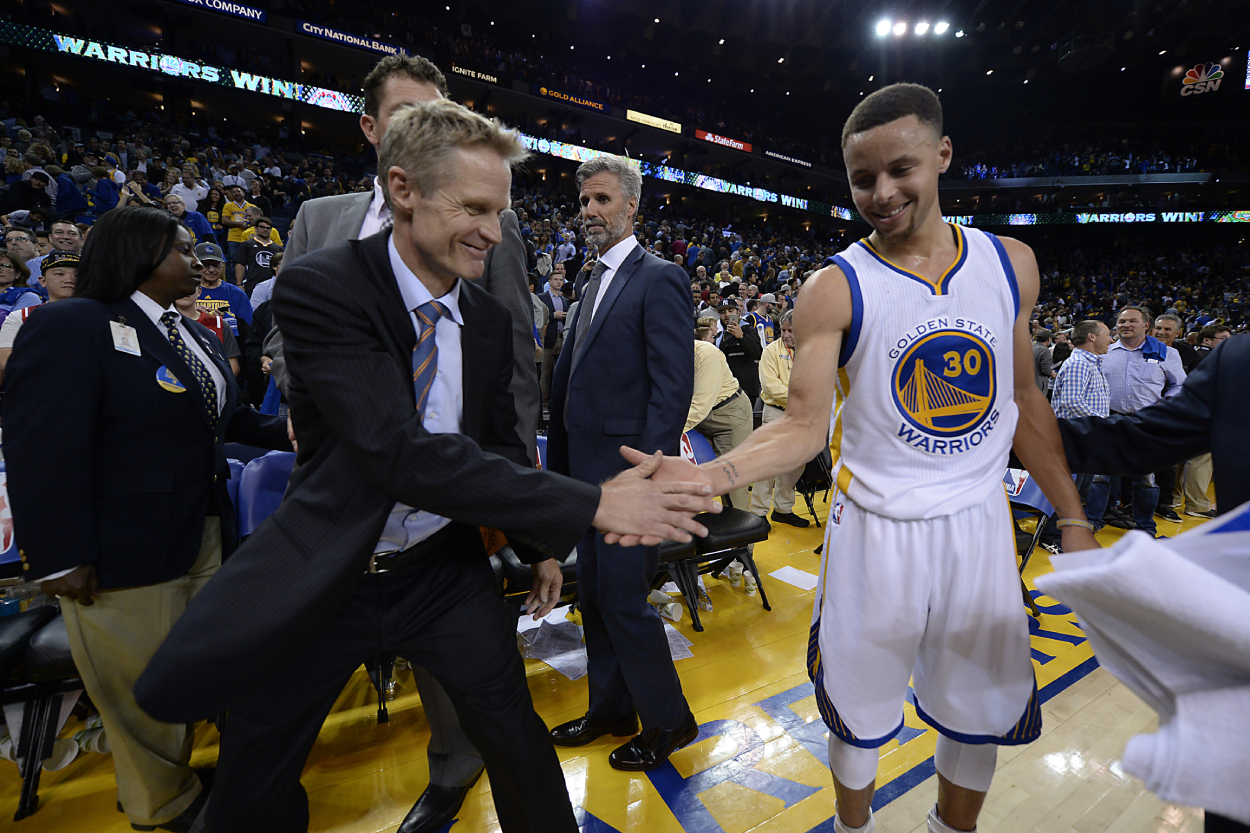 The Warriors may not have trade options worth giving up their picks for right now, but rookies won't ultimately help Curry, Thompson, and Green contend for titles next season or even the year after. Once Golden State gets past those seasons, the team's championship window could then be closed at that point, as Curry is 33 years old, and Thompson and Green are both 31.
Because of this, the time to win is now, and it appears Myers knows this.
"As far as urgency, we want to win, and so do they (Curry, Thompson, and Green)," Myers said. "So does Steve [Kerr]. But do you draft a player that makes you better in one year that might not be better in the second year? And these are the things we get paid to try to get right."
He continued: "Can a rookie help us quicker? Later? Rookies traditionally don't help early, I don't care who they are. But you'd like to find guys that can play a little bit. With what we're limited to do in free agency, which is minimums, maybe taxpayer mid-level, maybe that's a chance to grab some vets. We've done that before, but that was a team everybody wanted to come to. Will veteran players want to come now with Klay coming back? We'll see. So, we have to balance all that stuff."
Whether Golden State contends for titles next year or misses the playoffs entirely, this offseason will be one of the most crucial in franchise history. It will either help their present and hurt their future, or vice versa.
Myers, though, has the legacy of one of the greatest players in NBA history in his hands (Stephen Curry); we'll see if he makes the most of it or pulls a Jerry Krause and prepares for the future instead.
Like Sportscasting on Facebook. Follow us on Twitter @sportscasting19.