Golden State Warriors Make Risky Decision by Reportedly Going Against Stephen Curry and Draymond Green's Wishes Yet Again
During the 2021 NBA offseason, the Golden State Warriors had an opportunity to help Stephen Curry and company by trading their picks for a proven veteran. Despite Curry and Golden State's other stars reportedly wanting the team to do just that, the franchise essentially went against their wishes and drafted two young players instead. Now, it appears the Warriors are going against what Curry wants yet again.
In a recent roster move, Golden State cut veteran guard Avery Bradley. No, saying goodbye to the 2010 first-round selection isn't a huge move in terms of on-court production, but it reportedly went against what the team's stars wanted.
The Golden State Warriors cut Avery Bradley
Avery Bradley has proven to be a strong defensive asset throughout his career, as he's a two-time All-Defensive Team honoree.
He also proved to be valuable for the Los Angeles Lakers in 2019-20, averaging 8.6 points and coming up big for a team that claimed the best record in the Western Conference prior to the league shutting down due to COVID-19.
Bradley didn't play for LA in the bubble and then only played in 27 games for the Miami Heat and Houston Rockets in 2020-21. However, he signed with the Warriors this offseason, which appeared to be a move that gave Golden State leadership and extra defense along the perimeter while Klay Thompson tries to get back to 100%.
But on Oct. 15, the Warriors cut Bradley along with Jordan Bell, Mychal Mulder, and Gary Payton II. Bradley didn't play well for the team in the preseason, which likely led to his departure.
According to a report, though, not everyone was too worried about his preseason performance.
Stephen Curry and Draymond Green reportedly wanted Avery Bradley on the Warriors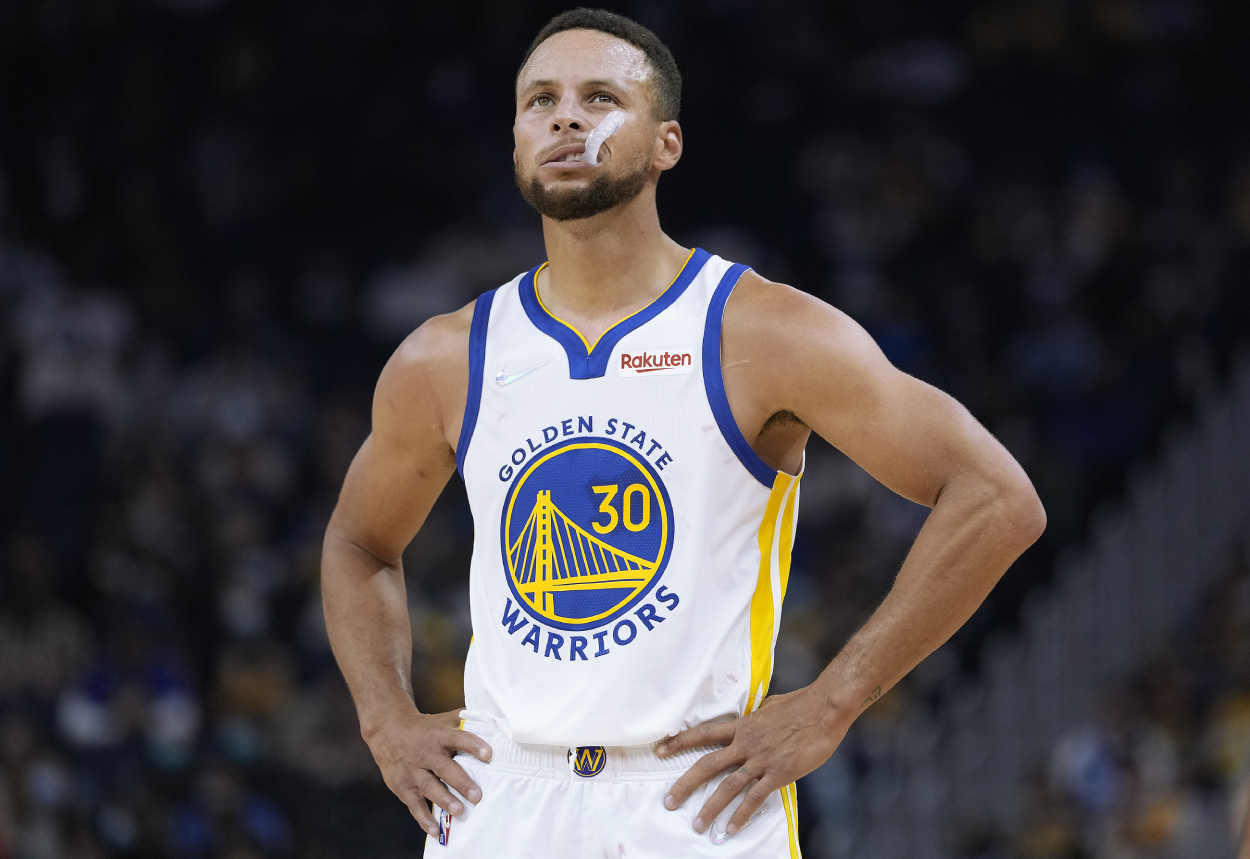 Some sports stars become so successful that they get a bit of say in who their team keeps on its roster and who it doesn't. That might still be true for Stephen Curry, the two-time NBA MVP, and the Warriors, but Golden State apparently didn't listen to his wishes when it came to Avery Bradley.
According to Marcus Thompson II of The Athletic, "Curry and Draymond Green were among a group of strong advocates for keeping Bradley," as they were of the ones who weren't too worried about his preseason performance.
"The almost 31-year-old entering his 12th season didn't look especially impactful in his preseason run. But those who favored Bradley weren't at all concerned about how a proven veteran looked in preseason," Thompson wrote. "Instead, they saw Bradley as someone with the credibility to help their hopes for a deep playoff run."
In the grand scheme of things, the decision on who fills the final roster spot shouldn't be that big of a deal. So, why couldn't the Warriors just give their stars what they wanted?
This move may seem small now, but it might just be another sign that the franchise isn't giving its best players the respect they deserve.
It appears the Warriors are continuing to do the opposite of what Stephen Curry wants
Prior to the 2021 NBA Draft, Marcus Thompson II reported that the Warriors stars, including Klay Thompson, made it clear to the team's front office that they wanted the organization to focus on trying to win a championship. They reportedly even wanted it to consider using its two first-round draft picks to trade for a player that could help them this season, rather than select young prospects who would need time to develop into stars.
What did the Warriors do? They drafted Jonathan Kuminga and Moses Moody.
"If the stars wanted Bradley, why not just give them Bradley?" Marcus Thompson wrote in The Athletic following Bradley's release. "After not cashing in the picks like they wanted, after asking them to simultaneously be dominant while also mentoring, giving them who they want for the 15th roster spot feels like a small ask."
Luckily for the Warriors, Curry signed a four-year extension this offseason, and Klay Thompson and Draymond Green's contracts last through 2023-24. So, none of their core pieces will have open opportunities to leave over the next couple of years if the team doesn't compete for a title. But no one wants a James Harden or Ben Simmons situation. Why wouldn't Golden State try and keep their current stars happy by going after titles and waiting to worry about the future in a few years?
The franchise's decision-making, even around small situations like Bradley, has certainly been questionable, and if it doesn't start respecting the stars that won it three championships, it could be in grave danger. Everyone seems happy now, but more signs of disrespect could possibly lead to some turbulence in the Bay.
Like Sportscasting on Facebook. Follow us on Twitter @sportscasting19.
RELATED: Stephen Curry Is a $130 Million NBA Superstar, but His Son Thought He Was a Pro Athlete in a Completely Different Sport