The Golden State Warriors Ruined Their Chances at an NBA Championship by Failing to Find a Center at the Trade Deadline
The Golden State Warriors will surely be locked and loaded and ready for the postseason with championship-caliber vets on the roster like Stephen Curry, Klay Thompson, and Draymond Green.
But look closer, and Thompson is still working his way back from two serious injuries, and Green is currently shelved with an injury of his own. It's the latter one, though, that's proving to be most troublesome.
Minus Andrew Bogut in the early days, Golden State has never played with a "true 5" consistently during their dynasty. But without Draymond — and an aging Draymond even when he's on the floor — the lack of size and depth is coming back to haunt the Dubs at the moment.
The team had the assets to make a blockbuster deal at the trade deadline but chose not to pull the trigger on one, major or minor. And in refusing to do so, the Warriors cost themselves an NBA championship.
The Golden State Warriors stuck with their current roster at the trade deadline
Despite having three valuable assets in rookies Jonathan Kuminga and Moses Moody and second-year pro James Wiseman, the Warriors decided to stand pat with their roster at the trade deadline.
Juancho Hernangomez, Bol Bol, and Larry Nance Jr. were included in some minor moves. But Domantas Sabonis ended up with the Sacramento Kings, Kristpas Porzingis was traded to Washington, and Serge Ibaka landed with the Milwaukee Bucks.
Indiana's Myles Turner was another option available for teams.
All four of them would have looked good in gold and blue.
Even smaller moves could have been made for players like Enes Freedom, Andre Drummond, Daniel Theis, Vernon Carey Jr., or Jalen Smith, all of whom changed teams on or before Feb. 10.
But general manager Bob Myers decided to roll with what he had in the hopes that Curry, Thompson, Green, and their supporting cast — which is still second in the Western Conference standings as of March 4 — would be good enough.
The verdict is still out, but Golden State sure looks like it could use another big.
There are now serious questions marks in the Dubs' frontcourt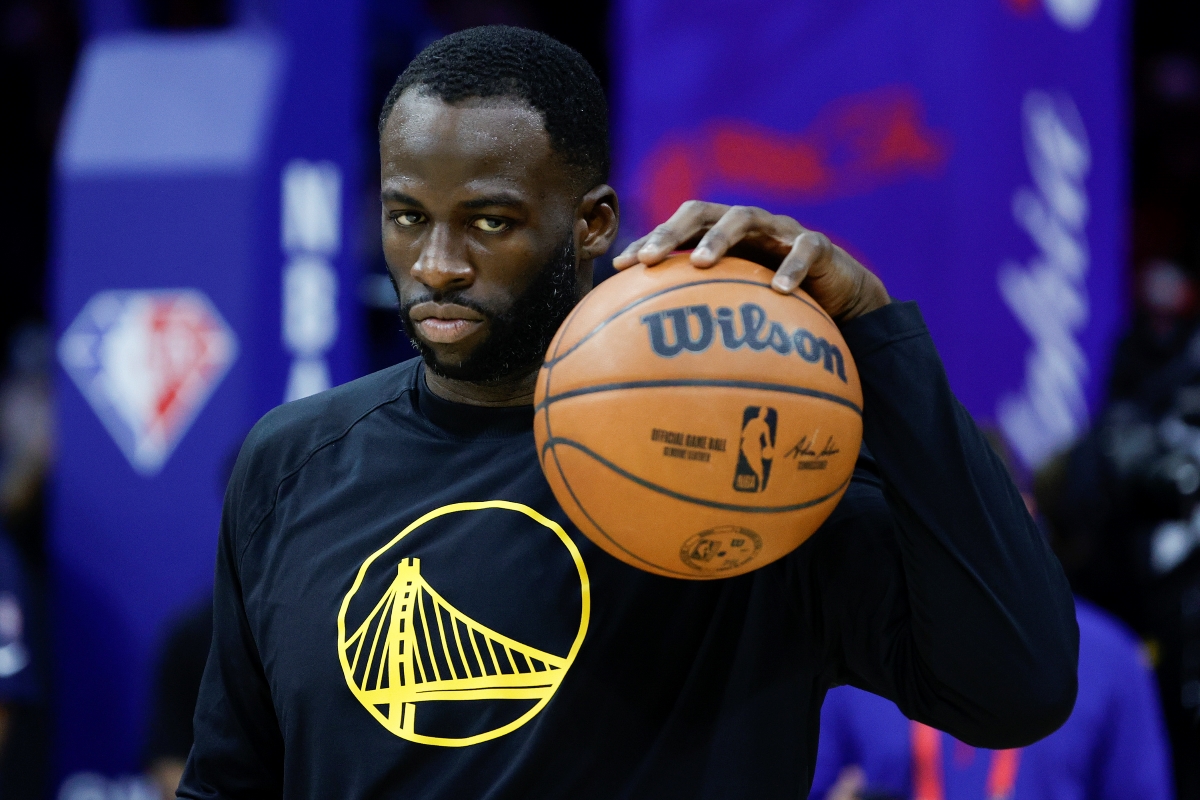 Draymond, who's been the key cog in the Warriors' small-ball lineup that's helped the team have so much success since 2015, hasn't played in nearly two months. Green is the glue that holds Golden State together.
Via ESPN, the team is 14-11 this year without Green and 28-6 with him.
"When Draymond is out there, it just makes everyone's job easier," veteran Andre Iguodala said of Green. "Draymond, he's all over the floor. Defensively guarding 1 through 5, getting charges, blocking shots, every steal, everything."
The Warriors are still fourth in the league in points allowed, but as their record shows, they're a different team with the Michigan State product on the court.
Kevon Looney has been the other stalwart big in head coach Steve Kerr's rotation. The Milwaukee native is averaging 21.5 minutes per night on the year, but his role vaults when Green is out. Kerr has patched together him, Nemanja Bjelica, and at times Kuminga, up front when Draymond is missing.
Looney and Bjelica are role players who can be valuable in spurts. Kuminga can't be counted on to play serious playoff minutes at this point in his career.
The wildcard is Wiseman, an uber-athletic 7-footer with gobs of potential. But he hasn't played at all this season and only managed to get in 39 games last year as a rookie after playing all of three collegiate games with Memphis.
In summation: The Warriors don't have a legitimate answer at the center spot other than Green, which will pose a problem in the playoffs.
Golden State can't get through the West's big men
The other top six teams in the West standings are the Phoenix Suns, Memphis Grizzlies, Utah Jazz, Dallas Mavericks, and Denver Nuggets. That means the Dubs will face possible matchups with Deandre Ayton, Rudy Gobert, and leading MVP candidate Nikola Jokic.
Throw in the Minnesota Timberwolves, the class of the play-in tournament, and Karl-Anthony Towns joins the list.
That's a gamut of talented, productive big men Golden State would have to go through to reach the Finals. As it stands, the Warriors would face KAT in the first round with a possible matchup with Jokic looming in the second.
Even if Draymond plays, there's nothing in the form of legitimate depth that can carry the Dubs against players of that caliber.
The Warriors needed to add at least another rotation-caliber big at the trade deadline, if not a starter to battle with the likes of The Joker and Ayton. But they chose not to, and that choice will cost their aging core another chance at winning another title.
All statistics courtesy of NBA.com.
RELATED: The Denver Nuggets Are Getting Healthy and Ready to Become an Under-the-Rader NBA Championship Contender