Golden State Warriors Rumored to Have 'Sincere' Interest in Former All-NBA Veteran
Since exploding for an 81-point outburst in a summer pro-am game in Seattle, former All-NBA guard Isaiah Thomas has been a hot rumor topic. Despite the buzz, Thomas is still on the market less than a week before the Sept. 28 start date for training camp in the NBA. His career nosedived after the 2016–17 season due to a hip injury, but the Golden State Warriors are reportedly doing due diligence into adding the 32-year-old.
Despite his 5-foot-9 frame, Thomas emerged as a dominant scorer with the Boston Celtics in 2015–16 and 2016–17. He tried to play through a hip injury in the 2017 playoffs, and Boston traded him to the Cleveland Cavaliers as part of the Kyrie Irving deal that offseason. A healthy Thomas could be a significant addition to a contender or one trying to get back to that status.
Both the Golden State Warriors and Isaiah Thomas are seeking a return to relevance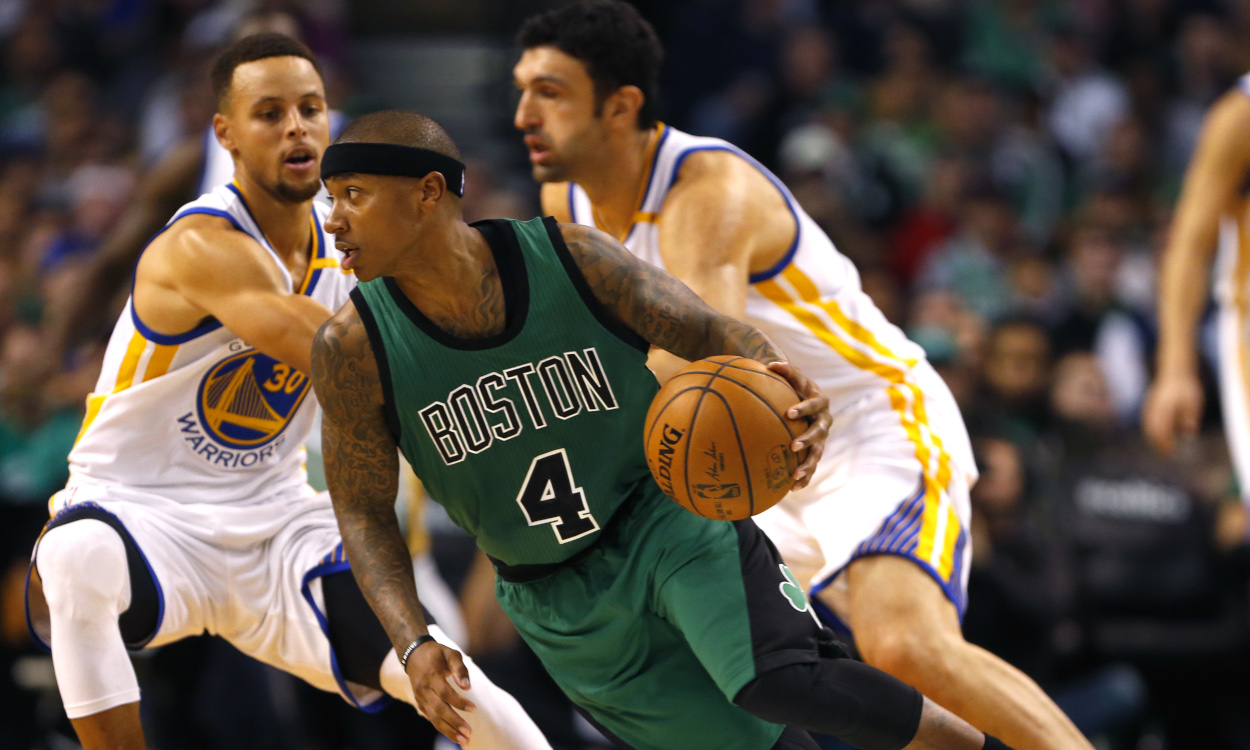 After five consecutive trips to the NBA Finals, the Golden State Warriors collapsed in 2019–20. They finished an NBA-worst 15–50. The Dubs rebounded to a 39–33 mark last season but made the wrong kind of history in the inaugural play-in tournament, becoming the first team to lose twice. The Los Angeles Lakers ended their chance to move up to the No. 7 seed before the Memphis Grizzlies came to Oakland and stole the eighth spot out from under the Warriors.
Isaiah Thomas endured a similarly rapid descent. After finishing fifth in the MVP voting and making his first All-NBA team in 2016–17, Thomas bounced around to six different teams over the next four seasons. He played with the Cavaliers, Lakers, Denver Nuggets, Washington Wizards, and New Orleans Pelicans. The Los Angeles Clippers acquired in a February 2020 trade and released him before he donned a uniform.
His last NBA stint was in April 2021, when he signed a 10-day contract with New Orleans. Thomas played 48 minutes and scored 23 points in three games. The airline apparently lost his shooting touch when he made the trek to the Big Easy; Thomas was just 9-of-27 overall and 3-of-12 from 3-point range as a Pelican.
If he's healthy, he could be an essential addition to the Warriors.
The Golden State Warriors could do worse than Thomas running their second-unit offense
Isaiah Thomas will never be confused with Marcus Smart as a backcourt defender. His size makes him a liability. But he's also a player who averaged nearly 29 points and six assists a game at his zenith in Boston. In 2016–17, he shot 46.3% overall and canned 37.9% on 8.5 3-point attempts per game. He's also an 87.2% career foul-shooter, just outside the top 25 in NBA history.
He recently told Marc J. Spears of The Undefeated that his body is finally back to 100%:
"[I'm] fully healthy now and can do everything I used to do and more."
Thomas told Spears he's even dunking again. While he doesn't have a dunk on his scoresheet over his 10-year NBA career, being able to do it on the practice floor is an indicator he finally has his legs under him again.
The Thomas we've seen the last four seasons is a shell of who he was over his first six campaigns.
2011–17: 19.1 points, 5.2 assists, 44.3% overall, 36.7% 3-point range
2018–21: 12.6 points, 3.8 assists, 38.4% overall, 34.3% 3-point range
Since the end of the 2016–17 season, he's been in three trades, waived, allowed to walk as a free agent, and had a 10-day contract expire without a renewal offer. That's not the guy the Warriors want to get.
What Isaiah Thomas potentially brings to the Warriors
Assuming he's got his legs back, the Golden State Warriors would add a potent bench scorer in Isaiah Thomas. Beyond that, he's also a veteran known as a steady locker room presence. Young players Jordan Poole, James Wiseman, Moses Moody, and Jonathan Kuminga could benefit from his savvy.
He'd also be a considerable upgrade from journeymen Mychal Mulder and Gary Payton II at the point guard spot behind superstar Stephen Curry. Spears tweeted that the Warriors planned to audition Thomas and veteran free agents Quinn Cook (who spent two seasons with Golden State) and Avery Bradley.
A fully healthy Isaiah Thomas is the best of those options. He's also the piece most likely to help push the Golden State Warriors back into the Western Conference's top tier.
Statistics courtesy of Basketball Reference.
RELATED: The Latest Klay Thompson Injury Update Suggests Stephen Curry Will Have to Carry the Load Early, but it's the Only Choice for the Warriors to Make