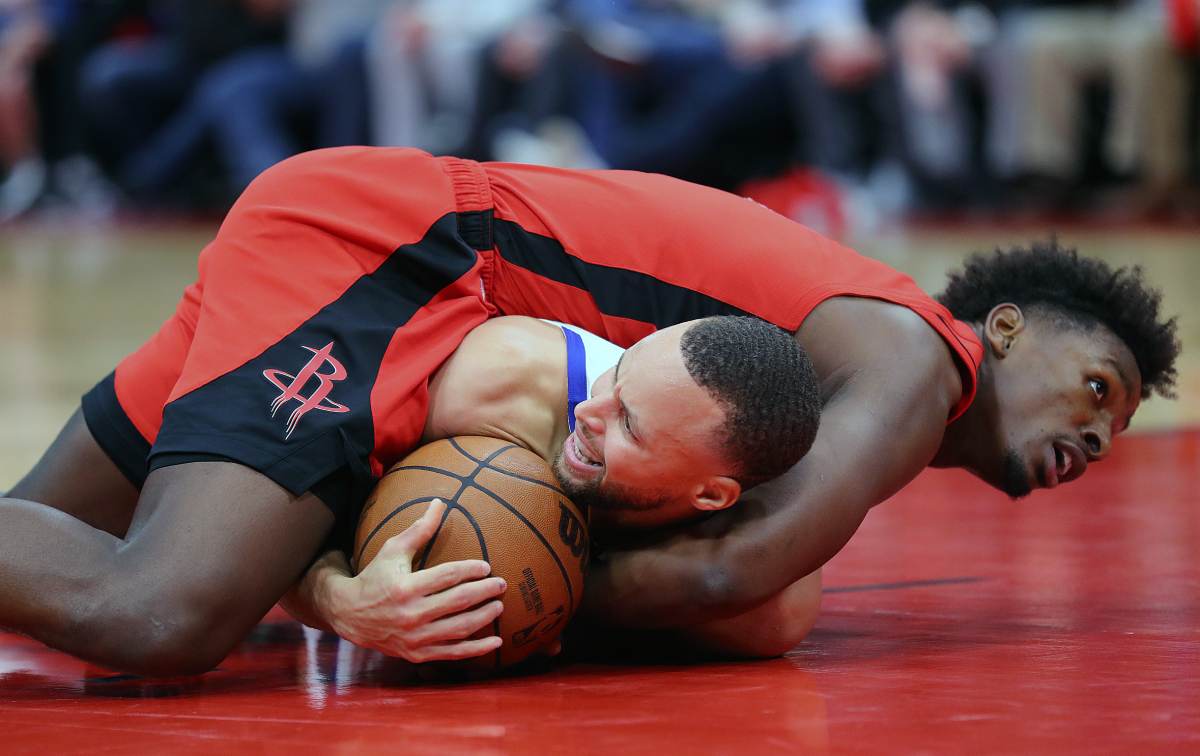 Golden State Warriors Star Stephen Curry Gets the Slump-Buster He Needed From the Yappy Rockets
Golden State Warriors superstar guard Stephen Curry responded to the trash-talk and bully-ball tactics of the Houston Rockets on Monday by scoring 21 of his 40 points in the fourth quarter.
You don't tug on Superman's cape … You don't spit in the wind … And you don't pull the mask off that old Lone Ranger … and, also, you don't try to bully and talk-trash Golden State Warriors superstar guard Stephen Curry.
With apologies to Jim Croce, that last lyric referenced mistakes made by Houston's Kevin Porter Jr. and Jae'Sean Tate. Those gaffes provided fuel for Curry's latest masterpiece performance and helped him break out of a prolonged shooting slump.
Warriors star Stephen Curry entered Monday in one of the worst slumps of his career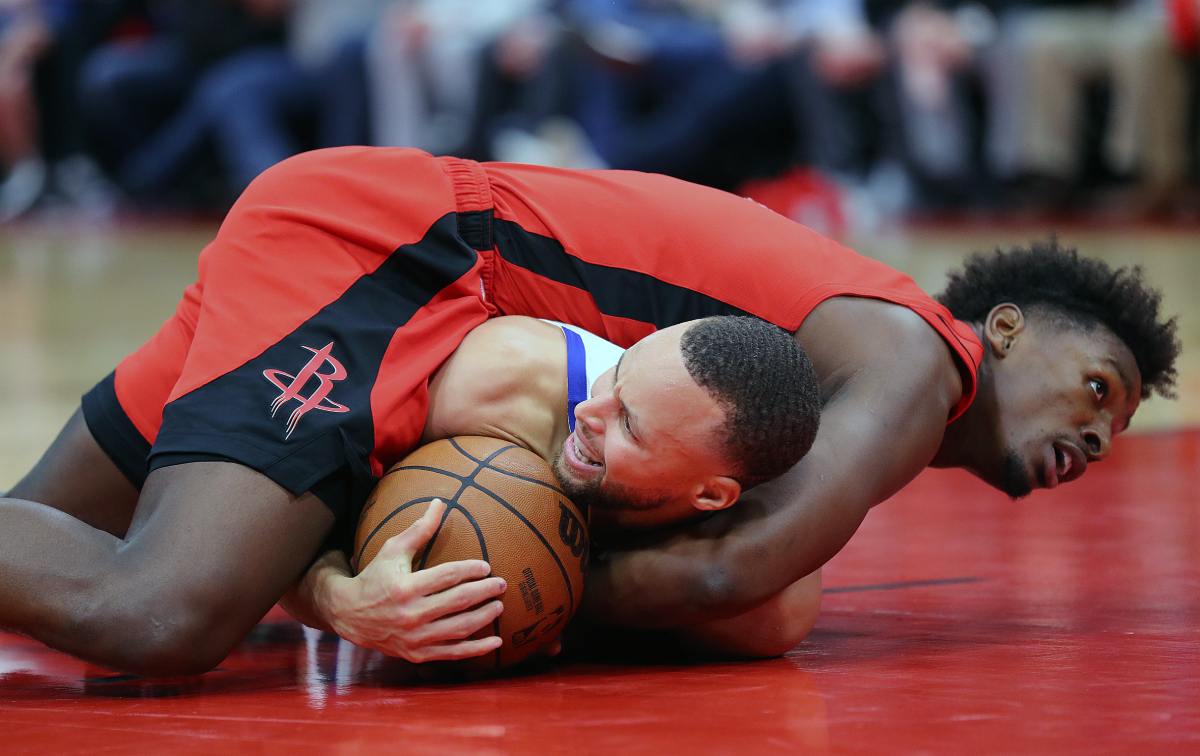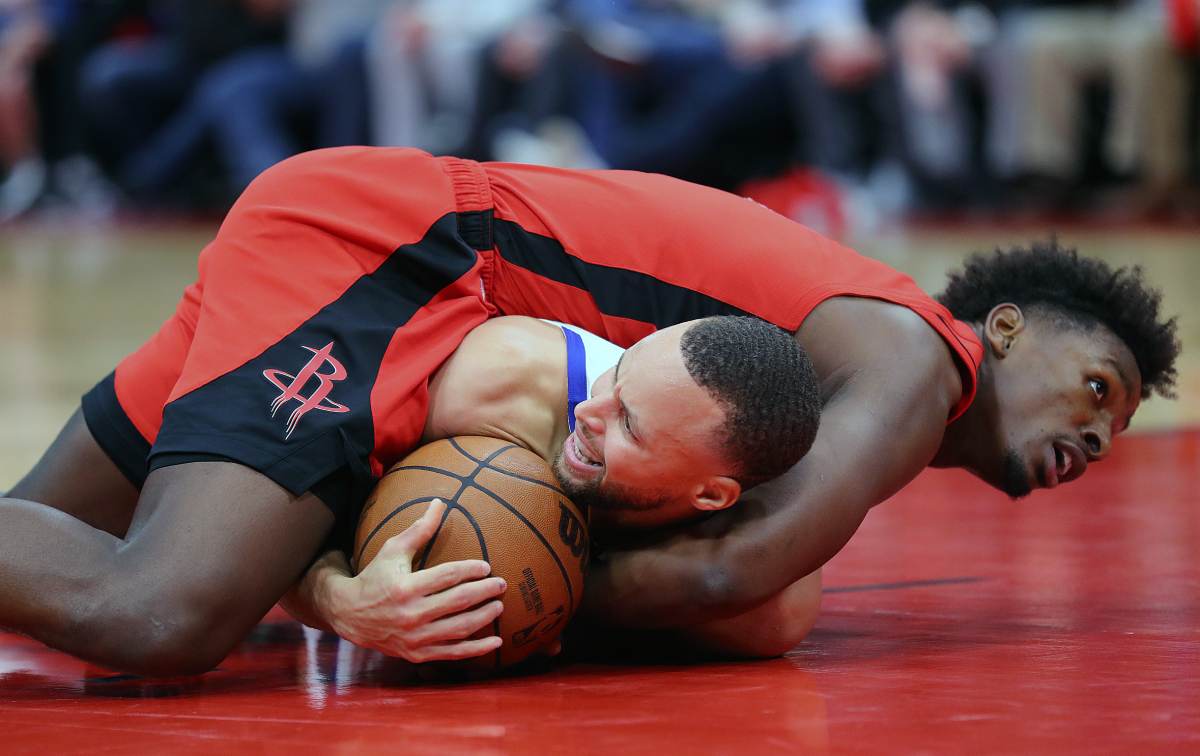 Stephen Curry made national headlines earlier this season when he became the NBA's all-time leader in 3-point makes. The night felt like a movie scene with previous record-holders Reggie Miller and Ray Allen there to pass the torch.
Golden State, winners of three titles in four years from 2015-18, has also experienced something of a renaissance season. The Warriors ended Phoenix's 18-game winning streak, welcomed back Klay Thompson, and sat at an impressive 37-13 before Monday.
Those exploits have somewhat masked the shooting struggles of superstar guard Stephen Curry. January had been an especially rough month for the 33-year-old, with him shooting 36.9% overall and 31.3% from 3-point range over 14 games.
Curry's 41.9% overall shooting and 37.9% 3-point accuracy would be acceptable from any other guard by usual standards. Not so for a two-time MVP who has shot 47.3% overall and 42.9% from 3 over his spectacular 13-year career. 
Such is life for a player universally considered as "the greatest shooter in the history of the game," Curry said.
"It's the gift and the curse of the bar that you've set," Curry said in Monday's postgame interview in Houston. "You get all the praise when things are going well. And, obviously, it's something to talk about when I don't meet that level.
"It's not so much the commentary because when I walk off the court, I'm the first one to judge the way that I played," he added. "And I understand when I don't meet that level and try to deal with the frustration when that happens over a consistent period of time."
Trash-talk and physical play jump-started big performances from Curry and the Warriors
Stephen Curry's breakout performance came on a sleepy Monday night in Houston. And the young and scrappy Rockets might have had something to do with waking Curry out of his slumber.
Of course, the Rockets should have known what Curry could do. Just 10 days earlier, Curry capped a 105-103 Golden State victory with a step-back 22-footer for the win. Remarkably, it was the first buzzer-beating, game-winning shot of Curry's career.
On Monday, Curry had 19 points through three quarters, and Golden State was clinging to a four-point lead heading into the fourth period. That's when fiery Houston guard Kevin Porter Jr. tried being physical as Curry navigated his way around a screen. Later, Porter drilled a 3-pointer and then openly trash-talked Curry for all to see.
Porter Jr. foolishly did that while Curry was amidst a breathtaking, 21-point fourth-quarter performance. It was the most points Curry had ever scored in a fourth quarter in a regular-season game, and it was the 41st time in his career he hit the 20-point plateau in a quarter.
Asked after the game about the guile of Porter Jr. to trash-talk a star of Curry's ill, Golden State coach Steve Kerr uttered this classic line in his postgame news conference: "I didn't notice that at all, but I highly encourage it."  
Four of Curry's seven 3-pointers came in the fourth quarter. The final one came after 230-pound forward Jae'Sean Tate bodied up Curry and then pounded him to the floor while fighting for a loose ball. The smaller Curry won the jump ball by getting off the floor early, and then he buried the capping 3-pointer after a stunned Tate briefly balked at the referee.
With Stephen Curry, there's always the feeling he's one made shot from a torrid stretch
Undoubtedly, the rest of the NBA won't be happy about the Houston Rockets waking Stephen Curry out of his slumber. Now, other championship contenders in the Western Conference — Phoenix, Memphis, and Denver — will likely have to deal with a dialed-in Curry in the coming months.
Golden State won its sixth straight game on Monday. The Warriors are playing some of their best basketball with a revived Klay Thompson hitting his groove. And the deep and talented Warriors are rolling despite not having injured forward Draymond Green.
As for Curry, there was never much concern over his recent struggles because of the purity of his shooting stroke. Doubt him, the same way some sports fans are now coming down on Kansas City Chiefs star quarterback Patrick Mahomes, at your own peril.
There was always a sense with Curry that he was one deep 3-pointer, or one clutch shot away from starting another torrid stretch of basketball. That moment just might have come Monday in Houston thanks to some ill-advised tactics by the young and yappy Rockets.
"You always feel like the next shot is going to start that vibe," Curry said in his postgame news conference. "It's no secret how I've been shooting the ball recently, but the confidence is always there, and it only takes one to ignite a night like that."
Statistics are courtesy of ESPN.com.