The Golden State Warriors Could Reportedly Trade for a Defensive Force to Help Stephen Curry and Company Contend for Titles Yet Again
Stephen Curry is a three-time NBA champion with the Golden State Warriors, but it appears he isn't satisfied with just having three rings — he wants more. If Klay Thompson is back and healthy for Golden State in 2021-22, the Warriors have a great chance to contend for a championship yet again, but they can really put themselves in a position to hoist that Larry O'Brien Trophy by making a trade or two for some established stars.
No, Kevin Durant is not just sitting there ready to join Golden State again, but, according to a recent report, the Warriors could potentially trade for a strong defensive force: Myles Turner.
The Golden State Warriors could have a busy offseason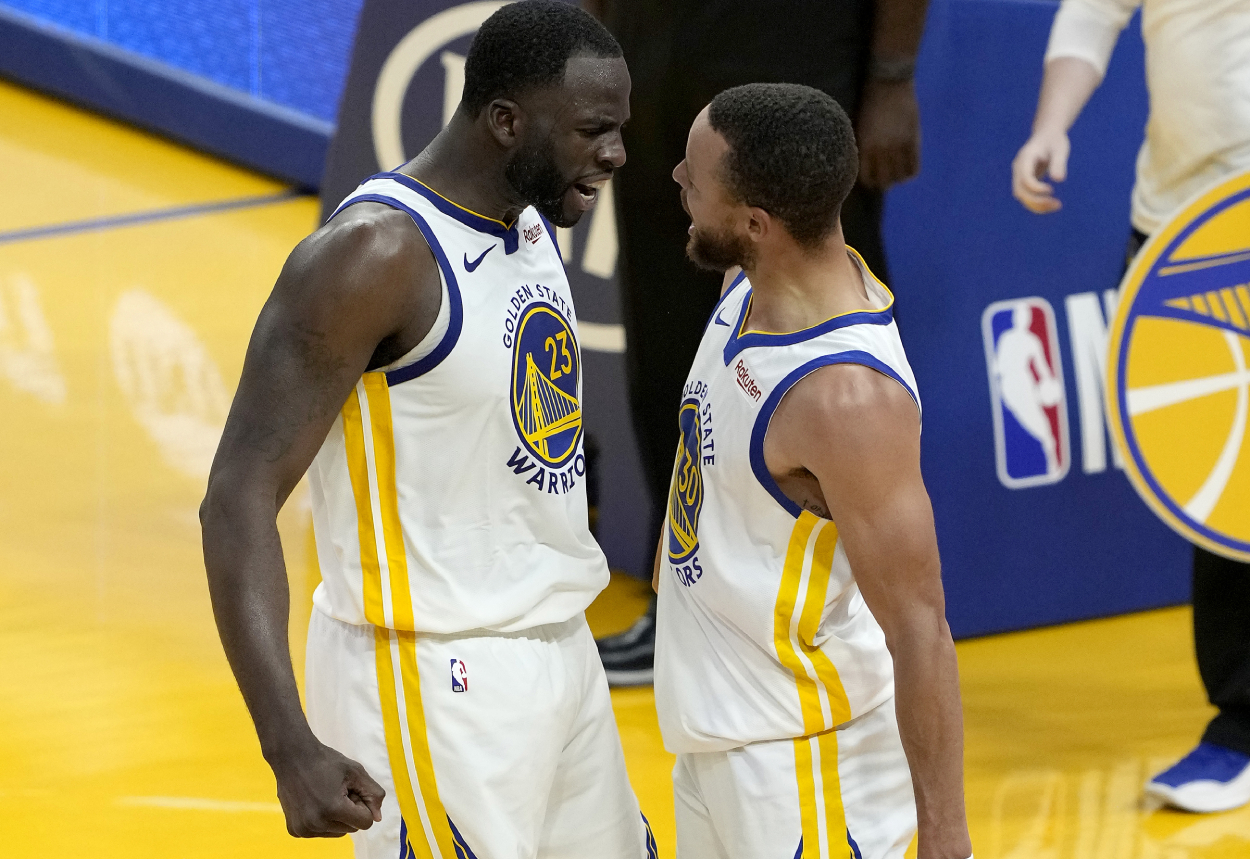 After having the No. 2 overall pick in the 2020 draft and selecting James Wiseman, the Warriors have a couple more top selections in 2021. They have their own pick at No. 14 overall, and they also have the Minnesota Timberwolves' No. 7 selection.
Golden State's front office could certainly use these picks to add talented prospects. But they could also use them in trades for already established veterans to help Stephen Curry, Klay Thompson, and Draymond Green contend for more titles.
It appears the latter is what their three stars want, too.
The Athletic recently reported that Curry, Thompson, and Green would rather their team go all-in during the coming seasons instead of selecting young players who may still need time to develop. And it looks like that's what the Warriors are trying to do, as they have been connected to a trade rumor for Myles Turner.
The Golden State Warriors have reportedly discussed a trade for Myles Turner
Turner, the Indiana Pacers' big man, is someone who has frequently found himself involved in trade rumors in recent seasons, and now he's connected to the Warriors.
In fact, Golden State has already talked to the Pacers about acquiring the former Texas Longhorns star, according to a recent report.
"They are having trade conversations, I have not seen reported that, I believe I had it in my story that they've had some conversations with the Pacers, the Pacers have been one of the more active teams, the name that I've heard involved in those conversations is Myles Turner," Kevin O'Connor of The Ringer reported on The Mismatch podcast, per NBC Sports.
Turner would be an interesting fit with Stephen Curry and company, and he could help them right away, but he will make $18 million each of the next two seasons and has two years left on his deal. So, to acquire him, the Warriors would most likely need to send Andrew Wiggins to Indiana for salary matching purposes. 
It's safe to assume James Wiseman would probably be included in the deal as well, given he and Turner play the same position. Golden State would also likely have to throw in one of their first-round picks since the Pacers would be taking on Wiggins' massive contract that pays him more than $60 million over the next two seasons.
However, it would be huge if they could somehow keep Wiseman, or trade him and keep one of their picks, but it's hard to say what a final deal would look like.
So, what would Turner bring to Golden State?
What would Myles Turner bring to the Warriors?
Warriors fans would probably rather see their team trade for someone like Bradley Beal or Damian Lillard, but those guys aren't 100% available. Turner may just be one of the best options on the trade block right now.
Points-wise, Turner doesn't bring a whole lot to the table; he averaged just 12.6 points last season. But he's a solid rebounder and has become a decent 3-point shooter, which fits the Warriors' offensive scheme with Stephen Curry and Klay Thompson.
What Turner would really bring to Golden State, though, is a strong defensive presence. He has led the NBA in blocks per game twice in his career, most recently in 2020-21, averaging 3.4 this past season. Not one Warriors player, on the other hand, even averaged over 2.0 last year.
Turner has also ranked in the top 20 in defensive win shares — the amount of wins contributed by someone defensively — three times in his career. And he has been in the top 20 in defensive rating — an estimate of the points allowed per 100 possessions — three times.
No, Turner wouldn't give Golden State a ton of offensive production. There are also probably options fans would like more, as he won't instantly make them title favorites. But he would certainly be a strong addition defensively and could help the Warriors climb back up in the Western Conference standings in 2021-22.
The NBA draft is just days away, so it'll be interesting to see what route Golden State takes. The one thing that's certain, though, is that Warriors fans must be ready for anything.
Stats courtesy of Basketball Reference; Contract numbers courtesy of Spotrac